REGION PREVIEWS: East Region | South Region | Midwest Region | West Region
No. 4 Louisville vs. No. 13 Manhattan — Midwest  — Thursday, 9:50 p.m.
The selection committee didn't show much love for the newly-formed American Athletic Conference, however, it did give this Round of 64 a great storyline as Steve Masiello, who has led Manhattan into the tournament for the first time in a decade, faces his former coach Rick Pitino.
Masiello certainly has familiarity with Louisville, serving as an assistant to Pitino for six seasons and recruiting guys like Russ Smith and Wayne Blackshear.
But he also has a pretty good team as well. The Jaspers have the perimeter talent in George Beamon and Mike Alvarado while reigning MAAC Defensive Player of the Year Rhamel Brown manning the frontline. I'd would have considered going with Manhattan as an upset pick in most games, but Louisville is playing at a high-level at the moment. The Jaspers are still dangerous, though.
No. 6 Ohio State vs. No. 11 Dayton — South  — Thursday, 12:15 p.m.
The selection committed made another intriguing matchup, pitting in-state opponents Dayton and Ohio State together in the Round of 64. The Flyers and Buckeyes don't meet in the regular season, but they will in the South Region. Ohio State has had its well-documented offensive struggles, but Archie Miller's guys can light it up from beyond the arc. The Flyers are led by Ohio State transfer Jordan Sibert and Devin Oliver, both scoring better than a dozen a game.
MORE: 8 teams that can win it all  |  8 clutch players  |  Guide to perfect bracket pool

No. 4 Michigan State vs. No. 13 Delaware — East  — Thursday, 4:40 p.m.
When the Spartans are healthy, they are a national contender, and they sure look that part lately. The four-seed is penciled in by many as the team advancing out of the East Region. But in its first game of the tournament Michigan State will go up against a high-scoring perimeter attack as Devon Saddler (19.7 ppg), Davon Usher (19.4 ppg) and Jarvis Threatt (18.1 ppg) can put up points in a hurry. The Fighting Blue Hens can certainly make this interesting on Thursday evening.
No. 5 VCU vs. No. 12 Stephen F. Austin — South  — Friday, 7:27 p.m.
The Rams had a six-game winning streak ended in the Atlantic 10 Tournament Championship game at the hands of Saint Joseph's. Stephen F. Austin hasn't lost since Nov. 23, winners of 28 in a row.
Like Havoc, the Lumberjacks can really defend. Both force a highest percentage of turnovers. VCU has had trouble shooting the ball from beyond the arc, especially with Melvin Johnson out on Sunday. This could be the 12 over 5 upset.
MORE: All-Americans | Player of the Year | Coach of the Year | Freshman of the Year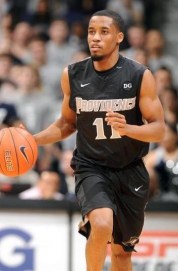 No. 6 North Carolina vs. No. 11 Providence — East  — Friday, 7:20 p.m.
Marcus Paige vs. Bryce Cotton? Yes, please.
The Tar Heels have lost two straight, including one to Pittsburgh in the ACC quarterfinals. Providence ended up winning the Big East Tournament over Creighton. The Friars are back in the Big Dance for the first time since 2004, and they have an All-American talent in Cotton.
Providence has a lot of momentum heading into the tournament and we've seen how up-and-down North Carolina can be this season. This could be an upset in San Antonio.
No. 5 Oklahoma vs. No. 12 North Dakota State — West — Thursday, 7:27 p.m.
This could shape up to be an early round matchup that goes down to the final possession. The Bison are no joke. They defeated Notre Dame in South Bend, when the Irish still had Jerian Grant. They have a nice one-two punch with Taylor Braun and Marshall Bjorklund. North Dakota State gets some of the best looks on offense in the country with a 55 percent effective field goal percentage, according to kenpom.com
No. 6 Baylor vs. No. 11 Nebraska — West  — Friday, 12:40 p.m.
Two power conference teams in a Round of 64 matchup will always be one to look out for. The Bears finished the season strong after digging themselves in the Big 12 basement, winning six of their last seven.
Nebraska has been a fun team to watch, back in the NCAA tournament for the first time since 1998. How will Cornhuskers handle this stage? They ended the Big 12 Tournament, blowing a double-digit lead to Ohio State, but this is also the same team that defeated Michigan State on the road and Wisconsin nine days ago.