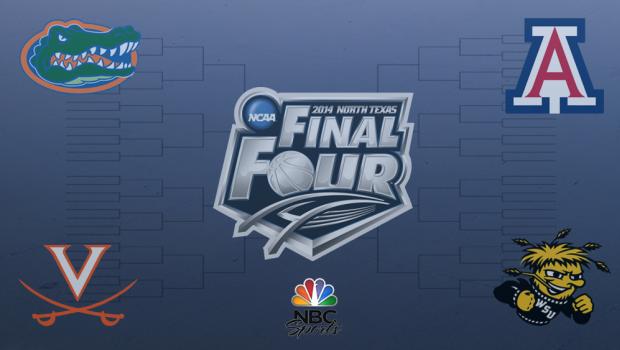 One of the best things about March Madness is that it sweeps across the entire nation and gets all of the casual sports fans involved. For a few weeks every year, the country turns its complete attention to the NCAA Tournament, and a lot of it has to do with filling out a bracket and entering a pool.
Since we at CBT have been in dozens of different NCAA Tournament pools over the years, we decided to help guide you in the right direction on the ways to make your pool the best that it can be.
College Basketball Talk will also be hosting an NCAA Tournament Pool over at Yahoo!'s Bracket Games, and you can join it right here.
PREVIEWS: East Region  |  South Region  |  Midwest Region  |  West Region
WHAT SHOULD YOU PLAY FOR? This is a question I receive from friends all the time. If you're catering towards a casual audience that includes your relatives and co-workers that know little about college basketball then $5 is probably your best bet. If you're more into the college basketball scene and want to weed out that co-worker that knows nothing from winning your pool and embarrassing you, then $20 might be best to scare away the pretenders.
Not into gambling for money? That's cool, there are plenty of other ways you can gamble in an NCAA Tournament pool besides putting your hard-earned dollars on the line. Maybe bet some push-ups and sit-ups since beach season is approaching (you should probably do them anyway, that Holiday weight is still gripping those love handles), or a lunch or dinner, or tickets to a game next season. You can always get creative when it comes to bragging rights after beating everyone in a bracket pool.
WHAT SHOULD THE SCORING SYSTEM BE? Some pools feature straight scoring for most overall correct picks — one point per game, all games — or the standard escalating points that doubles for each round.
Some have even gotten creative with the escalating points system over the years and changed around the numbers to reflect more importance on certain rounds.
I prefer the escalating points that double for each round:
Round of 64: 1 point
Round of 32: 2 points
Sweet 16: 4 points
Elite Eight: 8 points
Final Four: 16 points
Title Game: 32 points
This is the easiest way to escalate scoring with casual fans while also fairly giving people who predicted champions or Final Four teams a fair shake if they have a poor first-round showing.
Want a unique tiebreaker besides picking the final score of the title game? Force people to get their picks in on Tuesday before the First Four games in Dayton and make each of those games worth 1/2 of a point. With those four games, that's two potential bonus points given to people who put their bracket in early and then you don't have to text them an hour before tip-off on Thursday asking for their picks.
MORE: 8 teams that can win it all  |  TV times  |  Bracket contest
SHOULD YOU ALLOW PEOPLE TO BUY-IN WITH MULTIPLE BRACKETS? No.
Never.
People that enter multiple brackets — besides joke entries like mascot brackets — are people who you shouldn't associate with. Period. These are the same people who sandbag your evening plans by waffling on which restaurant to go to or which movie to see. They can't make decisions so they waste everyone's time. This is America's event and you should be overconfident to a fault with your single bracket like everyone else.
HOW SHOULD YOU SEND THE INITIAL EMAIL/WELCOME LETTER? NCAA Tournament pools have reached such epic proportions that half the time it feels like you have no idea which pool you're even entering. We've all entered that friend of a friend's pool and you quickly have no idea who anyone is or what your connection is to the pool itself.
If you're running a pool, take a second to introduce yourself and what you and your pool are about before you demand total strangers to send $20 over Paypal or Chase Quickpay.
Put a contact email address or phone number, maybe even a Twitter handle. Explain when people can expect payouts, how they'll receive payouts and what the payout breakdown will be. Tell people when they can expect scoring updates or any other vital messages. A little communication and common courtesy never hurt anybody and the people in your pool that don't necessarily know you will have a higher comfort level in joining and staying in your pool in future years.
Well, there you have it. Some tips on running an ideal NCAA Tournament Pool.
Have some creative ideas of your own? We'd love to hear them in the comments section. And best of luck in your March Madness Pool endeavors.