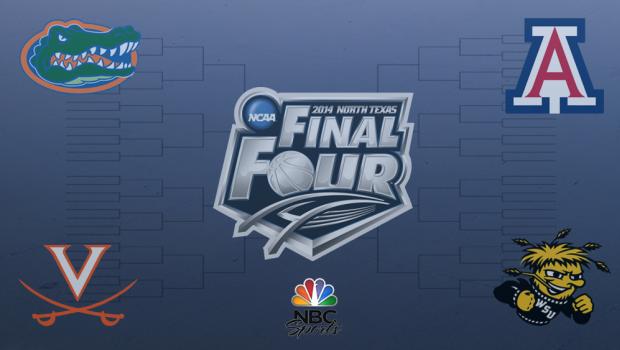 CBT's Printable 2014 NCAA Tournament bracket
Florida, Wichita State, Arizona and Virginia claimed the No. 1 seeds in the 2014 men's NCAA tournament, while the seeding committee also dished out a few surprises in the bracket, ensuring yet another lively March Madness.
The Gators (32-2), ranked No. 1 in the polls, claimed the tournament's top overall seed and the top spot in the South Region after beating Kentucky in the SEC tournament title game. They'll face the winner of the Colorado-Pittsburgh, while Kansas, Syracuse and UCLA round out the top four seeds in the region.
Virginia (28-6) won its first ACC Tournament since 1976 with a win over Duke and they were rewarded with the fourth No. 1 seed in the East Region. The experienced Cavaliers gets Memphis or George Washington in the third round while Villanova, Iowa State and Michigan State loom as potential threats as the remaining top four seeds in the region. Should the Cavaliers been the fourth No. 1 seed?
Wichita State (34-0) got the top line in the Midwest Region, but could face Kentucky in the round of 32, a matchup that would feature the team with the most NBA prospects vs. the only unbeaten program in the field. If the Shockers get past Kentucky, they'll likely face Louisville, the 4 seed in the region. Michigan and Duke are the 2 and 3 seeds in the region.
Arizona (30-4) may have fallen to UCLA in the Pac 12 Tournament title game but can the Wildcats bounce back to get by a West Region that includes Wisconsin, Creighton and San Diego State?
RELATED: Unsure about your bracket? Prep on mid-majors here
First Four games (Tuesday, Wednesday in Dayton, Ohio)
No. 16 seeds: Cal Poly (13-19) vs. Texas Southern (19-14), Albany (18-14) vs. Mount St. Mary's (16-16
No. 12 seed: N.C. State (21-13) vs. Xavier (21-12)
No. 11 seed: Iowa (20-12) vs. Tennessee (21-12)
That's the rundown. Now you'll need to prep for your bracket. The links below will get you started.
Here's the official seed list for the 2014 NCAA Tournament and the conference breakdown.
Which teams got snubbed by the committee? We take a look at the bubble teams that didn't make it.