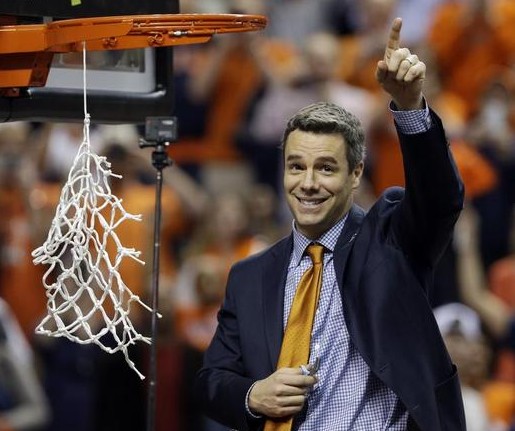 With the unveiling of the NCAA tournament bracket there were many surprises from a seeding standpoint, but that wasn't the case in regards to three of the four one-seeds. Florida, Arizona and Wichita State were expected to land on the top line, and that proved to be the case.
That left one spot, with that final one-seed being one of the focuses of conference championship week. The recipient of that final one-seed was Virginia, winners of the ACC regular-season and tournament titles. Tony Bennett's team features a tough pack-line man-to-man defense and a balanced offensive attack led by guards Malcolm Brogdon and Joe Harris.
The question: did the selection committee get this choice right?
Ranked sixth nationally the Cavaliers are eighth in the most recent RPI according to rpiforecast.com. And by the looks of Virginia's overall resume, it looks as if the selection committee gave them a lot of respect for winning the ACC.
RELATED: CBT's instant analysis of the East Region bracket
The Cavaliers won four games against teams currently in the Top 50 of the RPI according to rpiforecast.com, with all four of those wins coming in conference play. Among Virginia's non-conference games (non-conference SOS of 38) their best win came against SMU (RPI: 53), with VCU, Wisconsin, Green Bay and Tennessee all handing the Cavaliers defeats.
Was Virginia the beneficiary of their run through the ACC? That certainly looks to be the case upon inspection of their non-conference resume. But if it's to be argued that Virginia's designation as a one-seed is up for debate, there's also the need to take a look at the other possible choices.
RELATED: The NCAA selection committee's official seed list 
The committee handed two-seeds to Kansas, Wisconsin, Michigan and Villanova, with the Jayhawks' brutal non-conference slate and their winning of the Big 12 regular season title keeping them in the one-seed discussion up until their loss to No. 16 Iowa State in the Big 12 semis. Two things likely kept Kansas out of the equation: their nine losses, and more importantly the health of center Joel Embiid.
Villanova, which lost four games on the season (two to Creighton), won six games (two non-conference) against RPI Top 50 teams per rpiforecast.com with their best victory coming against Kansas in late November. But losing to Seton Hall in the Big East quarters, regardless of the fact that the Pirates needed a Sterling Gibbs shot at the buzzer to win, was not a good final impression for the Wildcats to leave on the selection committee.
RELATED: East Region | South Region | Midwest Region | West Region
Michigan, although the Wolverines won the Big Ten regular season title outright, was like done in by their non-conference accomplishments. Of Michigan's ten wins against teams in the Top 50 of the RPI just one came in non-conference play, with the Wolverines beating Stanford. Michigan certainly challenged itself with games against Iowa State, Arizona and Duke, but they came up empty in those games.
As for Wisconsin, that 1-5 stretch early in Big Ten play and a Big Ten semifinal loss to Michigan State likely ended their hopes because they've got wins over Virginia, Florida and Saint Louis on their non-conference resume. Were there any other options? Louisville, which received a four-seed (terribly under seeded), has been playing like a one-seed of late but their non-conference resume (and a non-conference SOS of 149) lacks muscle with Southern Miss being their best result.
And there's another possible wild card: Michigan State. The Spartans finished a spot below the Cardinals on the NCAA's official seed list, but they've got the interesting argument of not being at full strength for most of their losses due to injury. Should that be enough for Tom Izzo's team to land on the one line? That's debatable, because although there's no denying the impact of injuries that's something most teams are forced to navigate in some fashion. And it should be noted that the Spartans won six games against Top 50 opponents, with three coming outside of Big Ten play.
Whether or not Virginia should have received a one-seed is something that can be debated, with detractors likely pointing to their non-conference resume as the reason why the Cavaliers shouldn't be on the top line. But it's clear that the committee placed more emphasis on their accomplishments against ACC opposition, and it isn't as if another team can argue that they were legitimately jobbed either.