PREVIEWS: Dummy's guide to filling out a bracket  |  7 must-watch games  |  Sleeper teams
MORE: 8 teams that can win it all  |  8 that won't  |  TV times  |  Bracket contest
(Click to enlarge image)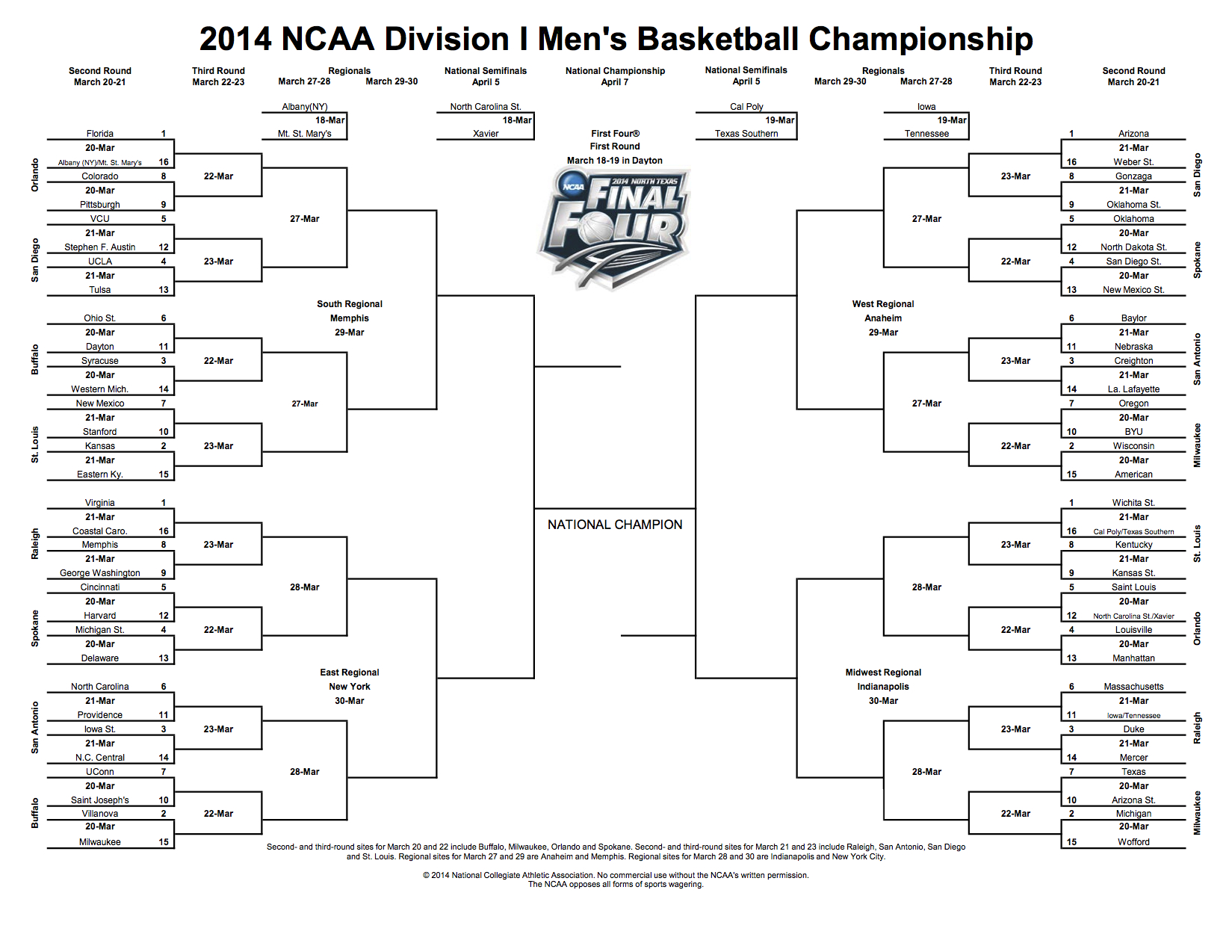 Top prospect Jonathan Kuminga will enter G League program over NCAA
Getty Images
Leave a comment
Jonathan Kuminga announced on Wednesday night that, after graduating from The Patrick School last month, he will be reclassifying into the Class of 2020 and, instead of going to college, enrolling in the G League Pathway Program.
This decision will allow Kuminga, originally a member of the Class of 2021, to enter the 2021 NBA Draft, where he is considered a potential top five pick in what should be a loaded draft class.
As detailed in this story, the G League Pathway Program is an initiative that the NBA has developed for elite prospects competes with overseas deals — specifically the NBL's Next Stars program — to provide a one-and-done year alternative to college basketball. Kuminga will join Jalen Green, Isaiah Todd, Daishen Nix and Kai Sotto as the inaugural class in the program. His deal is reportedly worth $500,000, which is similar to what Green was offered.
Kuminga picked the G League over Duke, Kentucky, Auburn and Texas Tech. Tech was considered the frontrunner because his brother, Joel Ntambwe, is a member of their roster, but his decision to head to the G League caught no one by surprise.
As a player, Kuminga is an explosive athlete at 6-foot-8. He has long arms, the ability to play multiple positions and versatility on the defensive end of the floor. Prior to the pandemic, Kuminga was known as an elite athlete with upside through the roof, but he is going to have to develop offensively, particularly his shooting, if he's going to reach that upside.
Moussa Cisse's commitment makes Memphis a top 25 team
Getty Images
Leave a comment
Moussa Cisse committed to Memphis on Wednesday, which is huge for the Tigers. Any time you add a 6-foot-11 center that is a top ten prospect and a potential one-and-done player that could end up being the very best rim protector in all of college basketball this upcoming season, it's a good thing.
A really good thing.
That's precisely the player that Cisse is. He's a terrific athlete that plays with a motor, loves to get on the glass and will be an impact defensive presence from the first day that he is allowed to play for the Tigers. More importantly, he won't be put in a position where he is going to be asked to do much more than that for this Memphis team.
I spent much last summer trying to downplay the hype that surrounded Memphis as they brought in a recruiting class that ranked No. 1 in the country and featured a pair of one-and-done five-stars in James Wiseman and Precious Achiuwa. The reason for that was simple: Not all No. 1 recruiting classes are built the same, and once you got past a pair of bigs that needed to be near the basket to be effective, the Tigers had a roster full of guys that had all the makings of being 2-3 year guys.
D.J. Jeffries, Damian Baugh, Boogie Ellis, Lester Quinones. Those guys all had solid freshman seasons. More importantly, they all returned to school for their sophomore seasons, and as the saying goes, the best thing about freshmen is that they become sophomores. Throw in the return of Alex Lomax, and Penny Hardaway has a pretty good core of perimeter players at his disposal even before you consider the potential that Landers Nolley and Deandre Williams get waivers.
The true value of the Memphis recruiting class wasn't just Wiseman and Achiuwa, it was the fact that Penny had himself a solid foundation for his program moving forward. Unless you are Duke or Kentucky, the teams that get the most out of their one-and-done freshmen are the programs that can plug these guys in and ask them to do a job. The healthiest programs in the sport — Virginia, Villanova, Gonzaga, Kansas, Baylor — are the teams that can land elite talent while maintaining roster continuity.
And that's precisely what Penny has set himself up with.
The hole in this Memphis team was in the middle.
There was not a player on the market better suited to filling that hole on Memphis than Moussa Cisse.
This addition gives Memphis a team that should enter the season in the preseason top 25 and will have a shot at contending with Houston for the American regular season title.
CBT Podcast: So are we going to have a college basketball season?
Getty Images
Leave a comment
Rob Dauster and Bobby Reagan are back to talk through … well, to talk about whether or not the Coronavirus pandemic is going to cause us to lose out on a college basketball season. Depressing, I know.
Patriot League punts on fall football as SEC leaders meet
Getty Images
2

Comments
The Patriot League joined the Ivy League on Monday, punting on football and other fall sports because of the pandemic while holding out hope games can be made up.
The Patriot League said its 10 Division I schools will not compete in any fall sports, which include football, men's and women's soccer, women's volleyball and field hockey. The council of presidents said the league will consider making up those seasons in the winter and spring if possible.
The conference is mostly comprised of private schools located in the Northeast that offer limited athletic scholarships. Pennsylvania rivals Lehigh and Lafayette have played 155 times, more than any two opponents in college football history.
Army and Navy are also Patriot League members, but not in football.
The Patriot League competes in Division I's second tier of college football (FCS) like the Ivy League, which announced a similar decision last week. Unlike the Ivy League, the Patriot League participates in the FCS playoffs.
Meanwhile, at the top of college sports, Southeastern Conference athletic directors met in person in Birmingham, Alabama, to discuss how the SEC can have a football season as COVID-19 cases spike throughout much of the South.
No final decisions were expected to be announced, but the meeting comes just days after the Big Ten and Pac-12 said they would play conference-only schedules this fall in football and a number of other sports.
SEC football media days, the unofficial start of the season for many fans, had been scheduled to begin this week, but the coronavirus pandemic forced all FBS conferences to hold those events online this year. Even some of those – for the SEC and ACC – are now on hold.
Some programs are taking steps toward playing in and even starting their football seasons on time. Monday was the first day the NCAA allowed football players to take part in mandatory team activities with coaches, including unpadded walk-through practices.
Florida State posted a video on social media of its team hitting the field with players and coaches wearing face coverings and shields to help stop the spread of coronavirus.
Pac-12 football teams will have to wait. Last week, conference presidents delayed mandatory team activities for Pac-12 athletes, acknowledging it would likely delay the start of the fall sports seasons.
Iowa State athletic director Jamie Pollard in a letter to fans posted online said the school is trying to balance the health and safety of athletes with the drastic financial repercussions of not having a football season.
"If we are unable to play sports this fall, the athletics department would incur approximately $40M in unfunded expenses in the next six months," Pollard wrote.
College football season was scheduled to start with a handful of nonconference games – three involving Pac-12 teams – on Aug. 29, before a full slate around Labor Day weekend from Sept. 3-7.
The Patriot League has seven schools that play football: Bucknell, Colgate, Lehigh, Lafayette, Holy Cross and affiliate members Georgetown and Fordham.
Lehigh and Lafayette, located 17 miles apart in Eastern Pennsylvania, started playing in 1884, sometimes as many as three times in a season. Only in 1896 was the rivalry not played since it began.
Army and Navy play in college football's highest tier of Division I and were exempt from the Patriot League's decision regarding other fall sports. The Patriot League council said the service academies will be allowed to pursue competition in those sports in which they usually compete within the conference, including soccer and volleyball, as the schools' leaders see fit.
Northwestern's Phillips to chair NCAA men's hoops committee
Getty IMages
2

Comments
INDIANAPOLIS — Northwestern vice president Jim Phillips was chosen Monday to chair the NCAA Division I Men's Basketball Committee for the 2021-22 season, succeeding Kentucky athletic director Mitch Barnhart.
Phillips, who is in his fourth year on the committee, will spend the upcoming season as vice chair.
Phillips was the first active athletic director to serve on the Board of Directors and Board of Governors, and he was elected first chair of the NCAA Division I Council in 2015. He also sits on the Fiesta Bowl Board of Directors and is vice chair of LEAD 1, an organization made up of athletic directors from all 130 schools that participate in the Football Bowl Subdivision.
The rest of the Division I Men's Basketball committee includes Mountain West Commissioner Craig Thompson; Southland Commissioner Tom Burnett; Atlantic 10 Commissioner Bernadette McGlade; Bradley athletic director Chris Reynolds; Toledo athletic director Mike O'Brien; SWAC Commissioner Charles McClelland; Iowa State athletic director Jamie Pollard; and North Carolina athletic director Bubba Cunningham.
The current chairman, Duke athletic director Kevin White, will rotate off the committee on Sept. 1.