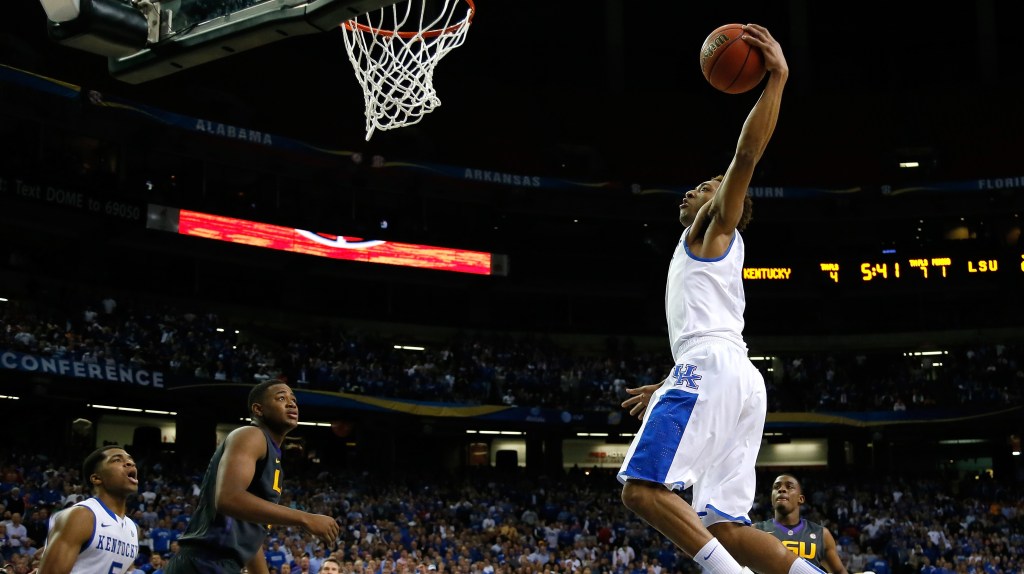 All it took was one sentence from John Calipari to work Big Blue Nation into a furor.
"The Tweak".
Coach Cal had promised Kentucky fans that he had done something, made some kind of an adjustment to his team's offense that would spark a change in this Wildcat team, and whatever is was that he did, it worked. The Wildcats used a dominating, 19-2 first half run to open up a big lead and survived a second half surge from the Tigers, advancing to the SEC semifinals with an 85-67 win on Friday night.
MORE: Get caught up on today's Bubble Banter
So what was "The Tweak"?
To be honest, I couldn't even tell, because the biggest difference between this Kentucky team and the one that had taken the court for the last two weeks of the regular season was simple: they actually decided to play. They were moving the ball offensively, working through their sets, moving the ball before attacking a defender, making the extra pass, hitting open jumpers. Defensively, they were active and aggressive, clearing the defensive glass and effectively double-teaming LSU's stud low-post presence Johnny O'Bryant. Kentucky was motivated.
They played together. Their role players played their roles. Julius Randle and Dakari Johnson combined for 26 points and 27 boards, 10 of which came on the offensive end. James Young and Aaron Harrison combined for 35 points on 11-for-26 shooting — 6-of-15 from three — the majority of which were good shots that came in the flow of the offense. Andrew Harrison had 11 points and eight assists while committing just three turnovers and taking just four shots. Willie Cauley-Stein had six boards and six blocks.
For the first time in a long time, Kentucky, arguably the most talented team in the country, was actually fun to watch.
RELATED: Should we be worried about Kansas defensively?
Whatever "The Tweak" actually was, the end result was that Kentucky bought-in to what Cal wanted them to do. And as weird as it sounds, that's all Kentucky has needed to do all season long.
Whether this success lasts is a different story. The Wildcats will face the winner of Georgia and Ole Miss on Saturday night, and if there's anything we've learned about Kentucky this season, it's that you can never can a good performance for granted.
But I do feel comfortable saying this: the team that showed up on Friday night is a team that can make a Final Four.
It's been a while since I've been able to say that, and tomorrow everyone will be watching to see if it actually sticks.