Mount St. Mary's became one of Championship Week's biggest cinderellas on Tuesday night when they steamrolled Robert Morris, earning themselves an automatic bid to the NCAA tournament and a .500 record on the season all in the same game.
But should they have even been in the title game to begin with?
Thanks to some quality sleuthing from Timothy Burke of Deadspin.com, we can say that the answer is probably no.
MORE: Get to know all of the NCAA Tournament's automatic bids here.
With 30 seconds left, down 70-67, the Mount was in desperation mode, throwing on a press to try and force a turnover against St. Francis (NY) to spark a comeback. Well, they did just that, picking up a steal and laying the ball in to cut the lead to one.
The problem? The Mountaineers had six players on the court. Check it out: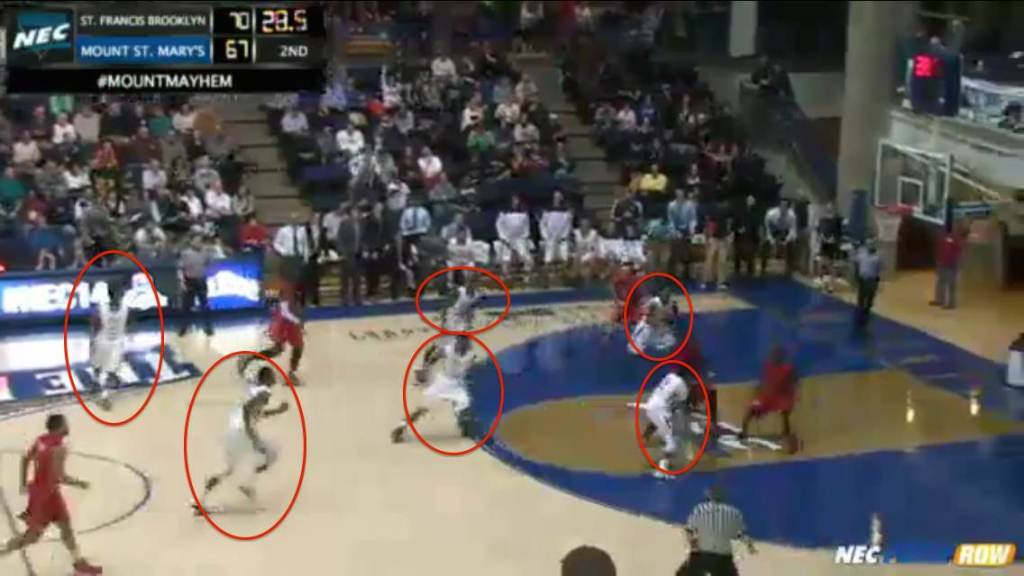 Mount St. Mary's would go on to win the game 74-72 thanks to this game-winning bucket before advancing on to win the tournament title.
Noreen Morris, the NEC commissioner, simply released this statement: "It recently came to my attention that for a span of 2.5 seconds within the last minute of the March 5th quarterfinal game between Mount St. Mary's and St. Francis Brooklyn there were six players on the court for Mount St. Mary's.  I am in the process of reviewing the incident with the NEC coordinator of officials as well as the administration and coaching staffs of the involved institutions."
It's doubtful that anything will come of this. Missing six players on the court should be the same as missing a travel or blowing an out of bounds call. The refs blew it — as did St. Francis, who didn't notice either, and every single fan in the building or watching at home — and there's not much they can do about it now.