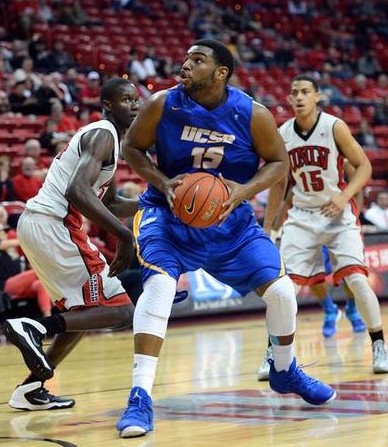 The top eight teams in the Big West descend upon the Honda Center in Anaheim, and even with the regular season champion going 13-3 in league play this shapes up to be a highly competitive three days. UC Irvine, the preseason pick to win the Big West, rode their stingy defense to the top of the conference pecking order but they didn't lack for challengers either. UCSB finished a game back in the standings, with Long Beach State (10-6) and Hawaii (9-7) also finishing above .500. And with the lower-seeded teams also posing a threat, don't be surprised if one of the top four teams fall in the quarterfinals.
When: March 13 – 15
Where: Anaheim, Calif. (Honda Center)
Final: March 15, 10:30 p.m. (ESPN2)
Favorite: UCSB
While the Gauchos didn't win the conference's regular season title, Bob Williams' team is the pick to grab the automatic bid. One reason is their efficiency on both ends of the floor, as in conference games UCSB ranked second in adjusted offensive efficiency and third in adjusted defensive efficiency per Ken Pomeroy's numbers. This is a group that was tested during non-conference play, picking up convincing wins over UNLV (road) and California while also dropping an eight-point decision at Colorado. Big man Alan Williams (21.6 ppg, 11.6 rpg) is one of the nation's best, and both Michael Bryson (11.3 ppg) and Kyle Boswell (10.7 ppg) have been quality secondary scoring options.
And if they lose? UC Irvine
Russell Turner's Anteaters were the preseason pick to win the Big West and they made good on that promise, with their defense being the biggest reason why. Irvine was the league's most efficient defensive team in conference play, limiting teams to 28.7%  shooting from beyond the arc and 37.7% inside of it with 7-foot-6 center Mamadou Ndiaye and forward Will Davis II being key figures on that end of the floor. Davis, Luke Nelson and Chris McNealy have all been capable scoring options, but UC Irvine's had issues with turnovers (eighth in turnover rate) and foul shooting (ninth at 65.3%) in conference play. Those issues clearly didn't cost them the regular season title, but in a one-and-done scenario that may not be the case.
Sleepers:
Long Beach State: Dan Monson's team finished the regular season with an overall record of 14-16 but they won ten games in Big West play, which shouldn't be a surprise given the 49ers' penchant for playing brutally difficult non-conference schedules.
Hawaii: The Warriors may have the best front court tandem in the Big West, with both Isaac Fotu and Christian Standhardinger earning first team All-Big West honors.
Studs:
Alan Williams (UCSB): Williams is a player much of the nation should be well-aware of by now. He's pretty much a guarantee to go for 20 points and ten rebounds…at least.
Mike Caffey (Long Beach State): A two-time first team All-Big West selection, Caffey led the 49ers in both scoring (16.2 ppg) and assists (4.3 apg).
Stephen Maxwell (Cal-State Northridge): Reggie Theus landed a very good player in Maxwell when he was hired last spring, with the forward averaging 17.9 points and 9.0 rebounds per contest.
Michael Williams (Cal-State Fullerton): Averaging 17.6 points and 4.1 rebounds per contest, the guard has reached double figures in every game he's played this season.
CBT Prediction: Look for their balance on both ends of the floor to land UCSB the Big West's automatic bid.