SPRINGFIELD, Mass. – The last time Manhattan qualified for the NCAA tournament, current head coach Steve Masiello served on staff as an assistant. In 2011, he took over the program, inheriting a 6-25 team. In only his second year he had the Jaspers one-win shy of punching their ticket.
Those dreams were dashed last season by rival Iona. On Monday night, Masiello and Manhattan returned the favor with a 71-68 victory over the Gaels in the MAAC Tournament championship game at the MassMutual Center in Springfield, Mass. advancing to the tournament for the first time since 2004.
"It's just been something I've been working my whole life to get to this point," Masiello said. "I'm just fortunate to be around a lot of great people, who have helped me along the way, and who have meant the world to me. They've really taught me about coaching, basketball, life, and it's all helped me tremendously."
In September, the midway point between Masiello's heartbreaking, season-ending loss to Iona and Monday night's MAAC title win, Masiello's former coach Rick Pitino was enshrined into the Naismith Memorial Basketball Hall of Fame, forever having his greatest coaching achievements stored in Springfield, the birthplace of basketball.
Following Monday's championship win, Masiello will link his most memorable coaching moment, maybe the best in his basketball career, with Springfield as well.
"I've been to two Final Fours and this is right there with it," Masiello said.
Masiello met Pitino when he was 12-years-old as a ball boy for the New York Knicks. Seven years later, he followed Pitino to Kentucky where he was a walk-on. He logged 215 minutes of action in four years, compiling 42 total points.
"Don't cheat my playing career," Masiello joked during Monday night's press conference. "I won at national title. That's pretty good.
"And I have another Final Four with Rick [in 1997]."
Pitino and Masiello were reunited again in 2005, when he joined Pitino's staff at Louisville for the first of six seasons before taking over the Manhattan program.
Maseillo was known as a top recruiter while with the Cardinals. When he was hired at Manhattan, his roster wasn't exactly filled with guys he had helped land for Pitino.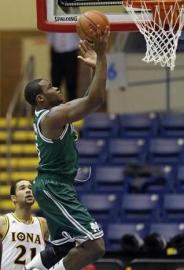 "The irony for us is you look at these young men and Mike Alvarado, I was told not to keep. George Beamon had no scholarship offers. … Rhamel Brown, no one knew about," Masiello said.
In three seasons, the senior trio have helped the Jaspers win 60 of their last 98 games.
"I didn't know him," Beamon said. "I knew [former Manhattan guard] Luis Flores, he told me he was a good guy. And I just believed in him. Coming from 3-15 (MAAC record) you have to put your trust in something. I got my guys together and we believed in him. Last year we made it to the championship game and now we are here. We made it."
The winner of the MAAC was being projected as a No. 13-seed entering the evening, which has to be an unsettling feeling for numerous top-25 teams. Manhattan ranks among one of the nation's top 50 teams in adjusted defensive efficiency. The Jaspers are 71 in the RPI while ranked 69 by kenpom.com.
The third-year head coach has rejuvenated a once struggling program. He's been embraced by past stars such as Durelle Brown, who stayed up watching film with Manhattan until the early hours of Monday morning.
"There is a lot of tradition with these guys," Masiello said. "They started it and we're finishing it and we're keeping it going. That's where I'm lucky."
He's been to a pair of Final Fours and won a national championship at Kentucky. As a coach, he helped bring in the pieces that set up another title in 2013 for Louisville. He won the MAAC on Monday night. He's come back home and led Manhattan to a NCAA tournament berth in less than 36 months, and that might just top all of his previous March moments.
"It's pretty amazing," he said."This is home for me and for me to be able to do at home is special."