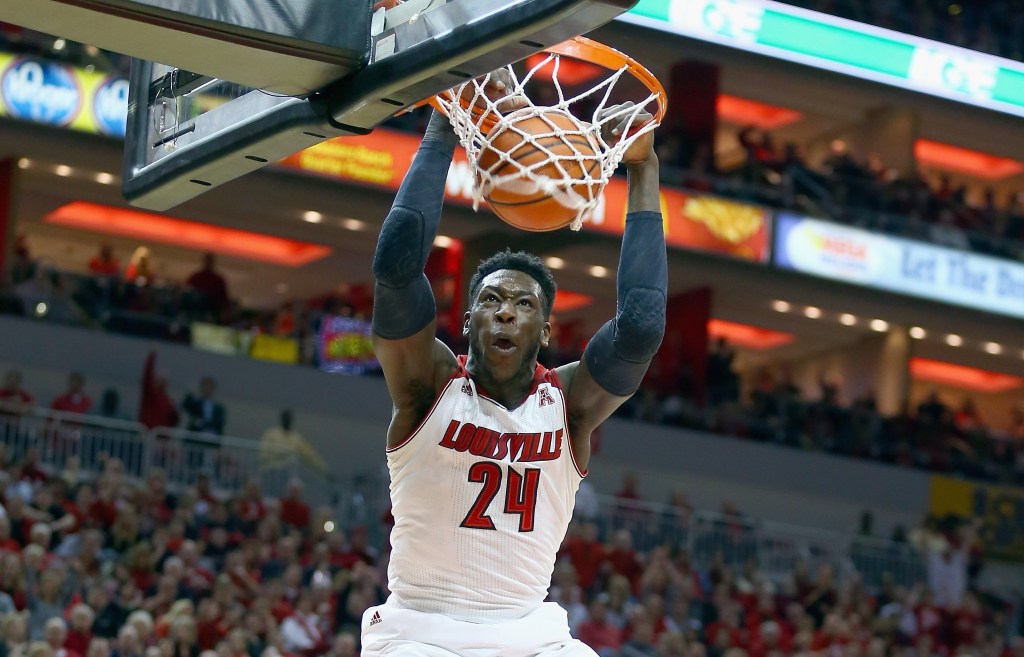 Not many knew what to expect in the first year of the American Athletic Conference. But after a season that saw five likely NCAA Tournament teams (Cincinnati, Louisville, SMU, UConn, Memphis) and three All-Americans (Sean Kilpatrick, Shabazz Napier, Russ Smith), it is safe to say that this is a really good league this season. Cincinnati and Louisville tied atop the league standings — with Cincinnati getting the No. 1 seed by virtue of a coin flip; seriously — and both teams will be favored to reach the finals and face each other for the tourney title. Can Louisville win the league in its only year in the American before moving on to the ACC?
(MORE: Browse through all of our conference tournament previews)
When: March 12-15
Where: Memphis, TN
Final: March 15, 6:00 p.m., ESPN
Favorite: Louisville has won nine of its final 10 games of the regular season and with sophomore forward Montrezl Harrell peaking at the right time, this looks like a dangerous team that is poised for a run. Harrell is averaging 21.2 points and 9.4 rebounds per game over his last five games — four of them against ranked opponents — and when you add his interior scoring with Louisville's deep stable of talented guards, they'll be tough to beat in Memphis.
Russ Smith is playing at an All-American level — as both shot-happy Russdiculous or as a distributor — and Luke Hancock, Chris Jones and Wayne Blackshear are all capable of being solid role players and perimeter scoring threats.
And if they lose?: Cincinnati was the surprise of the American during the season as they tied with Louisville atop the conference standings and won the No. 1 seed via a coin flip. Mick Cronin's bunch really defends and hits the glass hard and Sean Kilpatrick should be a first team All-American on everyone's list after putting up 20.9 points and 4.5 rebounds a game.
Other Contenders:
Memphis: With homecourt advantage and four senior guards, the Tigers are very dangerous in this event. The frontcourt duo of Austin Nichols and Shaq Goodwin have made great strides playing together since the beginning of the season.
SMU: Larry Brown has done a tremendous job turning this program around and Nic Moore is one of the best point guards in a conference full of great guards.
UConn: Shabazz Napier played at an All-American level this season, but he'll need more help from Ryan Boatright, DeAndre Daniels and company to have a shot at winning this thing.
Sleeper: Houston
The Cougars own wins over UConn and Memphis and played first-round opponent SMU within single digits in both losses. TaShawn Thomas and Danuel House are a talented enough inside-outside, one-two punch to give any team in the league problems.
Deeper Sleeper: Rutgers
The American is definitely stacked at the top and weak at the bottom this season but Rutgers has been in some real fights since losing by 48 at Louisville on February 16th. Since then, Rutgers has lost by six points or less to Memphis, Cincinnati, Central Florida and UConn and owns a win over South Florida.
Studs you haven't heard about:
Nic Moore, SMU: Illinois State transfer has made a major impact on the Mustangs with his poise and shooting ability (48% FG, 45% 3PT, 84% FT).
TaShawn Thomas, Houston: The junior averaged 15.5 points, eight rebounds, and 2.6 blocks a game on 59 percent shooting from the field.
Myles Mack, Rutgers: The junior point guard can score (15.9 points per game) or distribute (4.4 assists per game) and he's a threat to knock in perimeter jumpers.
CBT Prediction: Louisville over Cincinnati
Best Big East Tournament Memory: Since the AAC is technically the old Big East, that means I'm allowed to do this: