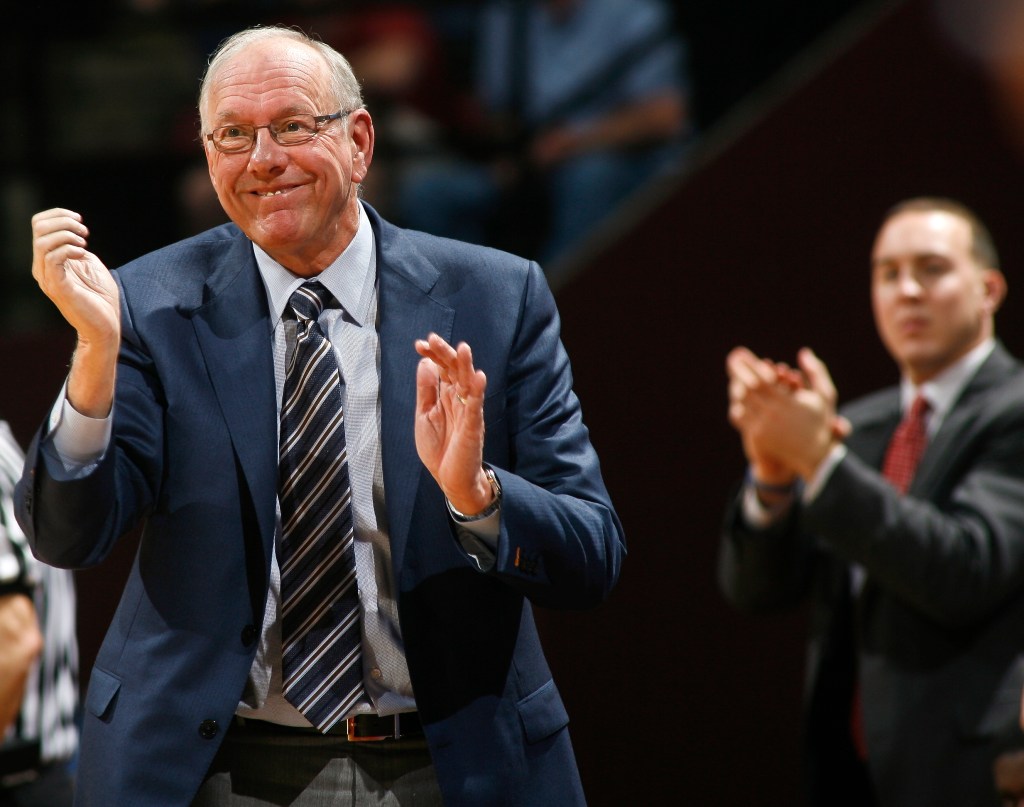 This has been a season of change for the Atlantic Coast Conference, with the addition of Notre Dame, Pittsburgh and Syracuse meaning that this year's conference tournament will last five days. With that change teams seeded from 10 to 15 will begin play on Wednesday, now needing to win five games in as many days to earn the ACC title. And even though the regular season did yield an outright winner, with Virginia sitting atop the standings for the first time since 1981, there are multiple teams capable of winning the tournament beginning with those Cavaliers.
RELATED: Read through NBCSports.com's latest Bracketology
Tony Bennett's team has taken advantage of an efficient, balanced offense led by guards Malcolm Brogdon and Joe Harris, and their pack-line defense has frustrated many opponents over the course of the season. Among their 16 conference wins was an impressive beating of Syracuse on March 1, but the Orange will arrive in Greensboro healthier than they were on that afternoon as Jerami Grant is back to full strength.
Duke and North Carolina earned the other double-byes, and with Jabari Parker and Rodney Hood leading the way the Blue Devils should be considered one of the favorites to win the tournament. And in Marcus Paige the Tar Heels have a capable leader, but he'll need consistent help from the big men. Even teams outside of the top four are capable of making a run, and this is an important weekend for Clemson and Florida State with regards to the NCAA tournament. Add in the fact that this is charter member Maryland's final ACC tournament, and there will be no shortage of storylines in Greensboro.
MORE: Browse through all of our conference tournament previews

When: March 12-16
Where: Greensboro, N.C. (Greensboro, N.C.)
Final: March 16, 1:00 p.m. (ESPN)
Favorite: Syracuse
The Orange certainly had their issues offensively during the latter stages of ACC play, shooting lower than 40% from the field in five of the six games played before their their regular season finale at Florida State. Jim Boeheim's team shot 48% in that win over the Seminoles, and one reason why was the presence of a healthy Jerami Grant. Tyler Ennis and C.J. Fair lead the way and have been very good, but the Orange need Grant as their third contributor. With Grant healthy some of the pressure is taken off of Trevor Cooney, but it should be noted that Syracuse still needs him to get going.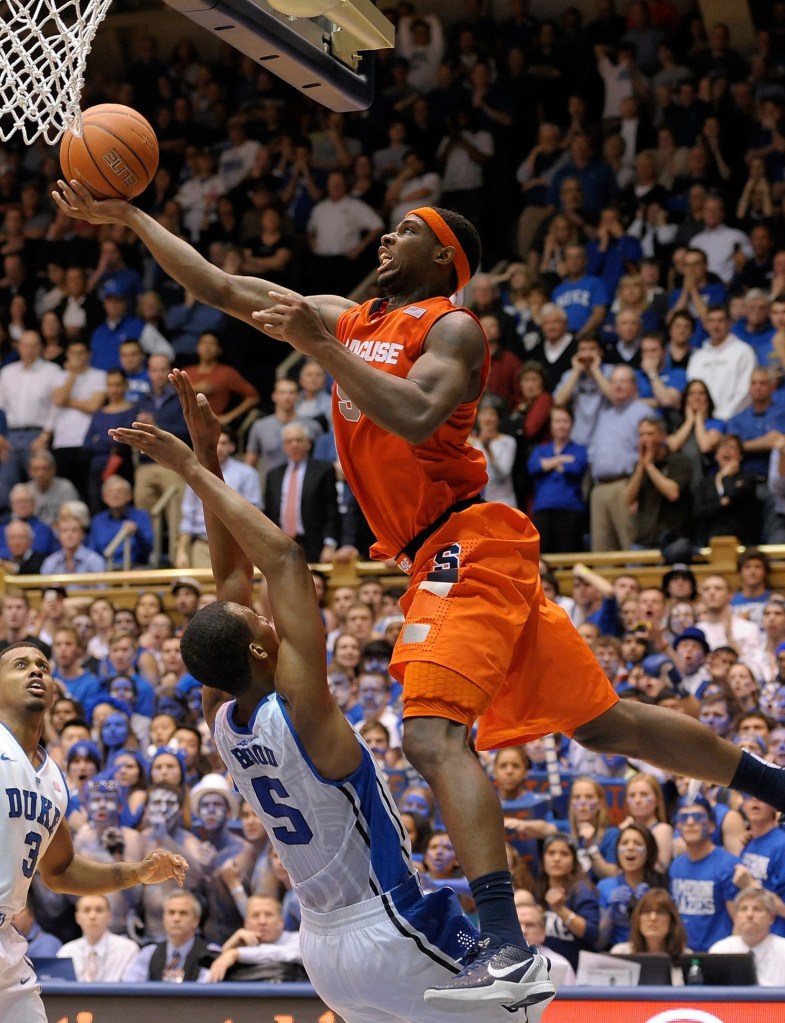 Syracuse's defense is why they were able to hang around in most of those games, and it's been a strength all season long. Opponents are shooting 40.8% from the field against the Orange in ACC play, and they're also second in the conference in defensive efficiency. The defense has largely been there for Syracuse, and the combination of that and an offense bolstered by the return of Grant may be enough to push the Orange to the ACC crown.
And if they lose?: Duke
The Blue Devils have been the ACC's best offensive team from an efficiency standpoint, and in Hood and Parker they've got two talented options leading the way. And their solid backcourt does a good job of playing off of the two stars, which also helps make Duke a tough team to defend. Something to watch this week is the play of Quinn Cook, who struggled in the three games prior to his 11-point, six-assist night against North Carolina. He needs to be consistent when on the floor running the show for Mike Krzyzewski. Defense remains a concern, but Duke ranked fourth in the ACC in forced turnover percentage.
Other Contenders:
Virginia: Clearly the Cavaliers are contenders, with their balanced offense (led by guards Malcolm Brogdon, Joe Harris and London Perrantes) and stingy defense being two reasons why. But they're going to need consistent play from Akil Mitchell and Mike Tobey inside, with both coming off of subpar performances in a regular season-ending loss to Maryland.
North Carolina: Marcus Paige has been outstanding all season long for the Tar Heels, who have also benefitted from an improved J.P. Tokoto. But if they're to make a run at winning this event, James Michael McAdoo and the rest of the front court needs to be consistent in the rebounding department.
Sleeper: Pittsburgh
Even with the rough stretch he experienced in the middle of conference play, senior wing Lamar Patterson was still a second team All-ACC selection. He averaged 17.6 points and 4.5 assists per game for the Panthers, who boasted the ACC's third-most efficient offense in conference play. With Patterson and classmate Talib Zanna leading the way, Pitt has the potential to make a run provided the underclassmen (James Robinson especially) are heard from.
Deeper Sleeper: N.C. State
There's one reason why the Wolfpack are the pick here: T.J. Warren. This is a group that has struggled with consistency in conference play, but Warren has been the notable exception. Having scored at least 40 points in each of his last two games, Warren's got the talent and scoring ability to get hot and carry Mark Gottfried's team on his back for four straight days.
Studs you haven't heard about:
K.J. McDaniels, Clemson: McDaniels was a first team All-ACC selection and rightfully so, but the national pub is lacking for this athletic wing who gets it done on both ends of the floor.
Aaron Thomas, Florida State: One of the most improved players in the ACC, Thomas averaged 14.5 points and 4.1 rebounds per game for a team looking to earn an at-large bid to the NCAA tournament.
Daniel Miller, Georgia Tech: A third team All-ACC selection, Miller blocked a league-best 2.8 shots per game for the Yellow Jackets.
Olivier Hanlan, Boston College: Hanlan (18.6 ppg) was a bright spot in an otherwise dismal season for the Eagles, and he dropped 41 on Georgia Tech in last year's ACC tournament.
CBT Prediction: With Grant back and healthy, look for Syracuse to withstand challenges from Duke and Virginia to win the ACC in its Greensboro debut.
Best ACC Tournament Memory: