If I could only watch one conference tournament this season, it would be the Big 12. That's what happens when, barring an upset, all eight teams in the quarterfinals have a chance at playing their way into the Big Dance.
The matchups?
The juiciest.
RELATED: Read through NBCSports.com's latest Bracketology
There's No. 4 Iowa State and No. 5 Kansas State, two teams that are noted for being unbeatable on their home floors squaring off at a neutral site. No. 3 Texas, who came from nowhere this season to become an NCAA tournament team, takes on No. 6 West Virginia, who needs to make a run to the finals to have a shot at hearing their name called on Selection Sunday. If No. 7 Baylor can beat No. 10 TCU, the Bears will square off with No. 2 Oklahoma, with the best perimeter team in the conference taking on the team with the best front court. And if No. 8 Oklahoma State can get past No. 9 Texas Tech, they'll take on No. 1 Kansas, a matchup that shouldn't need explanation.
And that's just the quarterfinals.
Did I mention they have great barbecue in Kansas City?
MORE: Browse through all of our conference tournament previews

When: March 12-15
Where: Sprint Center, Kansas City
Final: March 15, ESPN
Favorite: Kansas Jayhawks
On paper, Kansas is the most talented team in the Big 12, maybe the country. They have the two guys that will go top three in the NBA Draft in June (Andrew Wiggins and Joel Embiid), another lottery pick (Wayne Selden) and an all-Big 12 caliber role player that could end up being a first round pick himself (Perry Ellis). As you've come to expect from a program that has won ten straight Big 12 regular season titles, they're loaded.
MORE: Where did Andrew Wiggins rate as an NBCSports.com All-American?
But there are two things that could derail a Big 12 tournament title. The first is Embiid's back. It's balky. He's getting a second opinion on it in California and could very well end up sitting out until the NCAA tournament. He's the defensive rock for a team that has not been consistently great defensively. The other is Naadir Tharpe. For the most part, Tharpe has been very good this season. But when he's bad, he's really, really bad. Kansas could end up playing Oklahoma State and Iowa State before the finals. They cannot afford Bad Naadir if Embiid isn't playing.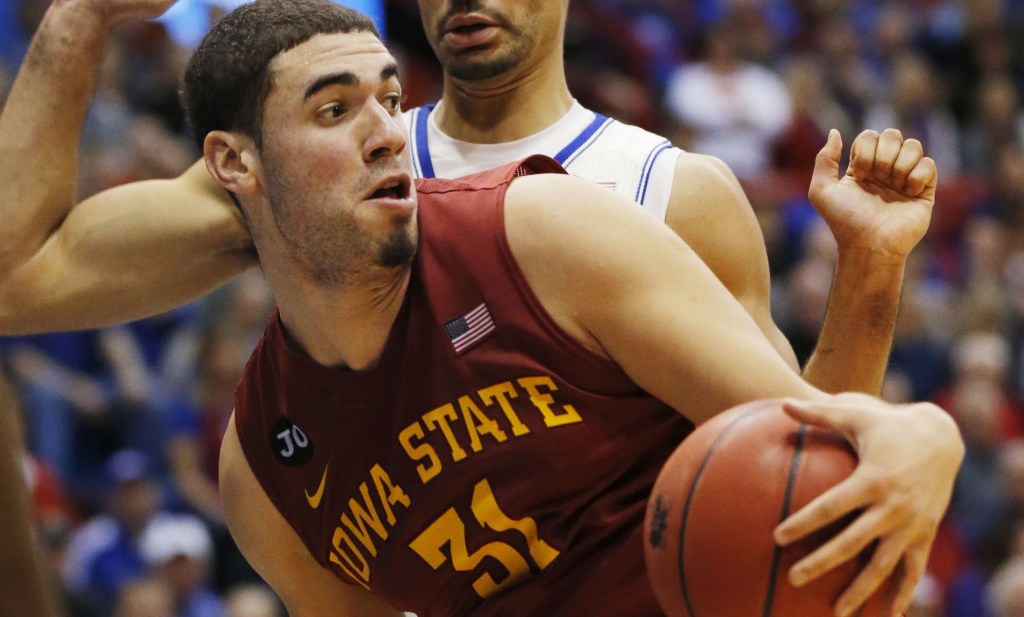 And if they lose?: Iowa State
As crazy as this may sound, the Cyclones actually had more Big 12 Player of the Year candidates than Kansas did. DeAndre Kane has been the best back court player in the conference, and Melvin Ejim has capped a terrific career with an All-American season. Throw in Georges Niang, one of the nation's biggest matchup nightmares, and the Cyclones are good enough to make a run to the title despite being slotted into the No. 4 seed.
Other Contenders:
Oklahoma: The Sooners are better than anyone gives them credit for. The No. 2 seed in the bracket, Oklahoma spreads the floor and gets out in transition as much as anyone in the conference. Buddy Hield and Cameron Clark are as good of a 1-2 punch as you will find in the league, and yes, I do realize how loaded that statement is.
Texas: Remember when we all fired Rick Barnes back in October? Well, don't look now, but the Longhorns finished as the No. 3 seed in the Big 12 tournament and drew a matchup with West Virginia in the quarterfinals. Texas wins with their defense and their massive front line, and on the nights that Javan Felix and Isaiah Taylor are shooting well, they're dangerous.
Sleeper: Baylor
We all wrote the Bears off earlier this season, and rightfully so. They lost eight out of ten games at one point and looked like a sinking ship. But they closed the regular season with seven wins in eight games as Isaiah Austin and Cory Jefferson started to play better while Kenny Chery embraced his role as lead guard offensively. The issue with this group is always going to be on the defensive end, where they rank 95th in defensive efficiency.
Deeper Sleeper: Oklahoma State
I'm actually picking the Pokes to win the Big 12 tournament despite being the No. 8 seed that will have to beat Texas Tech, Kansas and either Kansas State or Iowa State just to get to the final. Here's why: Marcus Smart is back to being Marcus Smart. He's still flopping, but he cut down on his ridiculous threes and he cutback on some of those headlong drives into the lane. He's playing like an actual point guard instead of trying to be Kobe Bryant. When he does that — when he allows Markel Brown and Le'Bryan Nash to be the go-to-guys offensively — Oklahoma State looks like the team that was picked in the top ten in the preseason. Oh, and in the last two weeks, they beat Kansas and came within a missed free throws from Phil Forte and a 25-foot three from Naz Long of beating Iowa State at Hilton Coliseum.
Studs you haven't heard about:
Markel Brown, Oklahoma State: Le'Bryan Nash was a top ten recruit. Marcus Smart is, well, Marcus Smart. But Brown has been Travis Ford's most consistent offensive weapon in Big 12 play.
Juwan Staten, West Virginia: It's a shame that Staten plays in a league with DeAndre Kane and Smart because he's been overshadowed. He had as good of a year as any point guard in the country.
Buddy Hield, Oklahoma: Hield's development into an all-Big 12 player is one of the biggest reasons that the Sooners are a top 25 team this season.
Marcus Foster, Kansas State: He wasn't a top 100 player coming out of high school but Foster has been one of the nation's best freshmen.
CBT Prediction: Oklahoma State over Oklahoma
Best Big 12 Tournament Memory: