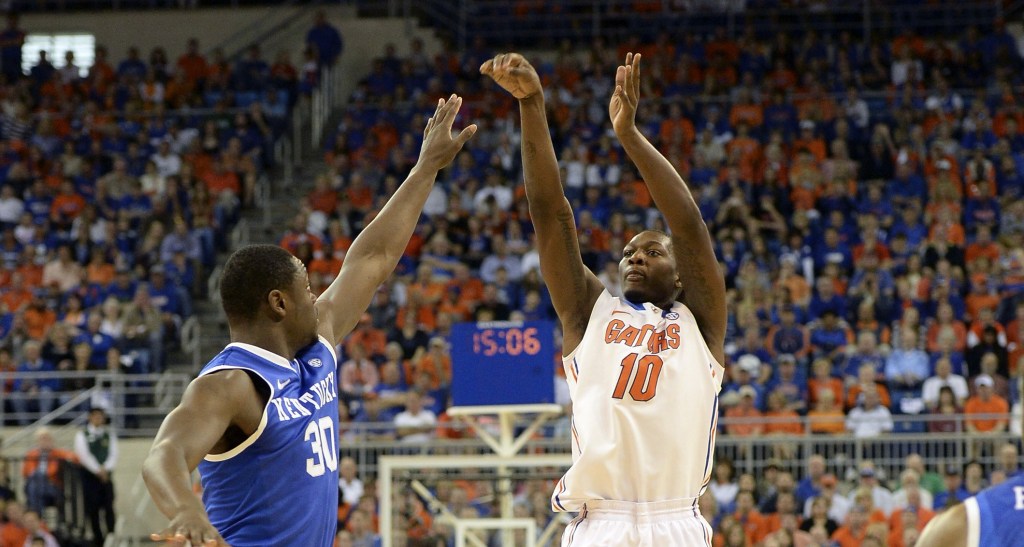 For the first time in SEC history, a team has finished the season 18-0 as Florida validated their No. 1 ranking with an 84-65 win over No. 25 Kentucky on Saturday afternoon.
Patric Young led four players in double-figures with 18 points and seven boards, while Scottie Wilbekin added 13 points and four assists. The senior point guard also knocked down the biggest shot of the game — something we've become accustomed to — when he hit a three that ended a 15-0 Kentucky run that cut a 21-point deficit to just six. The Wildcats never got closer than eight the rest of the way.
We already knew that Florida was the best team in the country entering the final weekend of the regular season, so it's not like pounding a reeling Kentucky team tells us anything that we didn't already know about the Gators.
What it did, however, was give anyone unfamiliar with the Gators a blueprint of just what they are capable of.
RELATED: How should we view Kentucky now?
This team can be stifling defensively. They can go man or zone. They can press or play in the half court. They can switch all exchanges 1-4, and the only thing they do better than defend ball-screens is execute ball-screen actions offensively. More importantly, this is a team that doesn't have a weakness offensively. Young led the way with 18 points tonight, a game after Michael Frazier II, who had nine points in the first half, went for 37 while hitting 11 triples. Casey Prather is their leading scorer on the season, but Wilbekin is their best player on the offensive end. I still haven't mentioned Dorian Finney-Smith, who had 11 points, six boards, four assists, two steals and two blocks on Saturday while hitting 3-4 from beyond the arc. His ability to be a pick-and-pop stretch-four makes him the x-factor for this group.
The most impressive part about this team?
In a season that started with the hype about Andrew Wiggins and ended with the Kansas freshman putting together one of the most impressive performances of the season, Florida's two McDonald's all-american freshmen have been relegated to roles off the bench.
That's how good this group is.
They may not end up winning a national title, but trust me when I tell you that their 23-game winning streak is not simply a result of the SEC being down.