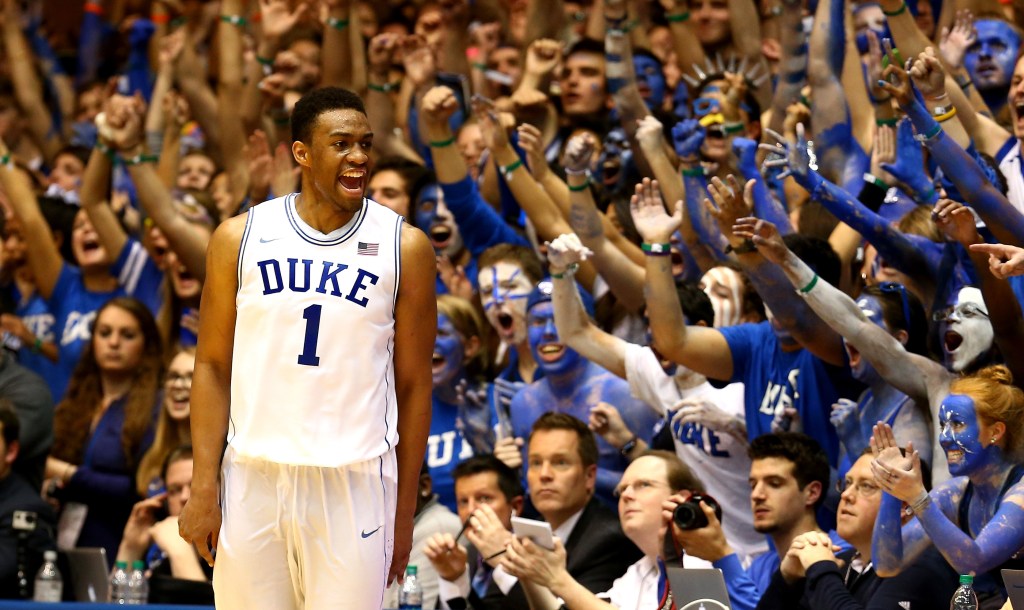 Jabari Parker finished with 30 points and 11 rebounds and Rodney Hood chipped in with 24 points as No. 4 Duke bounced back from a loss at Wake Forest by beating No. 14 North Carolina 93-81 in Cameron Indoor Stadium on Saturday night.
It was a win that the Blue Devils really needed, but not because they had an ACC regular season title on the line or because it would be the difference between a No. 1 seed and a No. 2 seed.
Duke needed to right their ship. They were coming off of a loss at Wake Forest, which happened less than two weeks after blowing an 11-point lead at North Carolina. Duke needed to make a statement, and they did, jumping out to a 17-4 lead early and led by as much as 18 in the second half. The outcome was never really in doubt, which is saying something considering that North Carolina hadn't lost a game since January 20th.
Perhaps the most impressive stat from this game is that the season's final regular season game was the first game in ACC play that both Hood and Parker scored more than 20 points. As one of the nation's most dangerous scoring duos, it's wild to think that it took that long for both of them to catch fire in the same game.
RELATED: North Carolina's rebounding a concern?
On the one hand, it's a good sign for the Blue Devils. It's proof that on the nights when those two are clicking, they can do things like snap North Carolina's 12-game winning streak without much resistance. But should Duke fans be worried about the timing? Is it a red flag that the only time those two both went off in ACC play came in the sport's most famous rivalry on national television in what is quite possibly the last game that either kid will play in Cameron?
I'm not sure.
What I do know is that Parker is playing as well as he has all season long. He posted double-doubles in his last six games and 10 of his final 13 games.
I also know that it was a mid-game defensive adjustment — switching to a zone — that sparked the game-changing runs in losses at Wake and at UNC, and on Saturday, UNC's zone was largely ineffective.
If Parker is playing well, and if zones don't give the Blue Devils fits, they're pretty tough to beat.