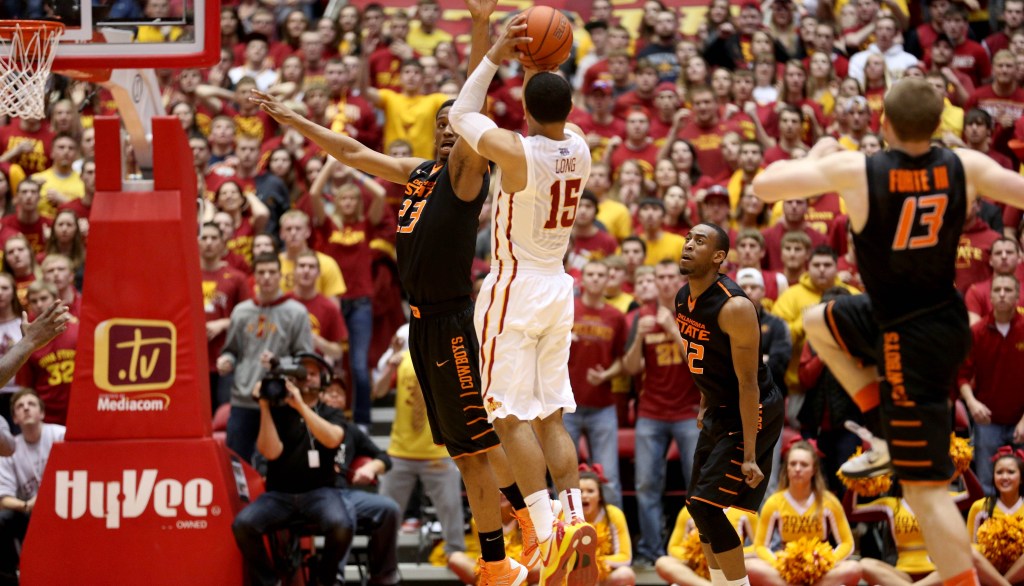 At this point, there should be no questioning whether or not Oklahoma State is back to being the team that they were back in December.
If it wasn't for a missed free throw from Phil Forte, an 88.9% free throw shooter, and a buzzer-beating three from Naz Long at the end of regulation, the Cowboys would have gone into Hilton Coliseum and knocked off No. 16 Iowa State:
Instead, DeAndre Kane scored seven of his 27 points in overtime as the Cyclones pulled out an 85-81 come-from-behind win. Oklahoma State took a 32-25 lead into the break and opened the second half with a 13-4 run to go up 16 points, but the Cyclones responded with a 34-12 surge setting up the thrilling finish.
Hilton Magic is real, y'all.
Kane, a Big 12 Player of the Year candidate, added eight assists and seven boards. Georges Niang finished with 22 points and six boards, but he and Melvin Ejim both fouled out of the game.
The story here isn't how good Iowa State is, however. We know they are, and we know that they don't lose at home. If you're surprised by this outcome, you shouldn't be. The talking point needs to be the Cowboys. This is a team that can make a long run in the NCAA tournament.
Marcus Smart scored 27 points (on 8-for-17 shooting) and added five assists and four steals while committing just two turnovers. Since the midway point of the second half against Kansas last Saturday, Smart has been simply sensational. He's playing within the offense. He's not forcing as many off-balance jumpers as he had been earlier this season. He's still wreaking havoc on opposing offenses.
In fact, if he hadn't fouled out of this one at the end of regulation, the overtime period could have played out very differently.
When Smart is playing this way, the Pokes can beat anyone in the country. I truly believe that. They knocked off Kansas in Stillwater. Kansas committed roughly 500 turnovers in that game and Andrew Wiggins had an off-night, so if you want to chalk that up as a fluke, go ahead. But the fact that Oklahoma State came within a missed free throw and a buzzer-beating three from beating Iowa State in Ames — which is tougher to do that beating Kansas at home — should make you reconsider.
The Pokes are probably going to end up being somewhere between a No. 7 and a No. 10 seed in the NCAA tournament. That's what happens when you lose seven straight conference games. I'll tell you this much: If you're a No. 1 or No. 2 seed, you're much more concerned about running into the Cowboys in the Round of 32 than you are running into Kentucky.