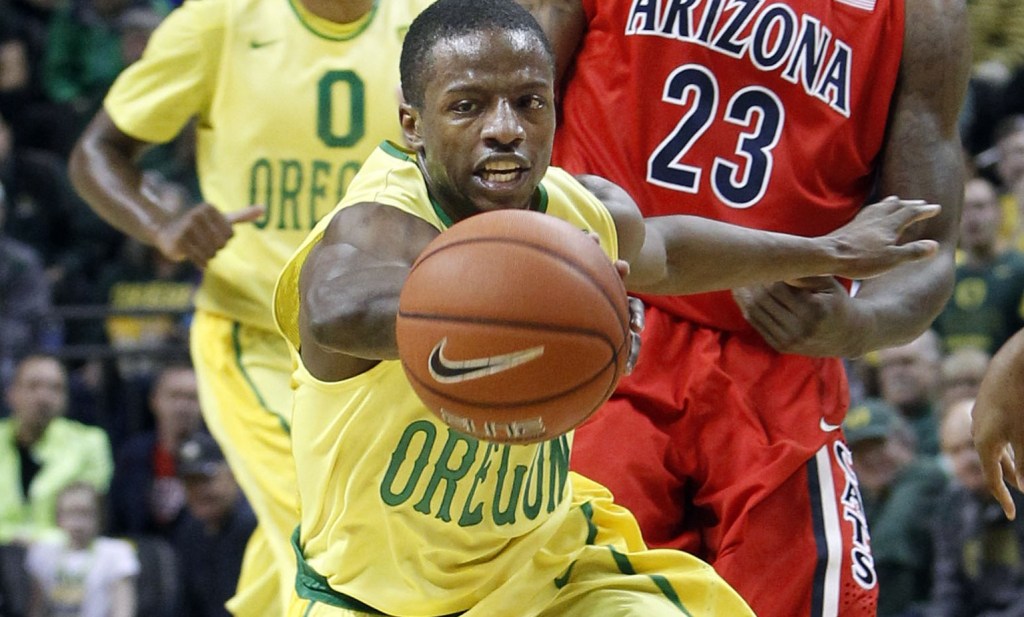 There are eight days left until Selection Sunday. Every morning from now until the bracket comes out, we'll help you get caught up on the happenings with impact on the bubble from the night before.
Our latest bracket projection can be found here.
WINNERS:
Oregon: I'm not sure if Oregon was still on the bubble entering Saturday's date with No. 3 Arizona, but they sure aren't after knocking off the Wildcats in Eugene.
St. John's: The Johnnies picked up a double-overtime win at Marquette that they absolutely couldn't afford to lose. It's their sixth top 100 win and just their second away from home. But with just one top 50 win on their resume (Creighton), an RPI of 64 and two sub-100 losses, Steve Lavin's crew is going to have some work to do in the Big East tournament if they still want to dance.
Tennessee: In a matchup that was billed as a de-facto NCAA tournament play-in game, the Vols jumped all over Missouri, pounding the Tigers 72-45. With the win, Tennessee improves to 7-7 against the top 100, but they have just two top 50 wins and four sub-100 losses. In other words, this victory certainly does not lock up a bid for Tennessee. They need to win at least one game, and maybe two, in the SEC tournament to avoid sweating out Selection Sunday.
MORE: Browse through all of our conference tournament previews
Stanford: The Cardinal entered Saturday having lost their last three games after knocking off UCLA, and they nearly lost to Utah, surviving a one-point win after blowing a big second half lead. But a win is a win, and this win should be enough to keep the Cardinal in the NCAA tournament for now. They have four top 50 wins, six top 100 wins and just one loss to a sub-100 team that came on the road in league play. Winning their first game in the Pac-12 tournament would make Selection Sunday much less stressful.
Pitt: How lucky are the Panthers? They scored five points in the final 2.4 seconds — a Lamar Patterson three and a short jumper from Josh Newkirk after Clemson turned the ball over on the ensuing inbounds — to force overtime before pulling away from Clemson to land a much-needed road win. It's the sixth top 100 win for the Panthers, although their best win on the season is still No. 47 Stanford. It's an empty profile, and beating Clemson isn't going to change that, but with six of their eight losses coming to top 25 foes — and the other two coming against top 75 opponents — Pitt is still in a pretty good spot. Perhaps more than any other team on the bubble, Pitt cannot afford a loss in the first round of their conference tournament.
Cal: The Bears quite simply had to beat Colorado at home on Saturday, and while it took overtime to get the job done, Mike Montgomery's boys got the win they needed. It's their fourth top 50 win — which includes their win over Arizona — and improves their record against the top 100 to 7-11. Their work isn't done yet, however. The Bears probably don't want to risk losing their opener in the Pac-12 tournament.
BYU: The Cougars handled their business against LMU in the quarterfinals of the WCC tournament, meaning that they no longer are at risk of suffering a loss to a sub-100 opponent. A win over San Francisco would push them to 8-6 against the top 100 with wins against Texas, Stanford and Gonzaga. Getting to the finals should be enough, although they may be able to withstand a loss in the semifinals.
WATCH: Doug McDermott's scores 3,000th point, career-high on Senior Night
Dayton: The Flyers have won nine of their last ten games, including wins over UMass, Saint Louis and, on Saturday, Richmond to close out the season. Dayton now has an 8-6 record against the top 100, an RPI in the top 50 and four top 50 wins, which is enough to get them on the right side of the bubble as of today. Avoid a bad loss in the Atlantic 10 tournament, and the Flyers will likely host a game in the First Four.
Gonzaga: The Zags survived a battle from Santa Clara in the WCC's quarterfinals, advancing when David Stockton hit a driving layup with 1.4 seconds left. The win was important for Gonzaga because their profile is not all that strong. They're 8-4 against the top 100, but have just a single top 50 win and two losses to teams ranked outside the top 150.
West Virginia: A win over Kansas gets the Mountaineers back into the conversation, but with just a 5-12 record against the top 100 and 14 losses on the season, this group still has a lot of work to do. They might need a run to the finals of the Big 12 tournament.
LOSERS:
Georgetown: The Hoyas entered Saturday afternoon as one of a handful of teams sitting right on the bubble's cutline but with a chance to go into Philly and knock No. 6 Villanova, a potential No. 1 seed. It didn't go well. Georgetown got smoked, meaning that they'll enter the Big East tournament with a 17-13 record and an 8-10 mark in the Big East. The Hoyas have three top 25 wins and five top 50 wins, but they were swept by Seton Hall this season and lost to Northeastern back in November. Here's the bigger concern: all of a sudden, the Hoyas are looking at a situation where they will have 14 losses on Selection Sunday if they don't win the Big East's automatic bid. That's a lot of losses.
Arkansas: The Razorbacks suffered their second loss to a sub-100 team, getting blown out on the road by Alabama on Saturday. Throw in Kentucky's recent collapse, and all of a sudden their profile doesn't look quite as strong. They have four top 50 wins — including one at Rupp — and are 8-8 against the top 100.
Missouri: The Tigers were one of a handful of teams sitting on the bubble's cutline entering Saturday. They badly needed a win over fellow bubbler Tennessee on Saturday, and instead they went out and lost by 27. Missouri is now 7-8 against the top 100, but their only top 50 wins are against Tennessee and UCLA. The good news for Missouri is that this loss doesn't hurt their profile all that much. Losing to an RPI top 50 team on the road isn't necessarily a bad thing. Like the Vols, they have work to do in the SEC tournament if they want to dance.
Providence: Losing at Creighton on Doug McDermott's Senior Night is not a knock on a team's resume, so this loss doesn't make the Friars worse off as they head into the Big East tournament. The issue is that they lost an opportunity to land a marquee win, which would have made Selection Sunday so much less stressful. As it is, the Friars probably need a win or two at the Garden to feel comfortable. They're 6-10 against the top 100 with a notable home win over the Bluejays, a bad loss to Seton Hall and a mediocre RPI (55).
Utah: The Utes had a chance to beat Stanford on the road on Saturday, but they ended up losing by one after being unable to get a shot off on their final possession. Utah had four top 50 wins and a 6-9 record against the top 100, but with their non-conference SOS checking in at 346th, they needed this win to have a real shot of earning an at-large bid.
Green Bay: The Phoenix are talented. Kiefer Sykes is as athletic as point guards come and Alec Brown is an NBA prospect. But Green Bay lost to Milwaukee in the Horizon semifinals, putting them in a position where they're likely headed to the NIT. They're 24-6 overall with a win over Virginia, but they have just four top 50 wins and three losses to sub-150 teams. Such is the life of a mid-major.
Marquette: The Golden Eagles were a good way off of the bubble's cut line entering the day. At this point, they are probably going to need to win the automatic bid to dance.
Colorado: The Buffaloes have a strong enough profile to dance, but the concern is how it will be weighed in their time without Spencer Dinwiddie. They had a shot to beat Cal in regulation and in overtime at the buzzer, but failed to do so. Most projections have Colorado in the dance and missing the First Four.
Bubble games still to be played:
9:00 Santa Clara at Gonzaga