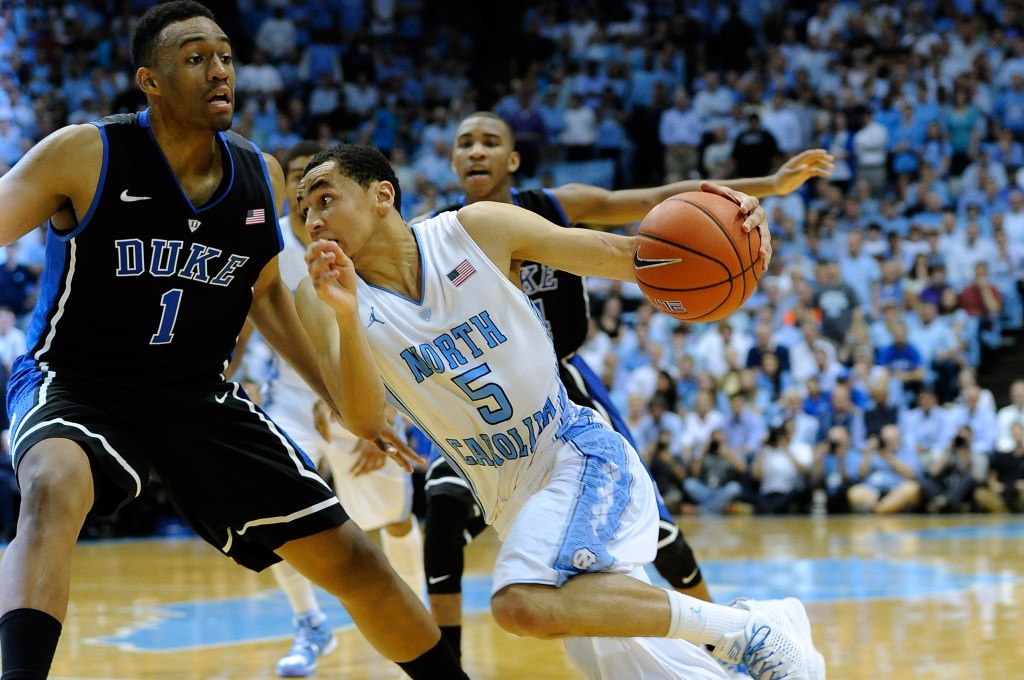 GAME OF THE WEEKEND: No. 14 North Carolina at No. 4 Duke, 9:00 p.m.
It really doesn't get better than the Duke-Carolina on the final weekend of the regular season. The only odd part about it is that there really isn't all that much on the line anymore. Virginia's already locked up the ACC regular season title. Duke pretty much cost themselves a shot at a No. 1 seed by losing to Wake Forest on Wednesday. North Carolina did the same with their struggles earlier this season. If anything, this game will be a chance for the Blue Devils to prove that they actually are a Final Four contender.
THE OTHER GAME OF THE WEEKEND: No. 21 New Mexico at No. 10 San Diego State, Sat. 10:00 p.m.
This will be fun. The two best programs in the Mountain West will square off in arguably the rowdiest environment on the west coast for the right to call themselves Mountain West regular season champions. The Aztecs have long been considered the favorite to win the league title, with their win at Kansas and New Mexico's struggles earlier in the season. But the Lobos are peaking at the right time. Like I said, this will be fun.
THE OTHER, OTHER GAME OF THE WEEKEND: No. 19 UConn at No. 11 Louisville, Sat. 2:00 p.m.
Senior night for Russ Smith will also feature a chance for the Cardinals to lock up the AAC regular season title in their only year in the conference. The Cards already went up to Storrs and knocked off UConn this season. The Huskies will be playing to stay out of the 4-5 game in the AAC tournament, which means they would have to play Memphis or SMU instead of one of the league's bottom-feeders. Shabazz Napier vs. Russdiculous is appointment viewing.
FIVE MORE TO WATCH:
No. 18 SMU at No. 20 Memphis, Sat. 12:00 p.m.: SMU is tough to peg. They were rolling people at home and struggling on the road … and then won at UConn and lost to Louisville in Dallas.
No. 25 Kentucky at No. 1 Florida, Sat. 12:00 p.m.: So is Kentucky really going to make some noise in March? Or is this team a lost cause? If it's the latter, Saturday could get ugly in Gainesville.
Oklahoma State at No. 16 Iowa State, Sat. 2:00 p.m.: Oklahoma State is a different team when Marcus Smart plays the way he has since the 10 minute mark of the second half against Kansas. Even still, I don't think anyone is expecting a win at Iowa State.
Providence at No. 13 Creighton, Sat. 8:00 p.m.: Doug McDermott's senior night. The Friars will hope that the Bluejays are distracted so they can pick up a much-needed resume win, while Creighton is looking to end a two-game losing skid.
No. 22 Michigan State at Ohio State, Sun. 4:30 p.m.: Can Michigan State turn this thing around? Are they ever going to be able to live up to the potential they had earlier this season?
WHO'S GETTING UPSET?
No. 3 Arizona at Oregon, Sat. 4:00 p.m.: The Wildcats struggled at Oregon State on Wednesday night. The Ducks like to get up and down the floor as well, which is how Sean Miller is now trying to get his team to play. Mike Moser's scalding hot of late, and will be fun to watch matchup with Aaron Gordon.
No. 5 Virginia at Maryland, Sun. 12:00 p.m.: Maryland is probably out of the bubble picture at this point, but it would be nice for them to pick off Virginia in their final regular season game as a member of the conference.
No. 7 Syracuse at Florida State, Sun. 2:00 p.m.: Syracuse apparently cannot score anymore. Florida State is good defensively and desperate for a win. Hmm.
No. 17 Saint Louis at UMass, Sun. 2:00 p.m.: The Billikens are struggling of late and play a completely different style from that of UMass. Who stops Chaz Williams?
No. 9 Wisconsin at Nebraska, Sun. 7:30 p.m.: Lincoln has suddenly turned into one of the toughest places in the Big Ten to play, and that won't change with the Huskers needing a win over Wisconsin to get a bid to the Big Dance.
FIVE THINGS TO KEEP AN EYE ON:
1) Five automatic bids to the NCAA tournament will be determined by the Sunday night, the most notable of which is the Missouri Valley's. Arch Madness kicked off on Thursday night, Wichita State will play their first game on Friday night and, if all goes to plan, they'll be ready to head to the NCAA tournament with an undefeated record Sunday afternoon.
RELATED: Our latest bracket projections — is your team in?
Harvard will earn the Ivy's automatic bid on Friday night with a win at Yale. If the Crimson lose, they'll need a win at Brown or a Yale loss to Dartmouth on Saturday. The Ohio Valley's championship game is on Saturday, while the Atlantic Sun and Big South bids will be given out on Sunday.
2) The four biggest bubble games of the weekend:
Georgetown at No. 6 Villanova, Sat. 2:00 p.m.
Utah at Stanford, Sat. 2:30 p.m.
Missouri at Tennessee, Sat. 4:00 p.m.
Colorado at Cal, Sat. 6:30 p.m.
Pitt at Clemson, Sat. 4:00 p.m.
Arkansas at Alabama, Sat. 4:00 p.m.
Arizona State at Oregon State, Sat. 4:30 p.m.
Indiana at No. 12 Michigan, Sat. 6:00 p.m.
Richmond at Dayton, Sat. 7:00 p.m.
3) No. 8 Kansas at West Virginia, Sat. 12:00 p.m.: Don't be surprised if West Virginia gives the Jayhawks a fight in Morgantown.
4) St. John's at Marquette, Sat. 12:00 p.m.: St. John's has to win this game if they want a chance to dance.
5) Baylor at Kansas State, Sat. 1:30 p.m.: Both teams are likely going dancing already.