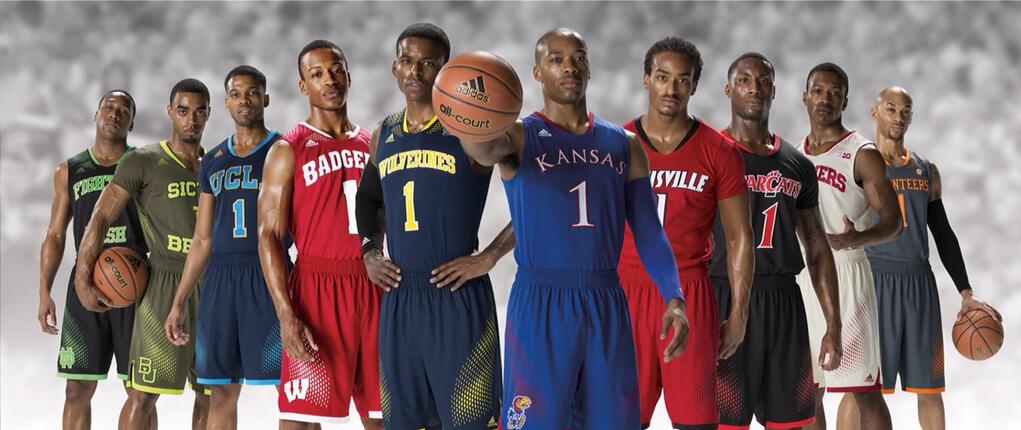 Adidas unveiled the uniforms that nine teams with sponsorship contracts will be wearing in March.
I like them, but Adidas is really married to this idea of sleeves on a uniform, aren't they? UCLA, Baylor, Louisville and Cincinnati will all be wearing jerseys that look like a bit too much like a cheap, church league uniform.
Beyond that?
I just hope you get a good, long look at what Notre Dame and Indiana was wearing before Selection Sunday.
Here are some other pictures of the new uniforms:
.@adidasHoops and UCLA unveil new #MadeInMarch alternate uniform. http://t.co/dUAqXUS7s0 pic.twitter.com/doUrp3z8AI

— UCLA Athletics (@UCLAAthletics) March 6, 2014
Get a closer look at the #HurryinHoosiers #MadeInMarch uniforms pic.twitter.com/KiBHN8o8oY

— IndianaMBB (@IndianaMBB) March 6, 2014
Adidas unveiled their #MarchMadness jerseys, including Baylor's that say "Sic'em": pic.twitter.com/rDtIXRCk0D

— NBC Sports Network (@NBCSN) March 6, 2014
Good years aren't good enough. Great years are #madeinmarch. #kubball pic.twitter.com/awk5Bb2Wdb

— Kansas Basketball (@KUHoops) March 6, 2014
Here's a look with Russ, Hancock, Schimmel and Gibbs modeling for #UofL pic.twitter.com/zmcQf9GIEF

— Jeff Greer (@jeffgreer_cj) March 6, 2014