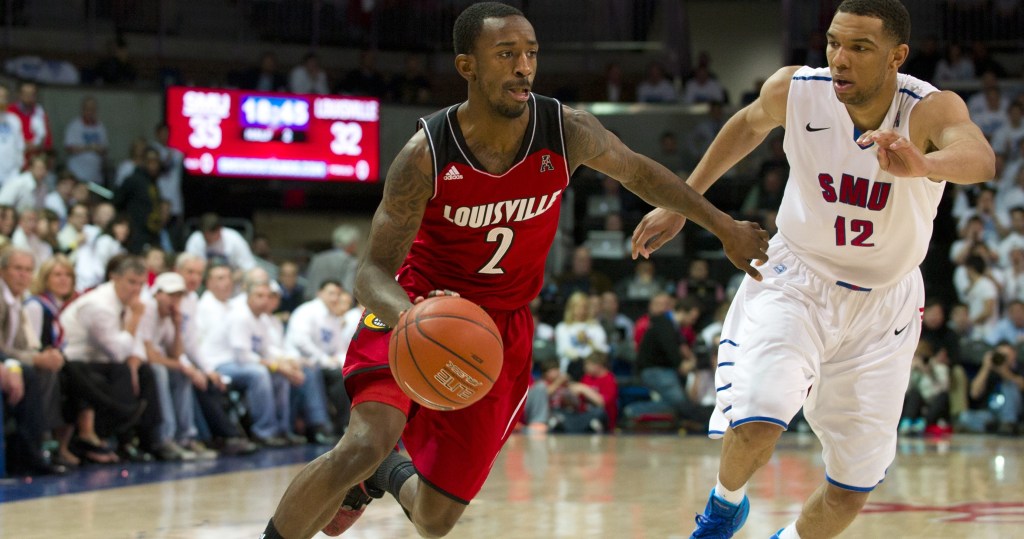 Russ Smith scored 22 of his 26 points in the second half, hitting all six of his threes in the final 13 minutes as No. 11 Louisville went into Moody Coliseum and knocked off No. 18 SMU, 84-71.
The win is impressive in and of itself. The Mustangs are as tough as anyone in the country on their home floor. Ask UConn, Memphis and Cincinnati, who were all run off the floor by Larry Brown's club. What's more is that SMU came out on fire, taking a 26-12 lead with just seven minutes left in the first half.
Do a little bit of math, and the Cardinals scored 72 points in 27 minutes on the home floor of a team ranked 17th in the country in defensive efficiency, according to KenPom. The Cardinals outscored SMU by 25 points during that stretch.
They forced 23 turnovers and scored 25 points off of them. Their back court of Smith and Chris Jones combined for 47 points, seven assists and eight steals while shooting 10-for-13 from three, numbers made all the more impressive when you consider that Smith was dealing with a stomach bug (he threw up in a trash can after hitting his sixth three) and that Jones' step-brother was shot and killed during the Memphis game; Jones is a Memphis native.
No matter how you slice it, this was a dominating performance from the Cardinals. If it wasn't for a late-game collapse at Memphis last Saturday, the Cardinals would be in a position where they would look like a favorite to make a run back to the Final Four. As it is, the biggest hinderance to the Cardinal's chances of making it back to Dallas in April could end up being the seed that they draw on Selection Sunday.
Louisville struggled in the non-conference, losing their only two quality games in non-conference play, but with a game against UConn this weekend and a trip to the AAC tournament the following week, a No. 3 seed isn't out of the question for Rick Pitino's club.
Here's the thing about the NCAA tournament this season: there are no dominant teams. The difference between the teams that end up on the No. 1 seed line and the teams that are No. 4 seeds won't be all that much. Louisville can absolutely make a Final Four, even if they have to play Stephen Van Treese for 27 minutes a night.
That's how good their perimeter is, and that's how dominant Montrezl Harrell can be.
For the third straight season, Louisville appears to be peaking at the perfect time.