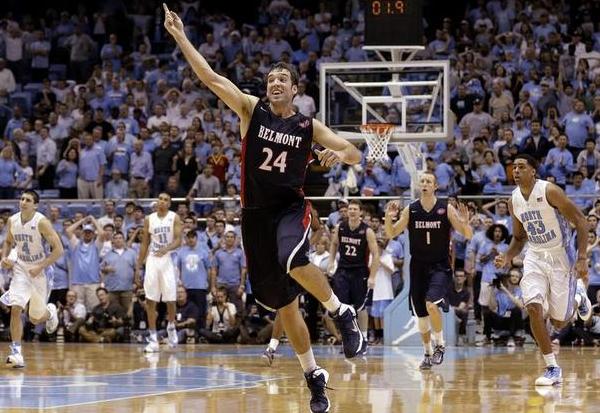 Last season, Kerron Johnson propelled Belmont, in its first season as a conference member, to the Ohio Valley tournament title with a last-second bucket over Murray State. If all goes according to plan, the Bruins and the Racers will meet up again in the OVC championship game as they head into the field this season as the Nos. 1 and 2 teams, respectively. Although those two have byes into the semifinals, they will be hard-pressed to get back into the finals.
Eastern Kentucky, one of the league's more well-balanced teams, can spoil that rematch as the three-seed. Morehead State has dropped three straight entering the tournament, but the Eagles played Belmont — a potential semifinal opponent — tight this season, losing by a combined seven points in two games. All the way toward the bottom of the bracket sits teams like No. 6 Southeast Missouri State, a team with enough offensive weapons to make a run.
Belmont may be playing in its hometown, but as the top seed, and eyeing the program's fourth straight trip to the NCAA tournament, Rick Byrd's club with have a target on its back once again.
(MORE: Browse through all of our conference tournament previews)
When: March 5-8
Where: Municipal Auditorium in Nashville, Tenn.
Final: Saturday, March 8 at 6 p.m. (ESPN2)
Favorite: Belmont
It's tough to pick against the Bruins. Rick Byrd has built a well-respected program, and despite losing Ian Clark and Kerron Johnson, he's got his team back in the hunt for another conference tournament title led by senior J.J. Mann, who has shined in his expanded role this season. Belmont once again challenged itself in non-league play with a 3-4 record against the RPI Top 100 and enters the conference tournament with six straight wins.
And if they lose?: Murray State
The Racers have been the royalty of the Ohio Valley Conference, last winning the title in 2012. Despite losing Isaiah Canaan, Ed Daniel and Stacy Wilson — and sophomore Zay Jackson — the Racers remain near the top of the standings, led by talented freshman guard Cameron Payne, who is top 10 in the conference in points and assists per game. Murray State begins postseason play on the heels of a double-overtime loss to Southeast Missouri State, which snapped a five-game winning streak.
Sleepers:
Eastern Kentucky: The Colonels are one of the OVC's most efficient teams on both sides of the ball. Though the glass is where they are most vulnerable.
Southeast Missouri State: Remember, this team was voted to ahead of Murray State in the preseason poll. We know the Redhawks have the scoring power, and if they get by Eastern Illinois in the first round, they'll have an advantage on the boards against Eastern Kentucky in the quarterfinals. Riding a four-game winning streak, maybe SEMO is ready to make a postseason run.
Studs:
J.J. Mann, Belmont: He's had a tremendous season (i.e. game-winner in Chapel Hill), scoring 18.5 points and grabbing 4.8 rebounds per game. Well deserving of his OVC Player of the Year honor.
Cameron Payne, Murray State: Went for a season-high 29 against Belmont this season. Averaged 15.9 points and 5.6 assists per game as a freshman.
Glenn Cosey, Eastern Kentucky: A bump up in points and assists for the senior guard. He's gone for 20 or more points 13 times this season.
Jarekious Bradley and Tyler Stone, Southeast Missouri State: The duo both average more than 19 points per game, leading the high-power offensive attack.
CBT Prediction: Belmont over Southeast Missouri State