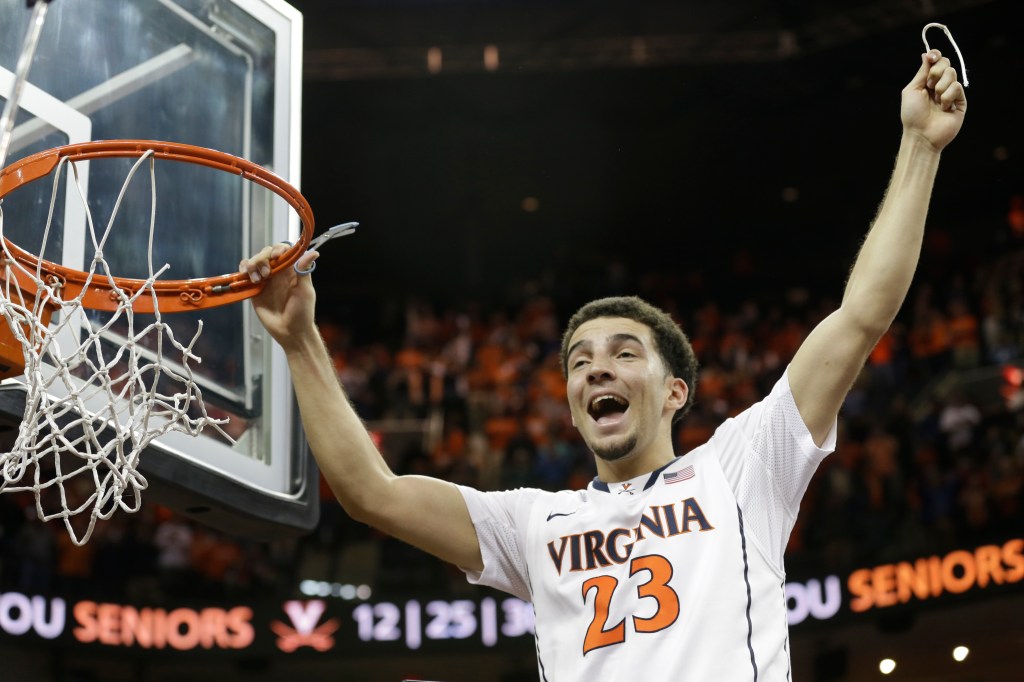 Virginia is the perfect example of why unbalanced schedules as a result of conference expansion is lame.
The three teams that the 'Hoos played twice during ACC play were Florida State, Maryland and Notre Dame. They didn't have to play at North Carolina or at Syracuse. So while I certainly respect that the only loss that Tony Bennett's club has taken since that 35-point beatdown at Tennessee on Dec. 30th was at Duke, it's hard to truly sit here and say Virginia is a Final Four contender and the best team in the ACC.
Don't get me wrong, I love the Cavs. With the length and athleticism that they have this season, that packline defense is just stifling. London Perrantes has been one of the nation's most underrated freshman, and the development of Malcolm Brogdon into a first-team all-ACC performer is something no one expected.
But this is a group that had one quality win in the non-conference (SMU) and is just 3-1 against tournament teams in league play. That's not exactly a murderer's row.
THE TOP 25
1. Florida (27-2, LW: No. 1): The Gators just keep on winning, and that won't likely change if Dorian Finney-Smith can keep hitting from the perimeter. When he's shooting well, it adds another dimension for Billy Donovan's group offensively.
2. Wichita State (31-0, LW: No. 2): All you need to know about Wichita State and their undefeated regular season can be read here and here.
3. Arizona (26-2, LW: No. 5): Right now, I'm not sure any team is playing better basketball anywhere than Arizona. They've beaten the breaks off of three straight tournament teams. Now there are now 120 minutes of this new, uptempo Arizona on film. Who finds a way to slow them down?
4. Kansas (22-7, LW: No. 3): 22 turnovers in a loss to Oklahoma State is concerning, but not exactly unexpected. Joel Embiid's back problems are a much bigger issue.
5. Duke (23-6, LW: No. 4): The Blue Devils blew out Virginia Tech in their only game this week. It's wild when you think about the fact that Duke is actually tied for third in the ACC.
6. Virginia (25-5, LW: No. 15): The Cavs blew out Syracuse over the weekend to earn the outright ACC title. They currently lead a conference that includes the Orange, Duke and North Carolina by two full games. Say what you will about unbalanced schedules, that's still impressive.
7. Creighton (23-5, LW: No. 7): Creighton lost to a better-than-you-think Xavier team in the Cintas Center on Saturday. Not exactly ideal, but I'm not exactly concerned, either. The bigger concern is that Isaiah Zierdan, who has given them good minutes off the bench in recent games, is done for the year with a knee injury.
8. Syracuse (26-3, LW: No. 6): The Orange lost on the road to a very good Virginia team in a game where they were essentially playing without Jerami Grant. In a vacuum … whatever. The problem is that it came at the end of an extended cold streak. Can the Orange turn around these struggles on the offensive end of the floor?
9. Villanova (26-3, LW: No. 12): The Wildcats smacked around Marquette on Saturday and look like they are going to be headed for the Big East regular season title.
10. Louisville (24-5, LW: No. 9): If Louisville doesn't blow an eight-point lead in the final minutes at Memphis, we're having a very different conversation about them right now. Louisville's seed might not reflect it, but this team seems to be peaking at the right time.
11. San Diego State (25-3, LW: No. 11)
12. Wisconsin (24-5, LW: No. 13)
13. Michigan (21-7, LW: No. 16)
14. Cincinnati (24-5, LW: No. 10)
15. Iowa State (22-6, LW: No. 17)
16. North Carolina (22-7, LW: No. 19)
17. UConn (23-6, No. 24)
18. Memphis (22-7, No. 23)
19. Saint Louis (25-4, No. 14)
20. New Mexico (23-5, No. 25)
21. Michigan State (22-7, No. 18)
22. SMU (23-6, LW: UR)
23. Texas (21-8, LW: No. 23)
24. Oklahoma (21-8, LW: UR)
25. VCU (22-7, LW: UR)