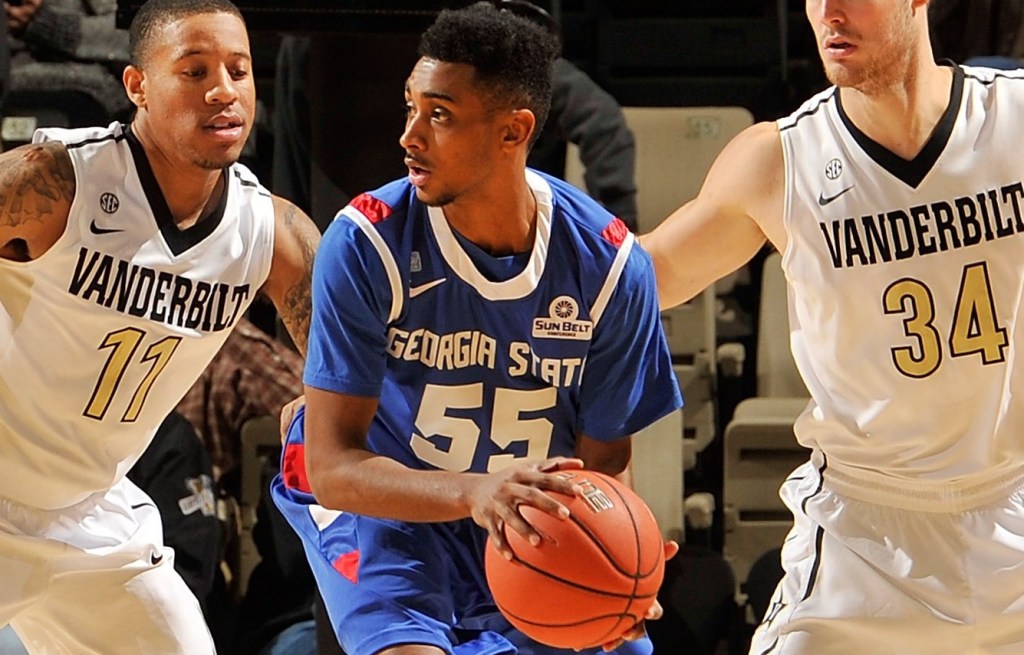 Georgia State head coach Ron Hunter only has two rules, two requirements, for the kids that play on his basketball teams to stay on the court.
Assuming they get their grades, don't cause a ruckus on campus and generally carry themselves as decent human beings on a day-to-day basis off the court, all he asks is that: A) they work hard, and B) they have fun. It's not a crazy philosophy. The guys on his roster are on his roster for a reason, and as long as they're playing hard for themselves and their teammates, and as long as they're truly enjoying the opportunity to play basketball at this level, Hunter will be happy.
"At the end of the day, you're going to make mistakes," Hunter told NBCSports.com this week, "but you have to play hard for me and you have to enjoy it."
And while it took a little effort to teach a guy as talented as Ryan Harrow what 'playing hard' actually meant, the real issue that Hunter initially had with his former McDonald's All-American point guard was getting him to have fun, to enjoy the fact that he was still a basketball player by trade.
"I don't think I saw him smile until right before the Vanderbilt game [on November 12th]," Hunter said of Harrow, who arrived on campus in June. "He had a huge smile on his face. We used to bring him in and say, 'man, it's just basketball'. Then all of a sudden, in December, even when we lost a couple games in a row, he's walking in, patting me on the back, 'What's up, Coach?'. I mean he's a completely different kid than he was when he walked in. It's almost like two different people."
Harrow's story has been well-publicized at this point.
He began his collegiate career at N.C. State, leaving after one season to enroll at Kentucky, where he redshirted during the team's run to the national title and took over the point guard role for Marquis Teague when he left for the NBA. What happened in Lexington that season was, for lack of a better word, a disaster. The Wildcats personnel just didn't fit, the team struggled to gain any momentum in the SEC despite the conference being down and Harrow took the brunt of the criticism for the team's trip to the NIT.
What wasn't discussed publicly, however, was that Harrow's father, Mark, had suffered a stroke back in Atlanta during the summer of 2012. He had trouble getting up by himself or dressing himself, making the simplicities of living day-to-day strenuous tasks. "When I saw his dad on the first day," Hunter said, "he came into practice and he looked awful. I was like, 'I don't think he can make it through the season.'"
That weighed on Ryan, and when coupled when the stress of struggling inside the bubble that is Lexington and Big Blue Nation, and the embarrassment of a McDonald's All-American returning to his hometown to play for a team in the Sun Belt Conference, it shouldn't really come as a surprise that it was hard for Harrow to enjoy basketball.
Being at home helped him, but more importantly, it has also helped Ryan's father. Mark is now able to watch his son play ball on a daily basis. "Coach lets him in [to practice] … sometimes," Ryan said, chuckling. "He'll come by and just watch. He's definitely at all the games, even the away games he tries to make." And it's more than just basketball. Ryan lives on campus, but his father's house is just a 15 minute drive away. A quick phone call, and the two can be breaking bread for lunch, watching a movie or settling in on the couch for a night of hoops.
"It makes me a lot happier. I don't have to worry as much. I'm right here," Ryan said. "I know seeing me play basketball makes him happy, so I'm glad that I'm doing well and he's able to see all this."
That's the key, here.
Ryan is doing really well. He's playing his best basketball since he was a high school senior, and Georgia State is having more success than anyone in the program thought they could entering the season. Harrow is second on the team in scoring, averaging 17.3 points and 4.6 assists, while the Panthers shook off a 1-6 start against Division I opponents to run out to win their first 10 Sun Belt games. They currently sit at 13-1 in league play, and a win at Texas-Arlington on Thursday night would clinch at least a share of league's regular season title.
And here's the irony: the turning point of the season came when Hunter made the decision to play Ryan out of position. After an overtime loss to Southern Miss dropped the Panthers to 1-6 against Division I teams, Hunter turned the reins over to Devonta White. Previously, White and Harrow had been splitting time at the point guard spot. Hunter moved Harrow off the ball, a role that the redshirt junior hadn't played since his high school days.
It worked. Georgia State is winning, in large part due to the fact that Harrow has accepted his role on this team. He's embraced his teammates, trusting them more than he did at the beginning of the season. The example Hunter used came in Saturday's thrilling, last-second win over Louisiana-Lafayette. Back in a loss to FIU in November, on the final possession of a one-point game, Hunter drew up a play to get the ball in Harrow's hands.
"Three guys ran at him, we ran the play and he shot it and missed and we were devastated," Hunter said. "On Saturday, [we ran the] same exact play and he makes the pass to Manny Atkins for a three." And to Hunter, that change encapsulates the changes Ryan has made, the strides he's taken to become a better player.
And, frankly, it's really not hard to make the connection here.
The son comes home to help the ailing father. The father gets better being closer to the son. Stress rolls off the son's shoulders seeing the father get better, allowing him to thrive. Seeing his son succeed brings life back to the father. We see it from a distant. For Hunter, whose son, R.J., is Georgia State's leading scorer, it's been special to see it happen up close.
"When I saw his dad on Saturday, his dad looked terrific," Hunter said. "Walking, smiling, he looks healthy now. It's just amazing what happened with the two of them being back home together. For dad to be able to see Ryan play and practice, and more importantly for a father to see his kid happy, I think it's been tremendous [for Ryan]."
"The weight of the world is off him now."
"Basketball's becoming a lot more fun," Harrow said. "I just saw what I went through and how I was previously, and I just try to keep myself in good spirits and always try to laugh because I don't want to go back to that place that I was at before I got here."
"It's just my mindset. I'm not really worried about the spotlight or the individual achievements. I'm happy that we're winning, obviously, but just the way I think now is different. I don't let too much get to me after all that I've been through."