In today's Roundtable, we will each make a pick as to who is the most important player in the National Title race.
Rob Dauster: This pick is easy: Keith Appling.
I've been saying it all season long. If Michigan State can get healthy, they're going to enter the NCAA tournament as one of, if not the favorite to win the national title. Gary Harris is over the ankle issues tht plagued him earlier in the season. Adreian Payne's foot has gotten better. Travis Trice and Matt Costello have gotten past what ails them. Even Branden Dawson is on the verge of returning from his broken hand.
The one guy that Tom Izzo is waiting on is Appling. He injured his wrist in a hard fall back in December against North Carolina, and it hasn't been right since then. That was two and a half months ago. He even sat out three games at one point. So the question is: will Appling ever get healthy? Will he ever be the guy that looked like an All-American back in November? Because when he plays that way, it makes the Spartans that much better. He was their closer, their facilitator, finally living up to the billing he's had since he came out of high school.
If he can get back there, the Spartans will have a great shot to cut down the nets in North Texas. If he can't, well, they're still going to be a contender, but as we have seen all season long, they won't be the same team.
Raphielle Johnson: No. 5 Kansas has steadily emerged as one of the favorites to win the national title, with the growth of freshmen Joel Embiid, Wayne Selden and Andrew Wiggins being one reason why. But if the Jayhawks are to win a national title there's another, more experienced player who holds the keys. That would be point guard Naadir Tharpe, who's currently averaging 9.0 points and 5.1 assists per game. Back in November more than a few folks (myself included) questioned whether or not the Jayhawks would be better off with freshman Frank Mason at the point, especially when considering how he played down in the Bahamas. But as the season's progressed it's clear that Tharpe is the player best suited to run the show.
When Tharpe plays well he's both distributing the basketball and scoring in an efficient manner, which makes the Jayhawks an even tougher team to defend. And in many of Kansas' six losses Tharpe hasn't played at the level he's displayed for most of the season. In those games he's averaged 6.0 points and 4.8 assists per game, shooting 37.2% from the field with his performance at Kansas State (13 points, ten assists) being the best of the bunch. Kansas has the talent needed to make a deep run, but they can't win six straight if Tharpe isn't at his best.
Scott Phillips: For me, it has to be Duke's Jabari Parker. Doug McDermott is the Player of the Year, but does anybody actually believe Creighton has a chance to win a title? Duke does have a chance at a title and a lot of that will have to do with the play of Parker.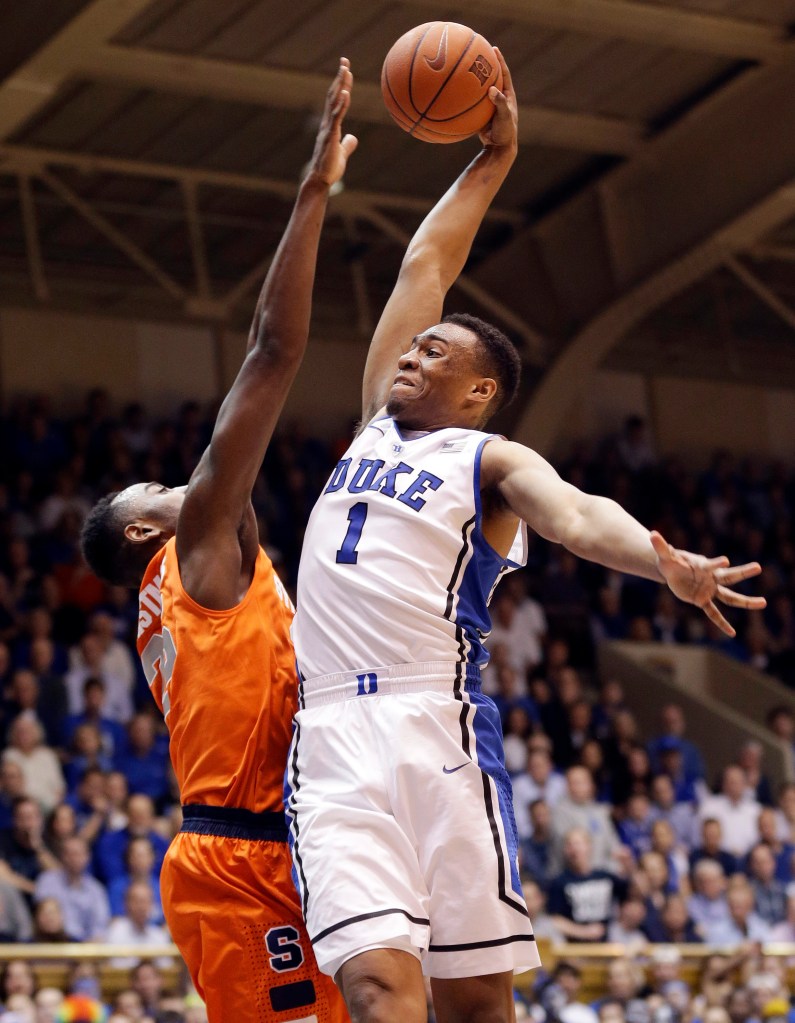 The focus for many will obviously be on Jabari's offensive capabilities — and whether he can consistently score at a high level over a potential six-game stretch — but what about on the defensive end of things? Parker has to be able to score and rebound during the tournament while also having to face some of the best interior players in college basketball as a defender.
Is Parker up to the challenge? That remains to be seen, but as a lifelong Chicagoan, I watched Parker and Simeon win four consecutive Class 4A state championships in Illinois and you just didn't bet against that dude when it came time for tournament play.
Obviously, the stakes, the level of play and the overall talent is much higher at the collegiate level, but Parker is a proven winner and will be a huge factor if Duke can make a Final Four run.
Terrence Payne: The former No. 1 team in the nation stumbled with back-to-back losses to Boston College and Duke last week. In those defeats, Tyler Ennis shot a combined 8-for-27 from the field. And while he still protected the ball — 12 assists to four turnovers — Duke was able to limit his effectiveness on the offensive end in the Blue Devils' 66-60 win on Saturday.
What's interesting about those pair of losses is that Syracuse had opportunities to win, and remain unbeaten. BC took Cuse to overtime, before pulling off the three-point upset win. The odds weren't in the Orange's favor with 10 seconds to go against Duke, but it was still only a one-possession game before Jim Boeheim became an Internet meme with his first career ejection.
Syracuse has gotten itself into a lot of close calls this season, and Ennis has been a key reason why the Orange have been able to prevail in many of those outcomes. Obviously the buzzer-beater against Pitt stands out, but it's more so his decision-making and his poise down the stretch with the game in the balance. Entering that game against Pitt two weeks ago, Ennis had yet to commit a turnover in the last five minutes of a game.
Though, Ennis struggled from the field in the late stages against BC, typically a time where he flourishes. It was likely just a bump in the road in an otherwise impressive freshman campaign. A season which could end in Arlington for the Orange, if Ennis continues to thrive under pressure.
Matt Giles: Scottie Wilbekin is the reason why Florida's offense is ranked fifteenth nationally. The junior guard, who is also arguably the team's best on-ball defender, is no scoring slouch – 38 percent from beyond the arc – and his ability to create for the other Gators makes the team a favorite to reach the first weekend of April. Casey Prather can convert off the bounce, but the rest of the squad requires help to boost their scoring average.
The majority of Florida's offense, when not in transition, is spent either spotting up or using pick and rolls, and Wilbekin is skilled at simultaneously understanding defensive spacing and how to best position his teammates to score. Nearly a quarter of UF's offensive possessions are jumpers, and of those, 79 percent come from three, so Wilbekin's passing acumen – per Hoop-Math.com, only 35 other teams are more dependent on an assist for a three point attempt than Billy Donovan's squad – is crucial if Florida is to remain offensively efficient and avoid lulls, like during the second half against Vanderbilt.
Michael Frazier II, Patric Young, and Dorian Finney-Smith – three Gators whose percentage of shots taken is more than 20 percent – all are talented on offense, but without their point guard to position them in a perfect scoring opportunity, Florida likely wouldn't be mentioned in any 2014 national title conversation.