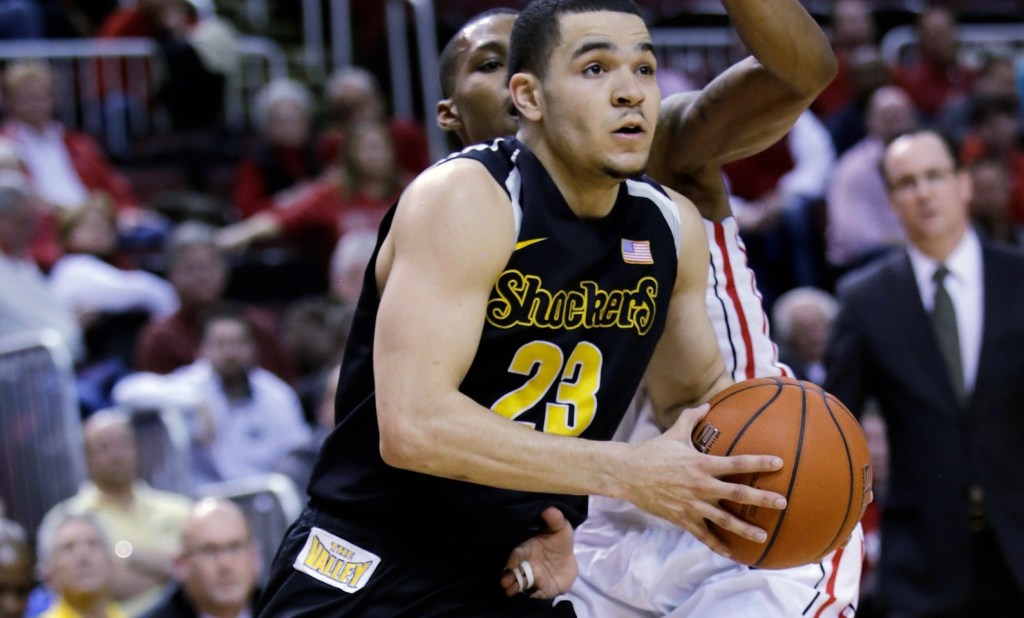 We witnessed college basketball history on Tuesday night.
You might not have noticed it happened, but it certainly did happen.
No. 2 Wichita State — the most over-analyzed team in the country — moved to 30-0 with yet another dominating win in the Missouri Valley, this one coming by a final margin of 69-49 at Bradley. It's the first time in the history of our great sport that any team has ever gone 30-0 in the regular season. That record could be bested on Saturday, when Wichita State hosts Missouri State in the regular season finale.
Last Saturday, the Shockers became the first team to be 29-0 since Illinois pulled off the feat in 2004-2005. They lost in their last regular season game to Ohio State. With a win next Saturday, the Shockers will become the first team to enter their conference tournament undefeated since St. Joseph's did it in 2003-2004. They lost the opener to Xavier. If Gregg Marshall can somehow steer his team clear of any and all landmines during Arch Madness, Wichita State will become the first team to enter the NCAA tournament undefeated since UNLV did so in 1990-1991. They made it all the way to the Final Four before getting dropped by Bobby Hurley and Christian Laettner on the way to Coach K's first title as the head coach at Duke.
The Shockers are 75% of the way to a perfect, 40-0 season. Many predicted that this would be the season that a program made a push to become the first undefeated team in college basketball since Bobby Knight and Indiana went an entire season unblemished in 1976.
But that was supposed to be Kentucky and their amazing recruiting class and seven first round draft picks. It wasn't supposed to be a Wichita State team that lost a pair of starters off of a fluky run to the Final Four.
And yet, here we are, one month of perfect basketball away from a team winning 40 games in a college basketball season.
For a minute, let's put aside the arguments about just how good this Wichita State team is. Anyone with half a brain will understand both sides. The Shockers are undefeated … but they're still largely untested against elite teams. The win at Saint Louis is really impressive … but it's also just a win at Saint Louis. They've beaten everyone that was willing to play them this season, they're coming off of a run to the Final Four and hell if it's their fault that the Missouri Valley's also-rans just so happened to all be down the same year that Creighton left the league … but that simply doesn't change the fact that they haven't played anywhere near the schedule that power conference teams have.
That argument will get us nowhere, because neither side is going to back down. There's no nuance. It's not possible to say that Wichita State is really, really good while also saying that they wouldn't make it through the Big 12 or Big Ten unscathed. You're either a fan boy or a hater. There is no in-between, and twitter feed the last week has had to bear the brunt of the arguing.
There's nothing wrong with the back-and-forth. Fans are, by nature, passionate and vocal. Journalists are, by profession, going to pick a side and stand by it.
But through the bickering, remember this: We are watching history happen.
No one has won the first 30 games of a season in 23 years. In the last 34 years, there have been exactly two teams that won every regular season game.
Wichita State is a fascinating story, one that we are watching unfold possession by possession.
So while you argue the merits of their resume and whether or not they deserve to be a No. 1 seed, be sure that it doesn't cloud the fact that this team is making a run at perfection, at immortality in our sport.
Make sure you have a chance to enjoy the run along with them.
It may not happen for a very long time.