Maryland lost to No. 4 Syracuse 57-55 on Monday night, a game that put an end to any hope that the Terps had of earning an at-large bid to the NCAA tournament.
It was their fourth loss is their last six games, all four of which came against top 25 teams in the conference. None of the four came by more than 12 points and the last two came down to the final possession. Making matters worse, at least for head coach Mark Turgeon, is that he believed his team was jobbed out of a chance to win.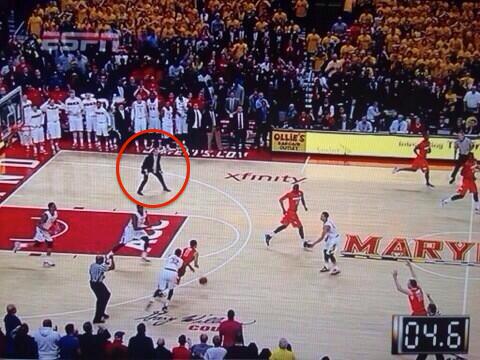 With Maryland down 56-55 with less than 10 seconds left in the game, Nick Faust drove to the rim but couldn't finish. The refs ruled that Baye Moussa Keita got a clean block. Turgeon, who almost made it out to half court to argue the call, believed otherwise.
"I thought Nick got fouled and I think the replay showed that, but it's been that kind of year for us," Turgeon said. "They didn't call it and they win the game."
"We get a stop, we're running down hill, we get all the way to the basket," he continued. "Probably got fouled twice on it and they didn't call it, but that's kind of the way the year has gone for us."
Jim Boeheim did not agree with Turgeon's take on the way the game ended, as he had a couple verbal jabs of his own to fire back with.
"Well, first of all, let me just tell you this," Boeheim said, teeing up his comment. "They shot 27 free throws. If anybody is going to complain about the officiating, I'm going to complain. And I think I did enough of that Saturday."
"It was five times that we saw them going to the basket that there was no foul and there was a foul called. Five times. You want to talk about one play, I'll talk about five times."
"They didn't turn it over 18 times, they wouldn't have had to worry about that."