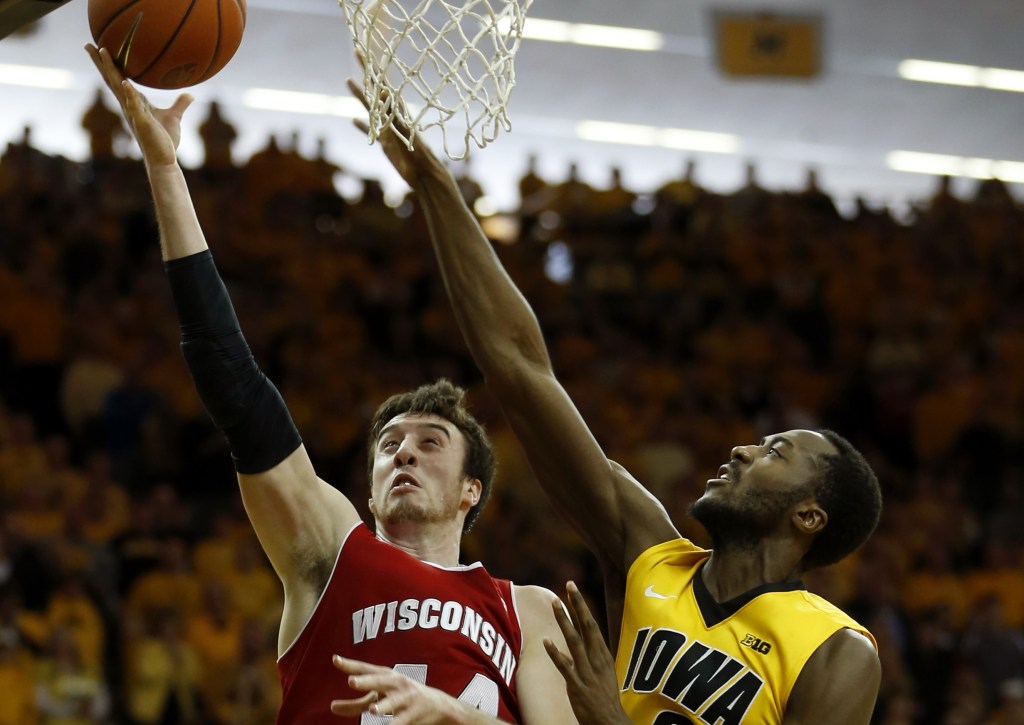 PLAYER OF THE WEEK: Frank Kaminsky, Wisconsin
I made a joke on twitter during Wisconsin's win over Iowa on Saturday, saying, essentially, that if you're a 6-foot-10 stiff, you should go to play for Bo Ryan because he'll make you awesome in three years. I thought it was funny, because Wisconsin always manages to churn out big men that hit threes and post double-doubles like it's nothing. Brian Butch to Jon Leuer to Jared Berggren to Kaminsky.
But, as always, tone got lost on twitter and some folks did not realize that what I was saying was tongue-in-cheek, because Kaminsky, like Berggren and Leuer and Butch before him, is not a stiff. At all. He's a burly seven-footer that has an array of moves on the block, can beat big men off the dribble and buries threes. He may not be jumping out of the gym and he doesn't have the kind of wingspan that makes NBA scouts drool, but he's as skilled offensively as any big man in the country.
The last two games have been the perfect example, as he averaged 23.0 points and 9.0 boards  while shooting 19-for-29 from three in wins at Michigan and Iowa.
Kaminsky's development is the reason the Badgers are one of the Big Ten's best against this season.
They were good, too:
Terran Petteway, Nebraska: After scoring 23 points in Nebraska's win at Michigan State last Sunday, Petteway averaged 27.5 points in a pair of wins for the Cornhuskers this week. Nebraska is playing like an NCAA tournament team.
Doug McDermott, Creighton: This week is the perfect example of why McDermott is a shoe-in for National Player of the Year. He scored 55 points in wins at Marquette and at home against Seton Hall, and the national reaction was, basically, 'meh'.
Leslie McDonald, North Carolina: McDonald averaged 20.0 points and shot 14-for-21 from the floor and 6-for-10 from three in wins over Wake Forest and Duke this week.
Julius Randle, Kentucky: Randle had 25 points and 13 boards in Tuesday's win at Ole Miss, following it up with 15 boards and a game-winning putback to beat LSU in overtime.
Cameron Bairstow, New Mexico: Bairstow had 18 points, six boards and five blocks in a win at UNLV, following that up with 26 points and nine boards in UNM's blow-out win over San Diego State on Saturday.
TEAM OF THE WEEK: Michigan Wolverines
The Wolverines finished off a sweep of intra-state rival Michigan State on Sunday, notching a come-from-behind win over the Spartans thanks to their talented perimeter duo. Caris LeVert scored 14 of his 23 points in the second half, while Nik Stauskas chipped in with 21 of his 25 points, busting out of a massive slump where he had scored just 51 points in his previous five games.
LeVert's development is huge for the Wolverines. They need a secondary scorer, and he's proven that he's talented enough to carry the Michigan offense for stretches. But without Stauskas playing like 'Nik Stauskas, All-American', the Wolverines are simply quite beatable. It's more than his ability to score — which, I should emphasize, is prolific; 21 points in a half is not that surprising out of the 6-foot-6 Canadian.
Stauskas is a tremendous playmaker. He's not Trey Burke, and he's not great going left, but when Michigan runs him off of ball-screens and curls on the left-hand side of the court so he can drive right, he's able to find the open man. LeVert gets his buckets going one-on-one, and that's important. But Stauskas, when he's playing well, just opens up Beilein's offense. Everyone becomes better, and that's why Michigan is in the driver's seat when it comes to the Big Ten regular season title.
They were good, too:
SMU: The Mustangs picked up a massive win on Sunday afternoon, notching their first notable road win of the season at UConn.
Louisville: The Cardinals, like SMU, needed to make a statement on the road. They did it on Saturday, when Russ Smith hit a game-winning jumper at Cincinnati. That followed up a win over South Florida.
Stanford: The Cardinal all-but locked up a bid to the NCAA tournament when they knocked off UCLA at home on Saturday afternoon. That followed a win over USC.
UMass: The Minutemen had struggled for a couple months, but after beating GW on the road last Sunday, UMass knocked off VCU on Friday night in Amherst. They're now in a three-way tie for second-place in the conference.
BYU: The Cougars put themselves in great position to earn an at-large berth by beating Gonzaga on Thursday.