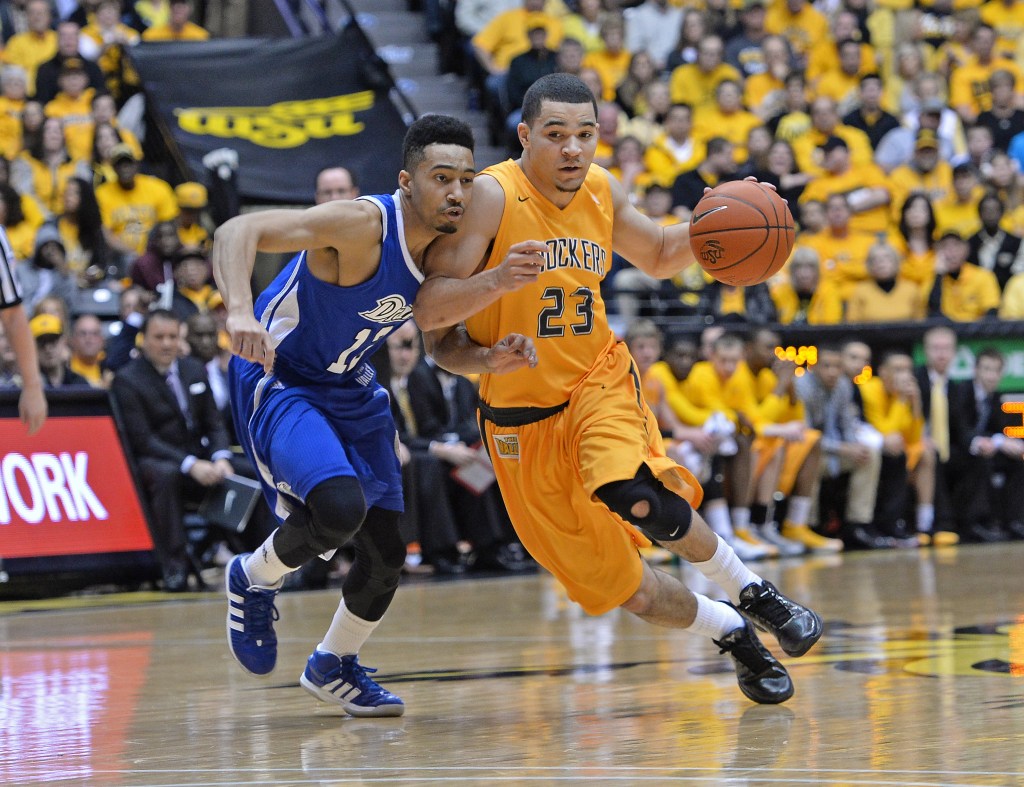 Arguing over whether or not Wichita State deserves to be the No. 1 team in the country is a conversation that is going to overtake college hoops over the next couple of weeks.
Here's my take:
Florida deserves to be the No. 1 team in the country this week, even with their struggles over the course of the last seven days. They've played like the best team in the country for an extended period of time, and with the Orange finally dropping a pair of games this week, Billy Donovan's club hops on up into the top spot.
I wouldn't be surprised to see the Shockers get a number of votes when the polls come out, however. When you are undefeated in late-February, you'll deserve any ranking you get. I may not agree, but that doesn't mean that there's not a valid argument for ranking the Shockers as the best team in the country.
Personally, I don't think Wichita State is. I think they are very good, capable of making a Final Four and deserving of a No. 1 seed should they enter Selection Sunday undefeated, but they wouldn't be one of the five teams that I'd pick to win the NCAA tournament before the brackets get released.
All you can do is beat who is on your schedule, and the Shockers have done that. They are a tough-minded, well-coached basketball team with size up front, exceptional guard play and a couple of potential NBA players. They're legit.
I'm not sure they are on the same level as Florida or Kansas or any of the other national title contenders.
THE TOP 25
1. Florida (25-2, LW: No. 2): The Gators had a couple of close calls this week, watching Auburn pull an Auburn to survive at home and overcoming a 22-point first half against Marshall Henderson on the road. They deserve that No. 1 rankings.
2. Wichita State (29-0, LW: No. 3): The Shockers are the first 29-0 team since Illinois in 2004-2005.
3. Kansas (21-6, LW: No. 6): I jumped the Jayhawks passed Duke and Arizona because, with Joel Embiid healthy, I think that this is the most talented team in the country. He sure looked healthy this week.
4. Duke (22-6, LW: No. 4): The Blue Devils lost to North Carolina in the Dean Dome, but followed that up with an impressive win over Syracuse in Cameron.
5. Arizona (25-2, LW: No. 5): Was the 88 points that Arizona scored at Colorado a sign they've figured out their offensive issues, or did they just beatdown a depleted team?
6. Syracuse (25-2, LW: No. 1): The Orange came back down to earth a bit with close losses to Boston College and Duke this past week. They need Tyler Ennis to break out of this three-game slump he's mired in. He was 2-for-13 at Duke.
7. Creighton (23-4, LW: No. 9): The Bluejays just keep on winning. They beat Seton Hall on Sunday night behind 29 more points from Doug McDermott.
8. Louisville (23-4, LW: No. 15): Louisville made a statement when they went into Cincinnati and knocked off the Bearcats. They still visit Memphis and SMU and host UConn this season.
9. Kentucky (21-6, LW: No. 11): Things are starting to click for Kentucky. You can see growth every time out. This will be one of the most interesting teams to track in March.
10. Cincinnati (24-4, LW: No. 8): The Bearcats lost by a point at home to Louisville on a Russ Smith buzzer-beater. Can't drop them too far after a loss like that.
11. San Diego State (23-3, LW: No. 7)
12. Villanova (24-3, LW: No. 12)
13. Wisconsin (22-5, LW: No. 17)
14. Saint Louis (25-2, LW: No. 13)
15. Virginia (23-5, LW: No. 14)
16. Michigan (19-7, LW: No. 23)
17. Iowa State (21-5, LW: No. 16)
18. Michigan State (22-6, LW: No. 10)
19. North Carolina (20-7, LW: No. 25)
20. Ohio State (22-6, LW: No. 22)
21. Iowa (19-7, LW: No. 18)
22. Texas (20-7, LW: No. 19)
23. Memphis (21-6, LW: No. 21)
24. UConn (21-6, LW: No. 20)
25. New Mexico (21-5, LW: UR)