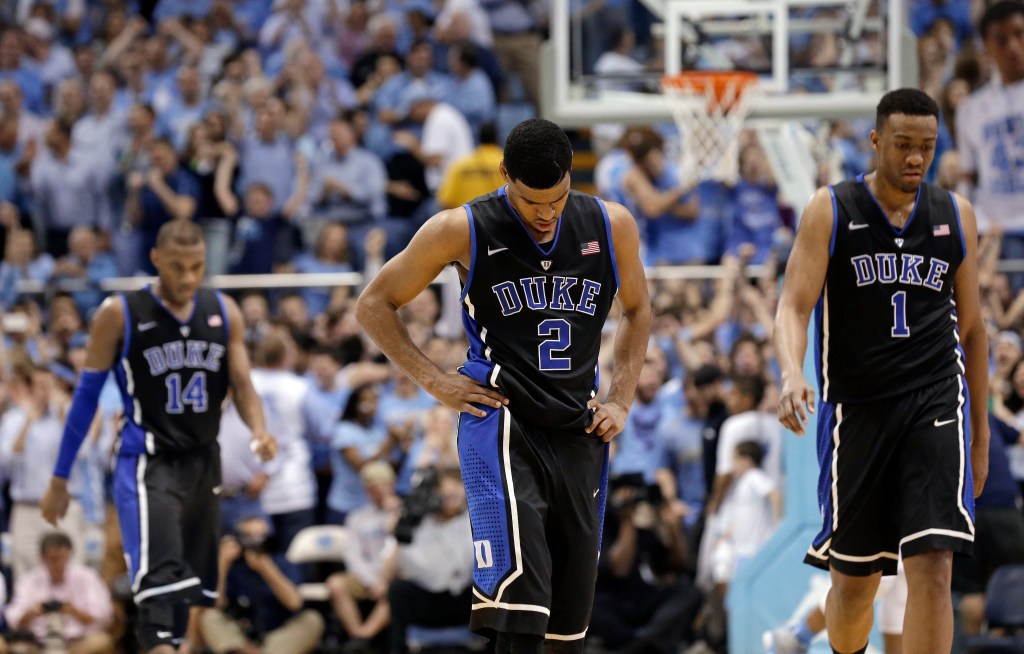 In the grand scheme of things, No. 5 Duke's 74-66 loss at North Carolina on Thursday night isn't going to mean all that much.
The Tar Heels are one of the hottest teams in the country, they've proven they can beat anyone this season — just ask Kentucky, Michigan State and Louisville — and they were playing on their home floor two days after Duke played at Georgia Tech and two days before the Blue Devils host No. 1 Syracuse.
Duke's chances of winning the ACC regular season title have been slim since they lost to Clemson and Notre Dame, and losing at UNC isn't going to drastically alter their perception when it comes to seeding by the selection committee.
By Sunday morning, this loss will be nothing more than another chapter in one of the greatest rivalries in all of sports.
But that doesn't mean this loss wasn't concerning for the Blue Devils.
Marcus Paige was terrific down the stretch for the Heels, closing out this game in a manner that would make Tyler Ennis blush. Leslie McDonald played his best game of the season, scoring 21 points on 9-for-12 shooting and hitting a number of clutch buckets down the stretch. The Heels pounded the offensive glass and got some key second chance points from their front court.
What changed this game, however, was Roy Williams throwing a couple of different zone looks at the Blue Devils.
I'll have to go back and watch it to figure out what, exactly, they were playing, but midway through the second half, Williams switched to a zone. At times, when the Heels extended, it looked like a 1-3-1 and at times it looked like a point zone, which is essentially a 1-2-2 matchup zone that was invented by Dean Smith. Regardless of what it's called, the effect it had on the Blue Devils is the reason North Carolina won.
Duke's high-powered offense was suddenly stuck in the mud. When they weren't taking quick shots they were forcing contested jumpers at the end of a possession. When they got open looks, they missed them.
How does that happen?
According to Synergy, North Carolina plays zone on roughly 8% of their defensive possessions. I know they have length and I understand that they are athletic, but when you play that little zone, you aren't going to move that well in it. A couple passes, some dribble penetration, a touch in the high-post. That's all it should take to be able to get a good shot, but Duke went almost nine minutes in the second half without making a field goal. In that time, the Heels cut 51-40 lead to just 53-51.
Duke did not prepare for that zone, and while they will be playing Syracuse on Saturday, what the Orange do in their zone is very different from what UNC was doing on Thursday. When you're not expecting a defense, it can be tough for a team to react to a change that is that drastic.
So it's understandable that the Blue Devils had some trouble.
But that doesn't make it any less concerning.
Duke is not a good defensive team. Their best player is an atrocious defensive player. They have to put up a lot of points if they are going to be good teams.
They cannot afford to struggle making adjustments when junk defenses get thrown at them.