Today is the NBA's trade deadline, and it got me to thinking: What if trades were allowed in college basketball? Why kind of roster adjustments could be made that would benefit contenders? And no, Duke cannot send cash considerations to Whitney Young to get Jahlil Okafor for the stretch run.
We take a look at that in our latest CBT Roundtable:
Terrence Payne: Kentucky sends Dakari Johnson to Duke for Tyler Thornton
Kentucky has talent all over that roster, those blending all those pieces hasn't gone smoothly so far. The guys on the perimeter have score-first mentalities, so adding an experienced guard like Tyler Thornton could help the Wildcats backcourt. He's a battle-tested four-year player, who could run the offense, and as we've seen in the past make the big shots with the game on the line, providing leadership to a young UK team.
Though Johnson has seen more minutes since the New Year, Kentucky still has Julius Randle and Willie Cauley-Stein. Send the freshman 7-footer to Durham. Duke's defense and rebounding has improved since the start of the season when that looked like a major concern. The frontline is still undersized and although Johnson may not be the ideal rim protector he'll have enough size to clog the paint.
Rob Dauster: Oklahoma State sends Brian Williams to Kentucky for Alex Poythress
Kentucky has enough front court depth to support two top 25 teams. I don't think it's crazy to say that Derek Willis and Marcus Lee, who are the fifth and sixth big men for the Wildcats, are better than the starting front line of half of the SEC. Oklahoma State? They had a thin front line before Michael Cobbins tore his achilles. Where the Pokes have a bit of depth is on the perimeter, and Brian Williams is probably the one guy that they can spare.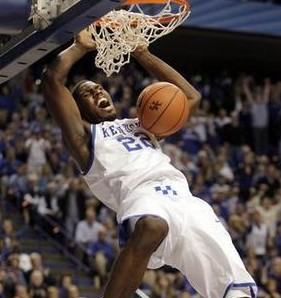 Williams is the prototype glue-guy for a wing player. He's strong, he's athletic, he defends and he'll hit the glass. He can hit a 15-footer pretty consistently, and he's not afraid to mix-it-up on either end. He's exactly the type of wing that Kentucky needs to compliment scorers Aaron Harrison, Andrew Harrison and James Young. Poythress isn't a prototype shotblocker, but he's an effort guy with more size than Williams that will give Travis Ford more lineup flexibility. He can go big, using Poythress alongside Le'Bryan Nash and Kamari Murphy, or he can go small and play Poythress at the five. I think Poythress is a better option that Dakari Johnson at this point because he can get up and down the floor better, he's a better defender and he can play on the perimeter, allowing Marcus Smart and Nash space to do work in the post.
Scott Phillips: Duke sends Andre Dawkins to Kansas for Jamari Traylor
I'm proposing a trade of Andre Dawkins from Duke for Jamari Traylor from Kansas — two 15-minute-a-game players that are of more vital importance to their new teams.
Kansas needs a shooter and at 47 percent beyond the arc, Dawkins gives them just that. As a senior, he's a perfect shooter off-the-bench to give the Jayhawks an offensive boost with their slashers on the floor.
Duke gets the 6-foot-8 Traylor, an active and energetic presence that plays 15 minutes a game and shoots nearly 75 percent from the field while averaging 4.4 points and 3.7 rebounds. Traylor would get minutes over Josh Hairston and Marshall Plumlee — and maybe even alongside one or the other with Parker at the three and Hood at the two — and provide Duke more of an active punch on the interior with Amile Jefferson.
Duke has Rasheed Sulaimon playing better and they have to hope Matt Jones shoots the ball better with the added minutes to replace Dawkins but with two McDonald's All-Americans, you'd like to think they can get it done.
Kansas can replace Traylor's minutes with Tarik Black and more of Landen Lucas, who has had some solid stretches.
Raphielle Johnson: Tennessee sends Jeronne Maymon to Baylor for Cory Jefferson
For Tennessee this is about increasing their level of athleticism in the post. With Maymon and Jarnell Stokes they currently have two players who are more the "bruiser" type, and that can be an issue at times against more mobile, athletic big men. To be fair to that tandem they've been better against athletic front courts this season, taking greater advantage of their physicality. But I'd like to guard against this being a problem and I think the mobile Jefferson would help, especially defensively. Jefferson's a better shot blocker than Maymon, and his mobility makes him a solid defender in ball-screen situations.
And for Baylor, they need to get tougher inside. And Maymon, who's dealt with injuries and is still a productive and competitive player, would supply that in a big way. Some may ask, "why not send Isaiah Austin to Tennessee instead?" No. Tennessee has numerous perimeter options, and the last thing they'd need is a big who spends as much of his time offensively on the wing (if not more) than in the post. So Jefferson for Maymon it is, and I think both programs would benefit from this deal.
Matt Giles: Providence will send LaDontae Henton to Arizona for Rondae Hollis-Jefferson
Arizona's Brandon Ashley added a new element to his game to this past offseason. Before the forward was lost to a season-ending foot injury against Cal, Ashley had attempted 29 threes – an uptick from his three attempts a year ago; a small sample size, no doubt, but a significant one as the 38 percent he converted from deep helped space the halfcourt and prevented teams from sagging and closing driving lanes for Nick Johnson et al – it is not a coincidence that the Wildcats' points per possession without Ashley on the court has shrunk to one PPP.
Enter Providence's LaDontae Henton. The 6-foot-6 Henton has the classic old-man game: whether he is pulling up from mid-range or connecting from deep (35 percent in 2014), the left-handed Henton is tied with Bryce Cotton as the most offensively efficient Friar. The majority of his touches in '14 have come from the perimeter, and when Henton rolls and spots up following a pick, he is nearly automatic (1.3 PPP). A trade to Arizona would present Sean Miller with a long-range valve, a forward who causes a defensive imbalance because he can drift into a three-point make.
All the Wildcats would have to part with is Rondae Hollis-Jefferson. PC coach Ed Cooley is in a bind: Tyler Harris has to play because he is a defensive mismatch, but the wing, per Value Add, is among the team's worst defenders. Cooley would like to give extra minutes to Carson Desrosiers (the team's best defender), but the ex-Wake Forest big shrinks the halfcourt. The Zona freshman not only makes nearly 50 percent of his twos, but he is a budding lock down defender, posting a 3.6 percent block rate. A move eastward would give Cooley a player who would boost the team's defense without any detraction on the other side of the ball.