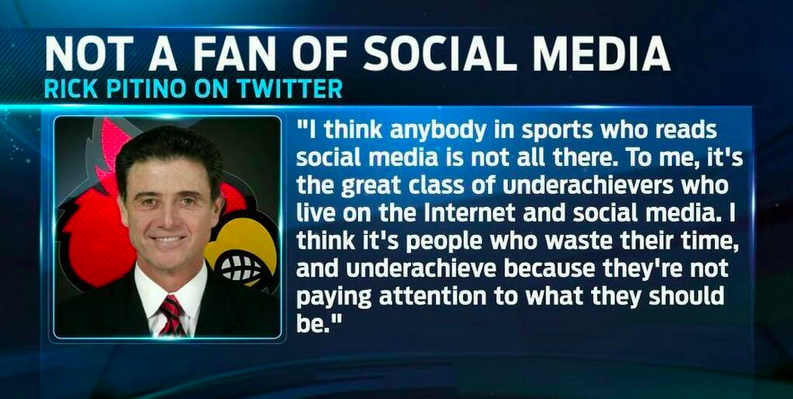 That's the quote that made the rounds on twitter last night, thanks in large part to this tweet from Fox Sports Live's official account.
The actual quote can be heard at the 8:25 mark of the video below, dug up by Stephen Douglas of The Big Lead. It comes after Pitino had answered a couple of questions from the local media about racism and segregation in New York when he was growing up. The question he was responding to was about racist tweets that Russ Smith said he deals with. Seriously, give it a listen:
Here's the thing: Pitino is exactly right! Here is everything that Pitino had to say:
"I think anybody who reads social media who's in sports is not all there. I'm being very serious when I say that. … It's a form of cowardice. It's anonymous people."
"To me, I think it's the great class of underachievers who live on the Internet with social media. I think it's people that just waste their time. And underachieve because of it because they're not paying attention to what they should be achieving to. So it's a waste of time. I don't know why people do it. So Russ is wasting his time. And he does waste his time, and so does Chris Jones. They waste their time when they could be spent reading valuable things. So I think it's not that I'm against certain facets of social media, because I'm not, but what you're talking about, what Russ Smith is doing, is a total waste of energy, time. It's insulting, intellectually, to be on it."
The reporter then follows up with a question about how paying attention to twitter mentions and Instagram comments and the like opens an athlete up to criticism, and this is where Pitino makes his most salient point:
"So why would you do that? Why not go in a smoke-filled room and just inhale all of that if you're healthy? That's what you're doing, aren't you? What would you get out of it? It's insulting to one's intellect to read that stuff. So why would Russ do that?"
—————————————-
Last night, during Oklahoma State's loss to Baylor, Marcus Smart took to twitter to fire shots at Pistols Firing, SBNation's Oklahoma State blog. It's understandable. The Cowboys have been disappointing this season, and Pistols Firing has done what bloggers do these days — combined solid analysis with snarky criticism and the angst of a frustrated fan. 
This isn't meant to criticize the site — they do good work — but Smart should not be paying attention to anything that they write. He should not be following them on twitter. And he should not be lashing out at them at a time when he's watching his team lose games because his frustrations boiled over in an ugly incident where he shoved a fan.
"I'm tired of seeing your negativity to the team and the coaches," Smart wrote. It's hard to read that sentence and not believe that he's been following the site all season long. Is that part of why he's been so reactive and combative this season? Did that play a role in his uber-competitiveness turning into one of his faults?
The conversation that Pitino was having with those Louisville writers was in a much different context, but his point remains the same. 
What is Russ Smith really going to be getting out of reading through his mentions on twitter? How does it help Marcus Smart to read through the whimsical self-loathing of Oklahoma State fans?
It's nothing more than distraction, and even the most strong-minded of us can hear something that a troll says anonymously on the internet and let it fester in the back of our minds. I've certainly had it happen to me, and I have a fraction of the public exposure that those two do.
Thanks to social media, it's easier than ever to get access to celebrities and star athletes. 
Not everything they hear is going to be positive.
Acknowledging on the negative can not only be a hinderance, it's completely unnecessary. 
And that's Rick Pitino's point.