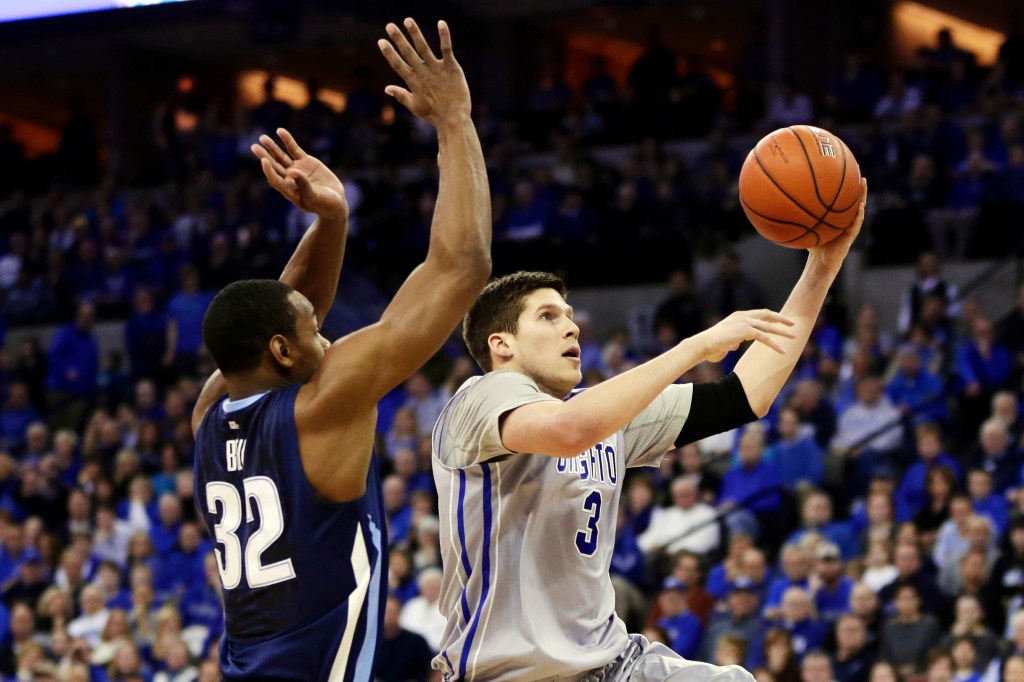 1. Doug McDermott, Creighton: What else can be said about McDermott's season — and his career — at this point? He had 26 points on 11-for-19 shooting in a win at Butler in which he just so happened to hit the game-winning three with 47.8 seconds left. He followed that up by scoring 39 points on 13-for-17 shooting from the floor in another blowout win over No. 6 Villanova. Here's what Jay Wright had to say about him after the game:
"I think I have a unique perspective in that I was with the USA team last summer when he played with the developmental team against the pros, and he played very well. Sometimes you watch a guy in college and you think about how that's going to transfer to the NBA. But I saw it, and everything he does here in college he did this summer with those guys. I think he's as complete a player with size as I've ever seen. 6-foot-8, 6-foot-9, there's nothing he can't do. He can take you off the dribble, he guards, he's tough as hell, he defends, he rebounds, he moves without the ball, he seals. He's the best post player that we've played against and he's the best perimeter player, and he may be one of the best passers. And he's 6-foot-9. He's as good of a basketball player as I've seen."
McDermott set a Big East record by earning Player of the Week honors for the seventh time this season. According to Rob Anderson, Creighton's SID, McDermott has now won Player of the Week or Newcomer of the Week in 27 of the 63 weeks he's played college basketball.
2. Jabari Parker, Duke: Parker was making up a bit of ground on McDermott before that 39-point outburst, as the freshman's slump is nothing but a distant memory. We've been over this: when Parker is attacking the basket instead of settling for jumpers, he's as dangerous as any scorer in the country. During this eight-game resurgence, he's taken 75 free throws and just 21 three-pointers. In the five games before that, his slump, he took 21 threes and just 14 free throws.
Here's Exhibit A of what I mean: instead of settling for a jumper, Parker went to the rim and managed to land himself the game-winning dunk against Maryland:
3. Shabazz Napier, UConn: Ho-hum, just another 34-point, five-rebound, four-assist performance from Napier in an overtime win over Memphis. He's been so good this season that numbers like that are hardly even surprising anymore.
4. Tyler Ennis, Syracuse: Luke Winn came up with the nickname "Ennions" for Ennis, a play on Bill Raftery's favorite saying. Personally, I like Captain Clutch. Syracuse is still undefeated after a pair of last-second wins, and Ennis had a major hand in both of them. He hit the running 35-footer to give the Orange the win at Pitt on Wednesday and had the game-winning assist to C.J. Fair on Saturday to beat N.C. State.
On the season, in final five minutes and overtime of one-possession games, Ennis is now 8-for-10 from the floor and 14-for-14 from the line with seven assists and just a single turnover.
5. Sean Kilpatrick, Cincinnati: Kilpatrick played one game last week, scoring 28 points and handing out six assists in a win over Houston. The Bearcats are built entirely around their defense. Kilpatrick is, for the most part, the only guy on the roster that can score. Let's put it into context: Cincinnati is 108th in the country in offensive efficiency, while Kilpatrick is third in the nation in offensive efficiency for players that use more than 28% of their team's possessions. In other words, Kilpatrick is putting up McDermott-esque numbers in an offense that's no where near as good.
6. Russ Smith, Louisville: Smith has been better this season than he was last season. The problem? Louisville only has two notable wins this season: SMU and at UConn. In their last five games, however, the Cards play at Cincinnati, at Memphis, at SMU and at home against UConn. Big performances in those games will get Smith more attention nationally.
7. Nick Johnson, Arizona: Johnson was terrific earlier this season, but with Brandon Ashley, more offensive responsibility has fallen into Johnson's lap. In the four games since Ashley went out, Johnson is averaging 11.5 points while shooting 25.0% (15-60) from the floor and 1-for-18 from three, or 5.6%. That's … not good.
8. Xavier Thames, San Diego State: Thames is in the same boat as Kilpatrick, a talented scorer on a team that doesn't have many of them. In two games last week, Thames was 6-for-26 from the floor and 2-for-13 from three. SDSU lost at Wyoming and struggled against Air Force.
9. Kyle Anderson, UCLA: The Bruins swept Utah and Colorado this week while Slo-Mo averaged 19.0 points, 8.5 assists and 8.0 boards. He's averaging 15.4 points, 8.7 boards and 6.8 assists on the season.
10. Jabari Brown, Missouri: Brown needs some love. His numbers this season are ridiculous: 20.5 points, 4.6 boards, 45.7% 3PT, 126.4 oRTG. In SEC play, they get even better: 22.8 points and 50.0% 3PT.
Others: Jordan Adams, Kyle Anderson, Cameron Bairstow, Bryce Cotton, Sam Dekker, Cleanthony Early, Joel Embiid, C.J. Fair, Marcus Foster, Aaron Gordon, Gary Harris, Rodney Hood, Deandre Kane, Kevin Pangos, Lamar Patterson, Adreian Payne, Elfrid Payton, Julius Randle, Marcus Smart, Juwan Staten, Nik Stauskas, Fred Van Vleet, T.J. Warren, Andrew Wiggins, Scottie Wilbekin, Chaz Williams