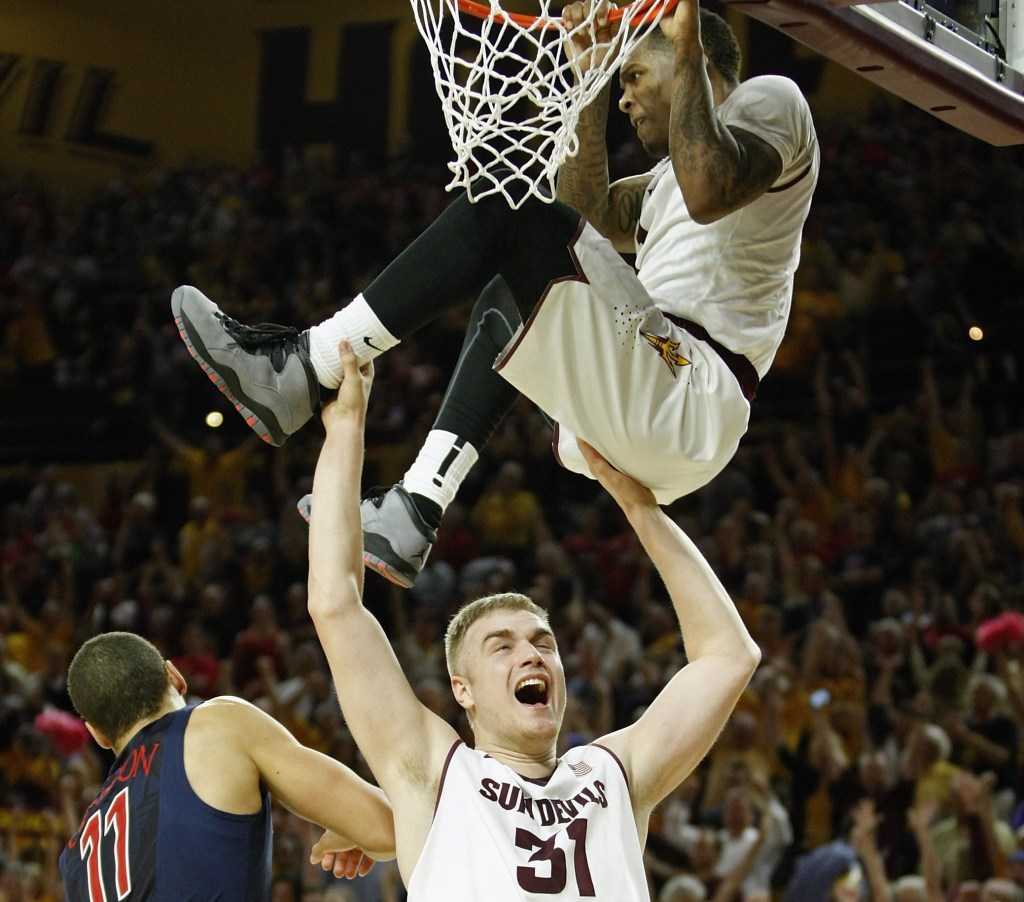 Pac-12 officials have admitted an officiating error at the end of Arizona State's double-overtime win over then-No. 2 Arizona on Friday night.
According to a report from ESPN.com's Andy Katz, "the officials missed the call" when Jahii Carson hung on the rim after dunking at the end of the second overtime. The dunk came with 0.5 seconds left on a breakaway after Jordan Bachynski blocked a T.J. McConnell shot. Carson initially hung on the rim to avoid Jonathan Gilling, who ran underneath him, but he remained on the rim even after Gilling had passed.
The referees were correct in not assessing a technical foul for the fans storming the court with time left on the clock, however. The officials were headed to the monitor to review timing which means that the court storm didn't actually delay the game.
So no technical foul.
Which means that Wildcats fans don't have that much of a gripe.
If the technical is called on Carson, Arizona would get two free throws, but they would then have to inbound the ball at the other end of the floor. In other words, the Wildcats would have to score going the length of the court with less than a second left in the game. That's probably not happening.
Here's video of the play:
This wasn't the only controversial call that impacted a game this weekend. There was an "administrative error" in the second half of Maryland's loss at Duke when the possession arrow wasn't changed on a jump ball. In the come-from-behind win Syracuse had over N.C. State, this foul on Trevor Cooney was called on the floor instead of giving T.J. Warren an and-one.