PLAYER OF THE WEEK: Doug McDermott, Creighton How good was McDermott this week? Here are the numbers for you:
He averaged 32.5 points and 6.0 boards in wins over Butler and No. 6 Villanova.
McDermott had 39 points in that win over the Wildcats, scoring 22 in the first half and passing Larry Bird on the NCAA's all-time scoring list.
He had "just" 26 points against Butler, but the three he hit with 47.8 seconds left would prove to be the game-winner.
He was 24-for-36 from the floor in the two games, hitting 7-for-11 from three and all ten of his free throws.
That's impressive and all, but you really want to get a feel for how good McBuckets was this week? This is how Villanova had to guard him: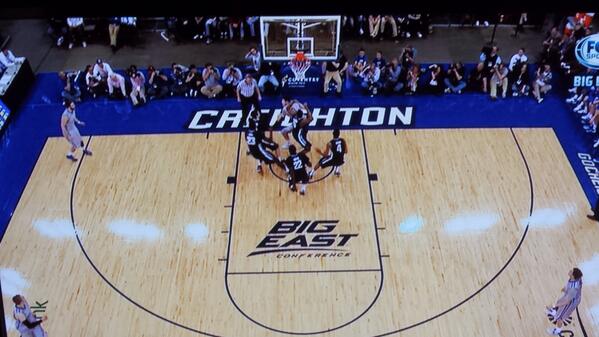 They were good, too:
Billy Baron, Canisius: In two games last week, Baron averaged 37.0 points, 8.0 boards and 5.0 assists. Solid numbers, right? If he goes for 35 points and eight assists the next time out, he'll be averaging 25.0 points, 5.0 assists and 5.0 boards.
Frank Kaminsky, Wisconsin: Wisconsin's big man had 25 points and 11 boards in Wisconsin's 13 point win at Michigan on Sunday. He also went for 17 points and six boards in a win over Minnesota.
Tyler Ennis, Syracuse: Ennis hit the game-winning three from 35 feet to give Syracuse a win at Pitt on Wednesday and followd that up with the game-winning assist in a win against N.C. State on Saturday.
Scottie Wilbekin, Florida:
Jermaine Marshall, Arizona State: Marshall finished with 29 points in Arizona State 69-66, double-overtime win over No. 2 Arizona on Friday night.
Kyle Anderson, UCLA: In wins over Utah and Colorado, Anderson averaged 19.0 points, 8.0 assists and 8.5 boards while shooting 14-for-24 from the floor
TEAM OF THE WEEK: Nebraska Cornhuskers Want to talk about a big win? Prior to going into East Lansing and knocking off Michigan State on Sunday, Nebraska wasn't even involved in the bubble conversation. They weren't even an afterthought. They have wins over Ohio State, Indiana and Minnesota at home, but that's not much to write home about when the best thing you did in the non-conference was to knock off Georgia.
But Tim Miles and company pulled off what many believed to be impossible, beating Tom Izzo in his building and, in the process, turning themselves into a team that could very well hear their name called on Selection Sunday. Granted, they still have a lot of work to do, but look at it like this: Nebraska has three top 50 wins, one of which came on the road, and three more top 100 wins. Their RPI is currently 52nd and their KenPom ranking is 62nd. That's enough to get them onto the bubble.
But there's more. Here's their remaining schedule: Penn State, Purdue, at Illinois, Northwestern, at Indiana, Wisconsin. Those are all very winnable games. A tournament berth is well within reach.
They were good, too:
Baylor: The Bears seem to have righted their ship, blowing out TCU on the road before picking up a crucial win over Kansas State at home in double-overtime on Saturday.
Arizona State: The Sun Devils vaulted themselves onto the right side of the bubble by knocking off in-state rival and No. 2 Arizona at home on Friday evening.
North Carolina: The Tar Heels didn't get a chance to play Duke last week thanks to a massive storm that hit the mid-Atlantic, but they did beat Pitt at home. James Michael McAdoo has been terrific over the course of the last two months.
Middle Tennessee State: MTSU went 2-0 this week and climbed into first place of Conference USA with a blowout win over Southern Miss.
Marquette: The Golden Eagles are doing everything they can to work their way back onto the bubble. They won at Seton Hall and knocked off Xavier at home this week. They get Creighton in Milwaukee next. That's a big one.