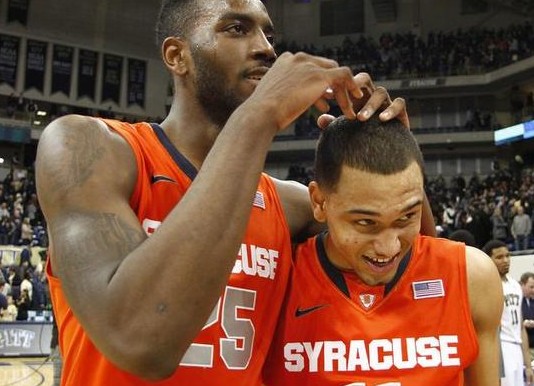 When it's late-February, you play in the ACC and you're undefeated, you're the No. 1 team in the country.
That's just the way that it works.
But does that mean that Syracuse is the best team in the country? Well, that's a different story.
I hate using the term "luck" when it comes to sports. There's nothing lucky about the fact that Tyler Ennis has been absolutely dominant in crunch-time. There's nothing lucky about the fact that he's a terrific basketball player with the mental toughness to handle the pressure that comes with the final minutes of close games. The numbers that he was putting up weren't sustainable — against N.C. State, he missed just his second shot and committed his first turnover in the last five minutes of a one-possession game — but calling that kind of execution "lucky" is wrong.
What is "lucky", however, is winning a game because you hit a running 35-footer, as Syracuse did at Pitt. It might also be considered lucky when you beat N.C. State at home thanks to the refs deciding against giving T.J. Warren an and-one and the Wolfpack turning the ball over on the ensuing possession.
The last three bigs wins for the Orange have come by a combined five points. That's not exactly sustainable.
THE TOP 25
1. Syracuse (25-0, LW: No. 1): The Orange stay in the top spot thanks to a pair of one possession wins. Given the number of games that Tyler "Ennions" Ennis has won for the Orange down the stretch, he's vaulted himself into the conversation for National Player of the Year.
2. Florida (23-2, LW: No. 3): For my money, right now, I think Florida is the best team in the country. They can give you so many different looks defensively and Scottie Wilbekin has spent the last month doing his best Tyler Ennis impression in close game.
3. Wichita State (27-0, LW: No. 6): The Shockers are that much closer to finishing the regular season undefeated. They beat Southern Illinois and Evansville this week.
4. Duke (20-5, LW: No. 10): We're going to find out just how good the Blue Devils are next week. They pay a visit to North Carolina, a game that was snowed out last week, on Thursday before hosting Syracuse on Saturday.
5. Arizona (23-2, LW: No. 2): The Wildcats lost at Arizona State on Friday night, a game where they scored just 66 points in double-overtime. This team has some serious question marks offensively without Brandon Ashley.
6. Kansas (19-6, LW: No. 5): The Jayhawks bounced back from a loss to Kansas State by blowing out TCU. Joel Embiid's scheduled to play on Tuesday as well.
7. San Diego State (22-2, LW: No. 4): SDSU lost at Wyoming, which is always a tough road trip to make given that Laramie is in the middle of nowhere and the elevation there is problematic for the sea level-bound Aztecs. But that doesn't change the fact that this team relies too heavily on Xavier Thames for offense.
8. Cincinnati (23-3, LW: No. 9): The Bearcats handled Houston on Saturday thanks to another ridiculous performance from Sean Kilpatrick.
9. Creighton (21-4, LW: No. 19): The Bluejays now own a pair of wins over Villanova by a combined 49 points. That's … ridiculous.
10. Michigan State (21-5, LW: No. 7): The Spartans still are not healthy, but that doesn't exactly excuse them from a home loss to Nebraska on Sunday.
11. Kentucky (19-6, LW: No. 11)
12. Villanova (22-3, LW: No. 8)
13. Saint Louis (23-2, LW: No. 13)
14. Virginia (21-5, LW: No. 14)
15. Louisville (21-4, LW: No. 15)
16. Iowa State (19-5, LW: No. 12)
17. Wisconsin (21-5, LW: UR)
18. Iowa (19-6, LW: No. 16)
19. Texas (20-5, LW: No. 18)
20. UConn (20-5, LW: No. 22)
21. Memphis (19-6, LW: No. 21)
22. Ohio State (20-6, LW: No. 25)
23. Michigan (18-7, LW: No. 17)
24. North Carolina (17-7, LW: UR)
25. UCLA (20-5, LW: UR)