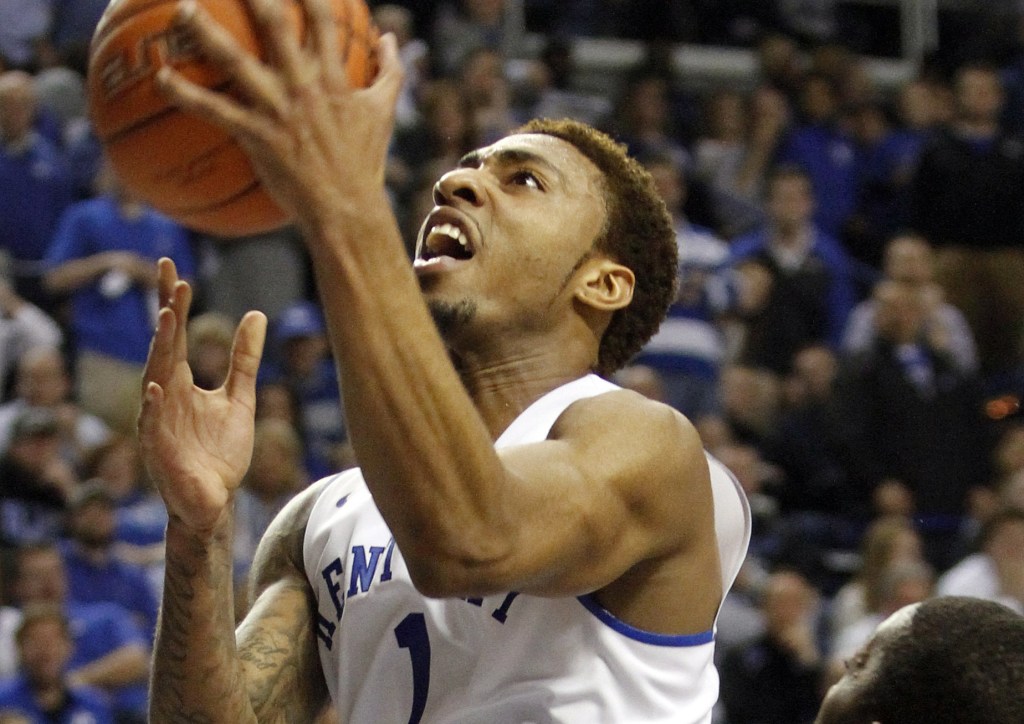 No. 3 Florida went into Rupp Arena and knocked off No. 14 Kentucky on Friday night, 69-59.
Casey Prather finished with 24 points and four steals while Scottie Wilbekin went for 23 points and two assists without a turnover while hitting big shot after big shot in the second half. Simply looking at a box score would lead one to believe that this was a dominating performance from the Gators. That's generally the case when the road team wins by double-digits.
But what a box score won't tell you is that Kentucky outplayed Florida for a good 30 minutes, and that after 34 minutes of basketball, the Wildcats were tied with Florida at 53.
Kentucky pounded the ball inside in the first half, riding the low-post game of Julius Randle — and some hot shooting from James Young — to a 31-28 halftime lead. In the second half, Florida started doubling every post touch on the catch, forcing Kentucky's perimeter to make plays to beat them, and they did. The ball moved around the perimeter and Kentucky hit enough of their open looks to build a lead that grew as big as seven midway through the half.
Perhaps most impressive was the Wildcats defense. The final numbers aren't all that impressive — Florida shot 44.0% from the floor, got to the line 28 times and only committed five turnovers — but that was a combination of Wilbekin hitting tough shots and Prather getting easy buckets in transition. When Kentucky was able to get their defense set, Florida struggled. The Wildcats gave the Gators a number of different looks (straight man-to-man, switching man-to-man, a 2-3 zone) and, for the most part, it was really effective.
The issue with Kentucky all season long has been their defense, and for 30 minutes on Saturday night, the Wildcats played terrific on that end of the floor.
With 11 minutes left, Kentucky held a 45-38 lead.
Florida would outscore them down the stretch 31-14.
What happened?
Patric Young turned into Tim Duncan down the stretch. If he's hitting running hooks and left-handed jump-hooks from 12 feet out, there's not much you can do.
Kentucky gave up too much penetration, which resulted in Florida camping out at the charity stripe. The Gators were 15-for-17 from the line during that span, with only three of those free throws the result of intentional fouling.
Two back-breaking offensive rebounds. One was by Will Yeguete, who found Michael Frazier for a three to put Florida up 60-55 and deflate both the crowd and the Wildcats. The other was by Casey Prather, who skied over everyone on Kentucky to get a Grown Man's Rebound with just 1:23 left.
Poor offensive execution down the stretch. Florida dug in their heels defensively, and Kentucky couldn't score late.
Florida is a very, very good basketball team.
Kentucky outplayed them for 30 minutes.
It's weird handing out moral victories to a program like Kentucky in February, but when you're dealing with a team of freshmen, any sign of growth is a good thing. That's just how it is for this team right now. Kentucky is getting better. We saw it tonight.
Two defensive rebounds.
Six minutes of execution offensively.
That's how close they were to beating the best team in the country on Saturday.
That's a far cry from the team that was smacked around by LSU a couple of weeks back, isn't it?