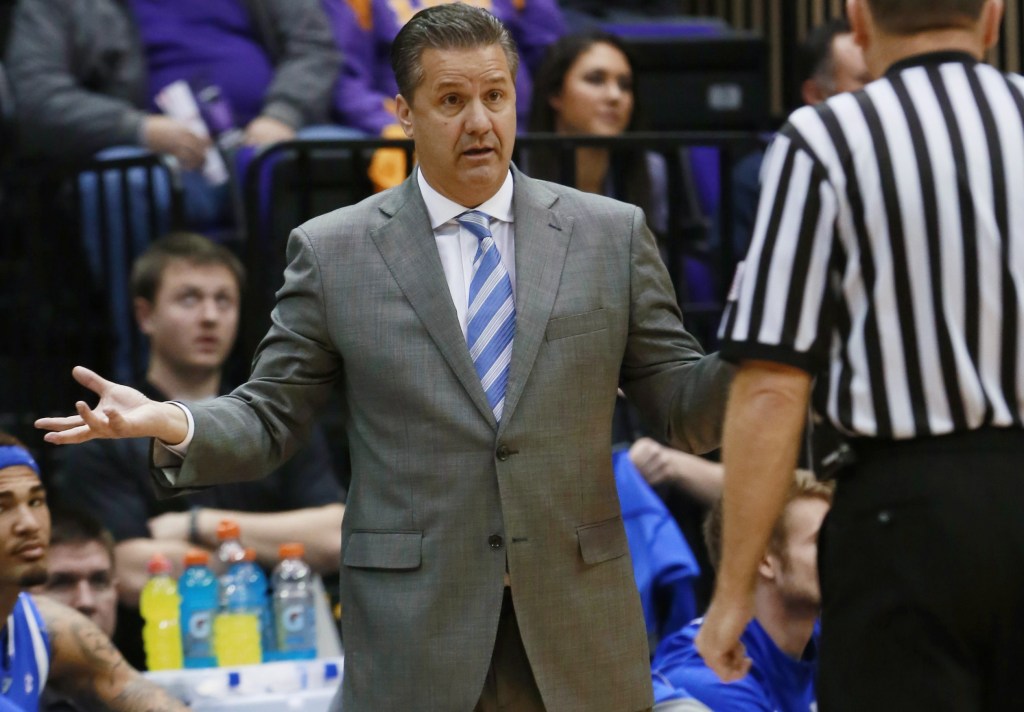 GAME OF THE WEEKEND: No. 14 Kentucky at No. 3 Florida, Sat. 9:00 p.m.
Here's Kentucky's chance to prove themselves. Here's their chance to say that they are more than just a talented group of wimps. Florida is as good of a defensive team as you are going to find in the country, largely because they are so versatile in how they can defend. They'll press. They'll man. They'll zone, playing 2-3 or a 1-3-1. They have size. They have tough on-ball defenders in the back court. They have versatile forwards that allow them to switch ball-screens.
Florida is legit. How will Kentucky handle that? They lost at Arkansas. They got beat up at LSU in a game where they could never truly answer the punches the Tigers were throwing. They came much closer to losing at Auburn that Kentucky ever should. Any chance of winning a league title will be on the line here. How will the Wildcats respond?
THE OTHER GAME OF THE WEEKEND: No. 6 Villanova at No. 18 Creighton, Sun. 5:00 p.m.
Villanova has one loss in Big East play this season. It came at home in truly embarrassing fashion, and it came against Creighton. They were down 20 after seven minutes. They were down 40 in the second half, rallying to make it "respectable" when the buzzer sounded. Not only will Villanova have something to prove, they're going to basically be playing for total control of the Big East regular season crown. A win would give them a two-game lead with less than a month left in the season.
FIVE MORE TO KEEP AN EYE ON:
No. 21 Wisconsin at No. 15 Michigan, Sun. 1:00 p.m.: Wisconsin has now won three in a row to get back on track, but this will be one of two remaining challenges they have this season. Can they stop Nik Stauskas? Michigan won the first matchup in Madison.
No. 20 Memphis at No. 24 UConn, Sat. 12:00 p.m.: Memphis lost the last time these two teams tangled in Memphis. Deandre Daniels is the x-factor for UConn, but watching Shabazz Napier deal with Mike Dixon and Joe Jackson will be fun.
No. 25 Pitt at North Carolina, Sat. 1:00 p.m.: This is the last chance that Pitt is going to have before the ACC tournament to land a quality win. They need a quality win.
VCU at No. 12 Saint Louis, Sat. 2:00 p.m.: The two best teams in the Atlantic 10? Two of the top ten defenses in the country? It's probably not going to be pretty. But it will be good. VCU needs a win if they want any chance of winning the A-10 regular season title.
Maryland at No. 8 Duke, Sat. 6:00 p.m.: This will be the last time in the foreseeable future that these two teams will square off. In the early 2000's, this was one of the best rivalries in all of college basketball.
WHO'S GETTING UPSET?:
No. 2 Arizona at Arizona State, Fri. 9:00 p.m.: Arizona is a different team when they don't have Brandon Ashley on the floor, but that doesn't necessarily mean that they are a worse team. Arizona State will be healthy this game, and they badly need the win.
No. 16 Iowa at Penn State, Sat. 1:00 p.m.: Penn State is a thorn in the Big Ten's side this season. Are they scrappy enough to pull out a win against Iowa at home?
No. 17 Virginia at Clemson, Sat. 12:00 p.m.: Clemson and Virginia are both grind-it-out teams built around their defense. This may not be a high-scoring game, and that's better for the Tigers. They're looking to secure positioning as an at-large candidate.
West Virginia at No. 19 Texas, Sat. 8:00 p.m.: West Virginia has been one of the most surprising teams in the country. If Jonathan Holmes doesn't play for Texas, the Mountaineers have a shot. Juwan Staten is the best player in the country you haven't heard of.
No. 22 Ohio State at Illinois, Sat. 8:00 p.m.: Ohio State will matchup well with Illinois, but the Illini are a desperate team with something to prove. A loss would all-but guarantee them an NIT trip.
FIVE THINGS TO WATCH FOR:
1) There are a pair of good, off-the-radar games in the Big 12 this weekend. Kansas State will visit Baylor in a game that the Bears have to win, while Oklahoma and Oklahoma State will renew the Bedlam Rivalry without Marcus Smart's participation.
2) Both of the nation's undefeated teams will be playing games that they should win this weekend. No. 4 Wichita State will be at Evansville on Sun at 5:00 p.m. while N.C. State will visit No. 1 Syracuse on Saturday 3:00 p.m.
3) Texas Tech  has been playing much better of late, winning three in a row and beating both of the Oklahoma schools in the last week. They're at No. 11 Iowa State on Saturday at 1:45 p.m.
4) TCU at No. 7 Kansas wouldn't normally be a must watch game, but Joel Embiid's health will be something to keep an eye on in the coming weeks.
5) Key Bubble Games:
Southern Miss at Middle Tennessee State, Sat. 2:00 p.m.
UMass at George Washington, Sat. 2:00 p.m.
Cal at Washington, Sat. 3:00 p.m.
Xavier at Marquette, Sat. 4:00 p.m.
Tennessee at Missouri, Sat. 4:00 p.m.
Ole Miss at Georgia, Sat. 4:00 p.m.
LSU at Arkansas, Sat. 5:00 p.m.
BYU at Saint Mary's, Sat. 8:00 p.m.
Minnesota at Northwestern, Sun. 6:00 p.m.
Georgetown at St. John's, Sun. 7:00 p.m.