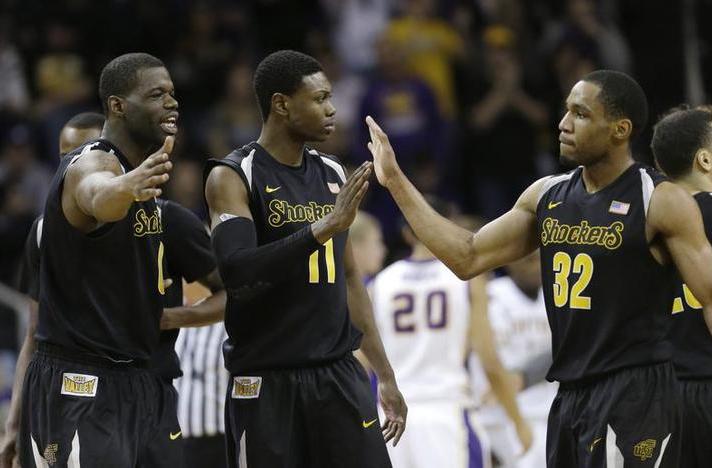 In the spirit of Valentine's Day, the February 14 bracket projection offers special gifts to Wichita State and West Virginia.
After chasing the top line for a month or so, Wichita State holds the final No. 1 seed (Midwest) in today's bracket.  And West Virginia has the distinction of being today's final team IN the Field of 68.  Whether either team holds onto its current status remains to be seen.
Several heavyweights are vying for top seeds – including Kansas and Michigan State.  Should Wichita State reach Selection Sunday with an unbeaten record, it'll be interesting to see how the Selection Committee handles the Shockers.  Especially if Kansas and Michigan State, for example, were to win Big 12 and Big Ten titles.  We also can't forget about the potential for strong finishes from Villanova and Michigan, or even Duke – if the Blue Devils were to win the ACC.
The bubble continues to be a mosh pit.  It changes daily.  West Virginia and St. John's are two teams who have steadily climbed the seed list during the past couple of weeks.  They are right next to each other on the s-curve if you remove the lower-seeded automatic qualifiers.  St. John's happens to be today's first team OUT.  Come Monday, things could well be different.  It's been that kind of season around the cutline.  Even with all of their recent troubles, Oregon and Baylor remain capable of grabbing bids (again) in the next couple of weeks.  And who knows about the SEC beyond Florida and Kentucky.
Enjoy a great weekend of college hoops.
UPDATED: February 14, 2014
Teams in CAPS represent the projected AUTOMATIC bid based on current standings with RPI as a tiebreaker for teams with the same number of losses. Exceptions are made for teams that use an abbreviation (UCLA, BYU, etc).
Several new bracketing principles were introduced after last year's tournament. You can read them for yourself at http://www.ncaa.com. For example: teams from the same conference may now meet before a Regional final, even if fewer than eight teams are selected. The goal is to keep as many teams as possible on their actual seed line.
FIRST FOUR PAIRINGS – Dayton (First Round)
Saint Joseph's vs. Tennessee | East Region
Providence vs. West Virginia | South Region
SOUTHERN vs. UTAH VALLEY | Midwest Region
ROBERT MORRIS vs. COASTAL CAROLINA | East Region
BRACKET PROJECTION …
EAST –

New York

WEST – Anaheim                                
Buffalo
San Diego
1) SYRACUSE
1) ARIZONA
16) ROB MORRIS / CO CAROLINA
16) WEBER STATE
8) Massachusetts
8) GONZAGA
9) Xavier
9) SMU
Spokane
Spokane
5) Ohio State
5) SAINT LOUIS
12) TOLEDO
12) GREEN BAY
4) Kentucky
4) Iowa State
13) IONA
13) BELMONT
Raleigh
Milwaukee
6) UCLA
6) Connecticut
11) Tennessee / Saint Joseph's
11) Georgetown
3) CINCINNATI
3) MICHIGAN
14) GEORGIA STATE
14) UC-SANTA BARBARA
Buffalo
San Antonio
7) North Carolina
7) Memphis
10) Colorado
10) California
2) VILLANOVA
2) SAN DIEGO STATE
15) VERMONT
15) YALE
MIDWEST – Indianapolis
SOUTH – Memphis
St. Louis
Orlando
1) WICHITA STATE
1) FLORIDA
16) UTAH VALLEY / SOUTHERN
16) DAVIDSON
8) New Mexico
8) VCU
9) George Washington
9) Oklahoma State
San Diego
Orlando
5) Texas
5) Iowa
12) SOUTHERN MISS
12) Providence / West Virginia
4) Wisconsin
4) Virginia
13) MERCER
13) DELAWARE
Raleigh
San Antonio
6) Louisville
6) Oklahoma
11) Minnesota
11) Missouri
3) Duke
3) Creighton
14) S.F. AUSTIN
14) NORTH DAKOTA ST
St. Louis
Milwaukee
7) Pittsburgh
7) Kansas State
10) Arizona State
10) Stanford
2) KANSAS
2) Michigan State
15) NC-CENTRAL
15) AMERICAN
NOTES on the BRACKET: Syracuse is the overall No. 1 seed followed by Arizona, Florida, and Wichita State.
Last Five teams in (at large): Missouri, Tennessee, Providence, Saint Joseph's, West Virginia
First Five teams out (at large): St. John's, Dayton, LSU, Richmond, BYU
Next five teams out (at large): Louisiana Tech, Florida State, Arkansas, NC State, Saint Mary's
Breakdown by Conference …
Big 12 (7): Kansas, Oklahoma State, Iowa State, Kansas State, Oklahoma, Texas, West Virginia
Pac 12 (6): Arizona, Colorado, UCLA, California, Stanford, Arizona State
Big Ten (6): Michigan State, Michigan, Ohio State, Iowa, Wisconsin, Minnesota
ACC (5): Duke, Syracuse, North Carolina, Pittsburgh, Virginia
American (5): Louisville, Memphis, Connecticut, Cincinnati, SMU
Big East (5): Creighton, Villanova, Xavier, Providence, Georgetown
Atlantic 10 (5): Massachusetts, VCU, Saint Louis, Geo Washington, Saint Joseph's
SEC (4): Kentucky, Florida, Tennessee, Missouri
Mountain West (2): New Mexico, San Diego State
West Coast (1): Gonzaga
Missouri Valley (1): Wichita State
Conference Automatic Qualifiers … Southern Miss (C-USA), Belmont (Ohio Valley), Georgia State (Sun Belt), American (Patriot), North Dakota State (Summit), Green Bay (Horizon), Davidson (Southern), Utah Valley (WAC), Iona (MAAC), Stephen F. Austin (Southland), Toledo (MAC), Mercer (A-Sun), Yale (IVY), UC-Santa Barbara (Big West), Delaware (Colonial), Vermont (American East), Weber State (Big Sky), NC-Central (MEAC), Coastal Carolina (Big South), Robert Morris (NEC), Southern (SWAC)