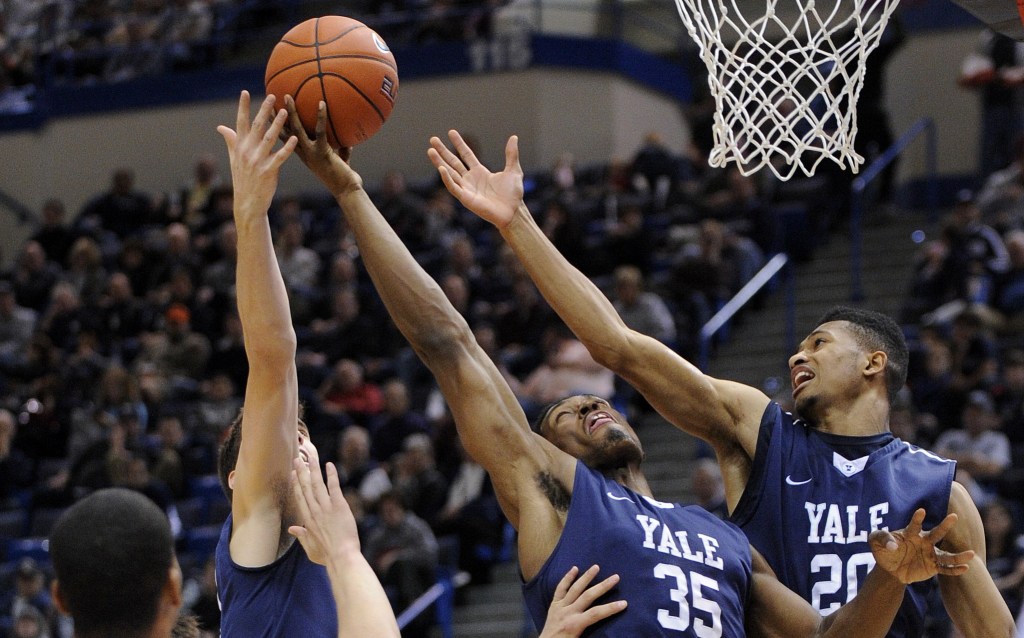 When you think of the Ivy League, Yale isn't the first program that comes to mind.
These days, it's Harvard, as the Crimson went out and hired Tommy Amaker, who formerly coached at Michigan Seton Hall, while turning top 25 recruiting classes into league titles and, in 2013, an upset win over No. 3 seed New Mexico. Before that, it was Cornell, whose run to the 2011 Sweet 16 landed Steve Donahue the head coaching job at Boston College. All that comes before we mention the league's two-most storied programs in Penn and Princeton, who dominated the conference for decades.
The Ivy League is unique in that it's the only conference that does not have a conference tournament, meaning that if you don't win the league's regular season title, you don't go dancing. Yale has won exactly one league title in the last 50 years, and that came in 2002, the first time there was ever a three-way tie atop the conference. The Bulldogs eventually lost to Penn in the playoff, meaning that they were bound for the NIT.
When you think of Yale, you think of their law school or their medical school. You think of their proximity to Sally's and Pepe's. Hell, you even think of their hockey teams.
You don't, however, think of their basketball program.
"I tell people back home I play in the Ivy League, and they'll be like, 'Oh, you guys play Harvard', or 'Did Princeton win this year? Did Penn win this year?'" Justin Sears told NBCSports.com in a phone interview this week. A New Jersey native, the 6-foot-8 sophomore forward leads Yale averaging 15.3 points, 7.1 boards and 1.8 blocks. "It's a little bit frustrating, especially because people think we're a hockey school. I think the guys, we just wanted to change the culture here."
"We just needed to start winning games."
And that's started to happen.
Yale has won four straight games heading into this weekend's showdowns with Penn and Princeton in New Haven, the biggest being last Saturday. The Bulldogs went into Lavietes Pavilion and knocked off Harvard, putting themselves into a first-place tie with the Crimson. For Yale, beating Harvard is always going to be a big win, regardless of the sport. That's just how the rivalry between those two schools works. But with the increased attention that has been given to the Crimson in recent years, it was especially sweet.
Harvard gets more national attention than every other program in the Ivy League combined. They've become the marked man in the conference. Being the reason that every college hoops scribe has to tweet about Harvard losing certainly makes the win feel just that much better.
"Over the summer one of the Harvard assistant coaches tweeted how their 10 players could start at anyone of the other seven schools in the league, how they should sweep the all-conference selections," Sears, who finished with 21 points, 11 boards and two blocks, said. Sears chose Yale over, among others, Stanford, but he was offered by every school in the Ivy League. Except Harvard. He didn't forget.
"It's just more bulletin board material," he said. "Harvard this, Harvard that. Each team is going to give Harvard their best shot."
The Elis are lining themselves up on the inside track to a league title. Six of Harvard's last eight games are on the road, including March 7th's trip to New Haven for the season's final weekend. In other words, Yale controls their own destiny when it comes to winning the conference and making the NCAA tournament, but that's precisely the kind of forward thinking that head coach James Jones wants him team to avoid.
When a single loss can put a quick end to those tourney dreams, looking any further down the schedule than the next opponents is dangerous. Jones is proud of how hard his team has worked, and he wants the kids to get the credit they deserve, but "you want your guys to stay focused," he said. "Flying under the radar's not a bad thing."
The good news for Jones is that he's built a team whose success depends almost entirely on the one thing that they can control: their effort. This group is going to be bigger and more athletic than anyone they'll face in the Ivy League. Their perimeter stands 6-foot-4, 6-foot-5 and 6-foot-7. Sears may only be 6-foot-8, but he's as tough and aggressive as any big in the mid-major ranks. Where many Ivy League teams will field a lineup with a perimeter-oriented four-man, the Bulldogs use two bigs. They're relentless going to the glass.
"We've got a lot of size and a lot of length," Jones said. "That's a strength of our team and if we're going to be good we have to utilize it."
So long as they stay atop the league standings, Yale is now going to be one of the biggest games of the year for every team they face.
It's quite a change of pace for a team that's been to no NCAA tournaments and exactly one NIT since 1962.
"High school rankings, it's not the biggest thing. It's the coaching, the effort you put forth," Sears said. "When we just go out and give our best effort, it doesn't matter how many shots we hit. All that matters is if we play defense, make our free throws and rebound the ball. We do that every night."