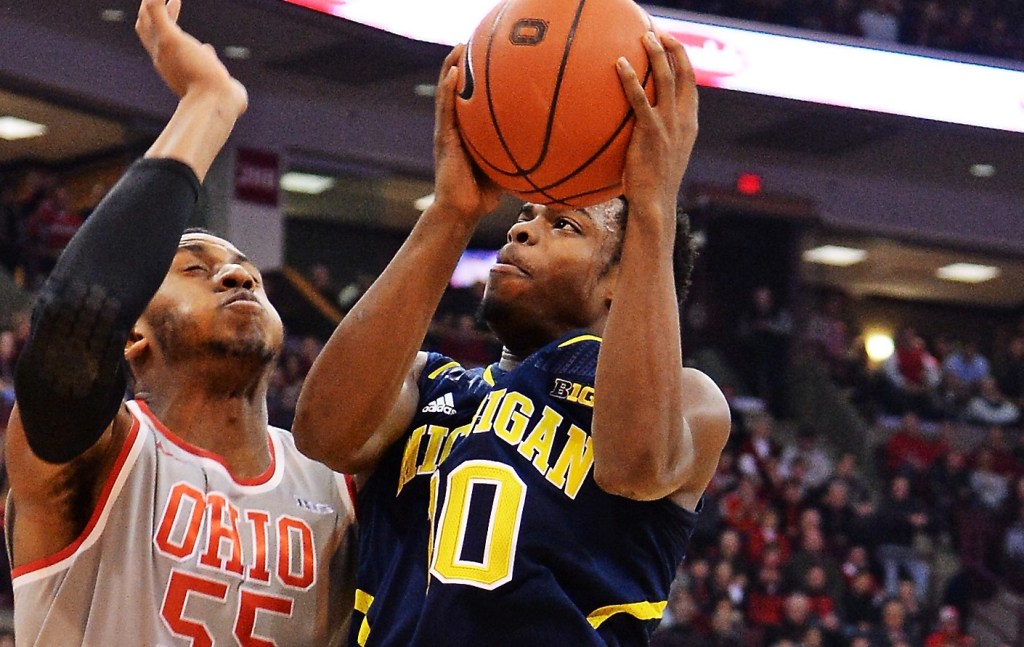 For the first time since 2003, No. 15 Michigan went into Columbus and left with a win on the hardwood, knocking off No. 22 Ohio State, 70-60.
The box score may say that he shot just 3-for-10 from the floor, but rest assured when I tell you that it was freshman point guard Derrick Walton that made all the difference for the Wolverines.
He finished with 13 points, 10 boards and six assists while committing just a single turnover against the nation's best defensive back court in Aaron Craft and Shannon Scott. All 13 of his points, and three of his assists, came in the second half as Walton made big play after big play down the stretch.
The game changed during a 20-7 surge in the second half that turned a 38-31 deficit into a 51-45 lead, and Walton was responsible for 12 of those 20 points. He came up with two huge rebounds late in the game, and even out-battled Craft on a loose ball, earning possession for Michigan when a foul was called on Craft.
Walton is not Trey Burke yet.
Not even close.
But he's maturing. The game is slowing down for him. He's beginning to get a feel for what his coaches are asking of him. He's slowly been getting better throughout league play, but this was without a doubt his most impressive performance of the season. Part of that is due to the competition that he was going up against in Scott and Craft. Part of it is the composure that he showed when the Buckeyes built their lead, which was as large as 10 in the first half.
More than anything, however, it's that he helped turn things around for the Wolverines in a crucial moment.
This was an important game for John Beilein's club. A loss would have dropped them a game behind Michigan State in the Big Ten standings with Wisconsin and the Spartans coming up in their next two games. They were coming off of a blowout loss to Iowa, which came six days after losing at Indiana, and had dug themselves a double-digit hole early on. Throw in the fact that the secret to slowing down Nik Stauskas had been discovered — guarding him tight with little guards he can't beat off the dribble or shake coming off of a screen — and the Wolverines were staring a freefall straight in the face.
Until Walton changed the complexion of the game on Tuesday night.
Momentum and confidence are so important for a basketball team.
Walton's second half ensured that the Wolverines are trending in the right direction heading into the season's stretch run.