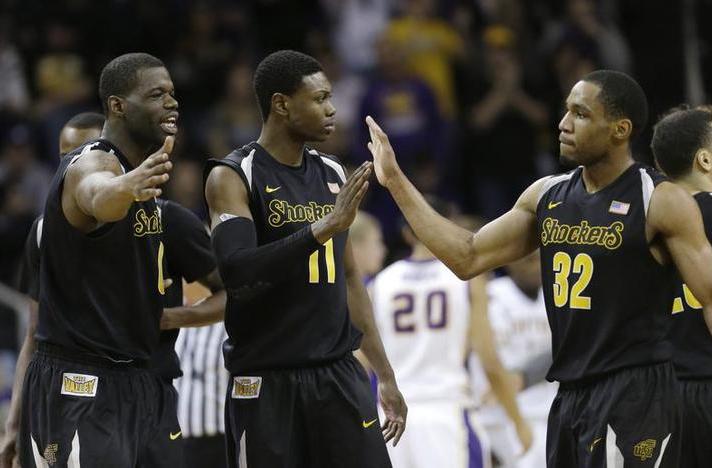 Thanks to road wins over the two toughest teams in the Missouri Valley this week, we've reached the point in the season where it seems more likely that Wichita State will head into the postseason with a perfect record.
What that means is that over the course of the next five weeks, the biggest topic of discussion is going to be whether or not the Shockers deserve a No. 1 seed in the NCAA tournament, and the answer is not as easy and you'd think.
(MORE: See where Wichita State sits in our latest bracket)
You see, Wichita State's schedule this season has not been difficult. They've beaten three teams with RPIs in the top 50, but only one of those three — Saint Louis — is a surefire NCAA tournament team. That win came in Saint Louis, which is nothing short of impressive, but the Billikens are in a similar situation to the Shockers in that we don't really know how good they are. The wins that Saint Louis has amassed this season are not all that different from the wins Wichita State has.
Beyond Saint Louis?
Wichita State has beaten BYU, Tennessee, Indiana State twice and … Alabama? DePaul? Missouri State?
Here's where they will get the benefit of the doubt: they tried to play a tough schedule, and that's just about all you can ask for from a team in their position. They played at Alabama. They played in the CBE Classic. They played Tennessee. They tried to get into that eight team season kickoff event in Dallas. Gregg Marshall refuses to play buy games, but he has shown that he'll play anyone that actually has the guts to pay a visit to Koch Arena.
As of today, I'm not sure if the Shockers deserve a No. 1 seed. They're going to need to hope that some of the top teams in the country — Kansas, Arizona, etc. — lose enough games to open up a spot.
THE TOP 25
1. Syracuse (23-0, LW: No. 1): The Orange will hold this spot in the rankings until they lose. They still have road games against Pitt, Duke, Florida State, Maryland and Virginia. That may happen sooner than you think.
2. Arizona (23-1, LW: No. 2): The Wildcats survived their first two games without Brandon Ashley, but it wasn't exactly pretty. It will be interesting to see what Sean Miller does with this team now that his front line depth is cooked.
3. Florida (21-2, LW: No. 3): The addition of Chris Walker has more or less gone as expected, as he adds front court depth and the ability for Billy Donovan to give different looks thanks to his athleticism.
4. San Diego State (21-1, LW: No. 4): The Aztecs just keep on winning games, but they won't really be tested until Feb. 22nd at New Mexico.
5. Kansas (18-5, LW: No. 5): Kansas bounced back from last Saturday's loss at Texas by easily dispatching Baylor and West Virginia this week.
6. Wichita State (25-0, LW: No. 6): The Shockers got through the most difficult portion of their schedule, picking up wins at Indiana State and Northern Iowa.
7. Michigan State (20-4, LW: No. 7): Michigan State lost at Wisconsin, but they did it without Branden Dawson or Keith Appling in the lineup.
8. Villanova (21-2, LW: No. 9): Two easy wins over Xavier and DePaul this week. The Wildcats will head to Omaha for a rematch with Creighton on Sunday.
9. Cincinnati (22-3, LW: No. 8): Cincinnati handled UConn at home, but they got drubbed by SMU in Dallas on Saturday night.
10. Duke (19-5, LW: No. 11): The Blue Devils are back in the top 10. They head to North Carolina on Wednesday.
11. Kentucky (18-5, LW: No. 12)
12. Iowa State (18-4, LW: No. 16)
13. Saint Louis (22-2, LW: No. 17)
14. Virginia (19-5, LW: No. 18)
15. Louisville (19-4, LW: No. 19)
16. Iowa (18-6, LW: No. 15)
17. Michigan (17-6, LW: No. 10)
18. Texas (18-5, LW: No. 12)
19. Creighton (19-4, LW: No. 13)
20. Oklahoma (18-6, LW: No. 20)
21. Memphis (18-5, LW: No. 22)
22. UConn (18-5, LW: No. 21)
23. New Mexico (18-4, LW: No. 24)
24. SMU (19-5, LW: UR)
25. Ohio State (18-5, LW: UR)