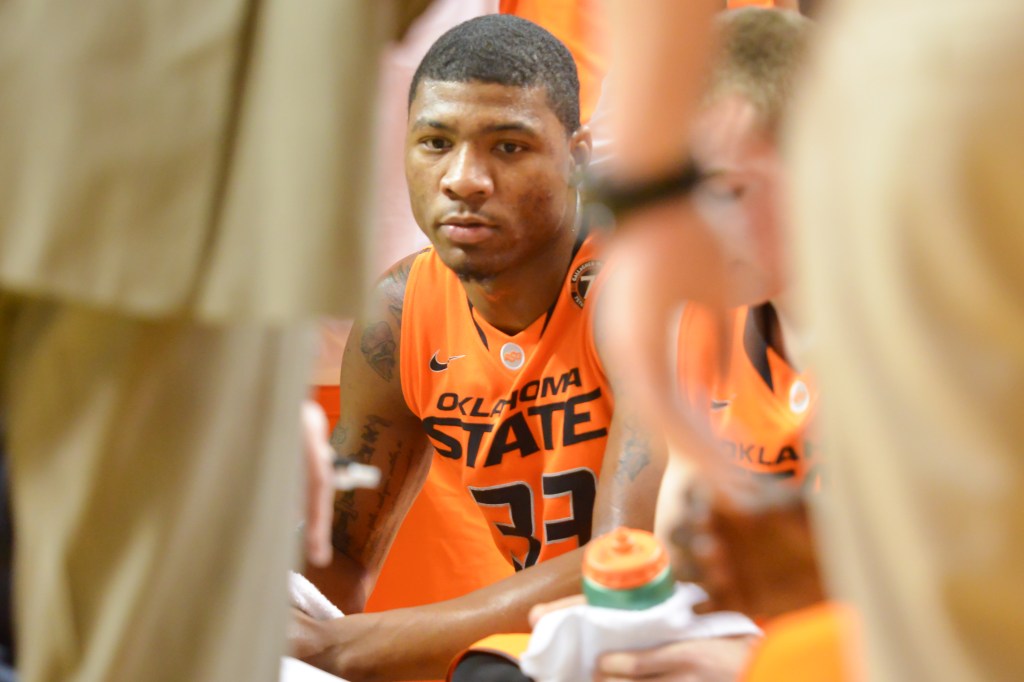 The axes fell on Sunday evening.
Marcus Smart will be suspended for three games for shoving a fan late in Saturday night's loss at Texas Tech. That fan, Jeff Orr, has voluntarily agreed to not attend any Texas Tech basketball games for the rest of the year.
And at this point, it is time to move on.
We have to move on.
Because we are never going to know what actually transpired between Smart and Orr. We are never actually going to know what Orr said and we're never going to know what Smart actually heard.
After the incident, Smart could reportedly be heard on the court telling his bench that the fan had used a racial slur directed at him. Smart did not address what was said to him in the statement that he gave to the press at a press conference on Sunday, and Oklahoma State head coach Travis Ford said, simply, "We're not going to get into that. That's something that I don't even want to comment on."
Orr "vehemently" denied in a statement released by Texas Tech that he did not use a racial slur when yelling at Smart. He claims he called him a "piece of crap", and in a video that the university released along with that statement, someone can be heard yelling "piece of crap" right before Smart's reaction.
Was it Orr that actually said "piece of crap"? Was that all he said? There is plenty of noise in the background of the video, which makes it easy to be skeptical about the clarity of what Orr is purported to have said. Could this have been a case of mistaken identity?
Along those same lines, it's fair to question Smart's actions as well. Did he actually hear someone use a racial slur? Did he simply react to Orr yelling at him, and say that he heard the slur to try and defend himself? Was this as simple as Orr yelling one thing and, in the craziness of the final seconds of a college basketball game, Smart hearing another?
You don't know the answer to any of those questions. Neither do I. The only people that actually do are Smart and Orr.
The bottom line?
Both of these men were in the wrong.
As I wrote last night, Smart crossed a line that absolutely cannot be crossed. An athlete can never, EVER put his hands on a fan in that situation, regardless of what was said to him. I can guarantee that even if Smart did get called the N-word on Saturday that it is not the first time some vile, disgusting person that bought a ticket* to a game said that to him. To the best of my knowledge, he's never lashed out at people in the stands before. He allowed his emotions and his frustrations from a disappointing season to get the best of him, and he's learning in a very public way that it cannot happen.
"This is not how I [conduct] myself," Smart said. "This is not how this program is run. This is not how I was raised. I let my emotions get the best of me. This is something that I have to learn from, the consequences that are coming with it."
"I'm taking full responsibility, this is all upon me. No finger pointing."
*(I refuse to use the word "fan" in that case.)
Orr may come off looking worse here. A man in his 50s screaming anything at a college sophomore playing a game is somewhat pathetic, especially when it comes at the end of a game that Texas Tech had all but locked up. He may not be a racist — which is a fact that many are going to ignore in this case — but that doesn't necessarily mean that he isn't an idiot.
And that's why he'll be missing the rest of Tech's basketball games this season.
So can we leave it at that?
A 20-year old with a temper and a competitive streak that gets the best of him when he loses lost control of his emotions in a season that has been as trying as any that he's experienced. A fan got caught up in the moment and yelled something at a player that he never expected the player to actually hear or react to.
It doesn't make Smart a bad person. Assuming that he didn't use a slur, it doesn't make Orr a bad person.
We all have moments that we regret, that we have to learn from.
Few of us have those moments play out live on national television before spending a couple of days rolling through the 24/7 news cycle that twitter and the internet has created.
As soon as I'm done writing this article, I'll stop caring about Orr.
But for Smart, this may be just what he needed. He's been a bit frustrating to watch this season. Between the horrid shot selection, the way he whines about calls and the way that he's reacted to losses, this season hasn't always been flattering for him.
He needed a wake-up call, and he got it.