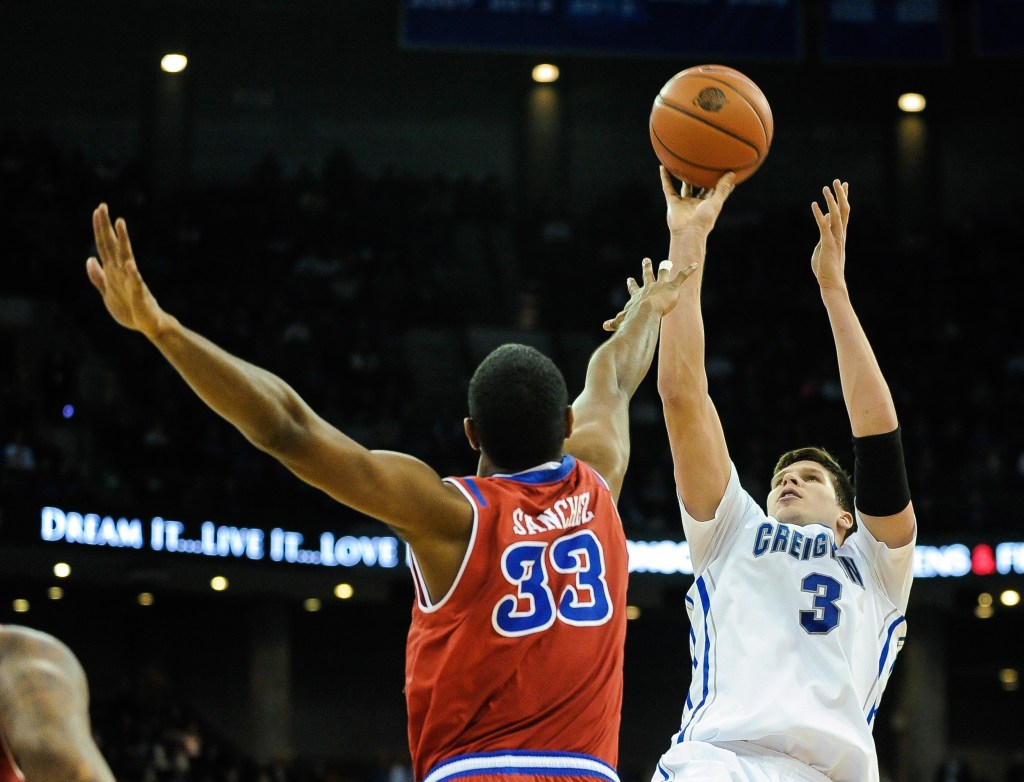 At this point in the season, Doug McDermott is the clear favorite for National Player of Year and, in the eyes of most observers, the guy that everyone would want taking a shot with the game on the line. That's exactly what happened last week, when Greg McDermott drew up the Bill Self's famous 'Chop' play, getting Doug a wide-open look from 24-feet for a game-winner.
Would you believe that was just the second game-winner McDermott's ever hit in his life?
If you could pick one player in the country to have the ball in their hands, down one on the final possession, would it be Dougie McBuckets?
Raphielle Johnson: Doug is not a bad choice at all, but I do notice that you did not specify that the player has to shoot the ball. For a shooter, BYU's Tyler Haws would be another possibility for me. But here's a name for you: San Diego State's Xavier Thames.
Why?
As we saw last night, he's capable of making the right decision in late-game situations whether it's as a shooter or passer. And given his skill set, he isn't a player who will wait too long and end up being forced to hoist up a challenged shot. And as I noted earlier, despite this desire for "hero ball" and demanding that guys shoot regardless there's a need to be able to make the RIGHT basketball play.
Rob Dauster: There's no doubt that McDermott is the best scorer in the country right now. He's the prototype when it comes to high-usage, high-efficiency scoring. That said, McDermott's strength isn't his ability to beat people one-on-one. He does the majority of his damage because he understands angles and how to get himself open.
I would want the ball in the hands of Shabazz Napier. He's an excellent shooter off the dribble and as good as anyone in the country at creating space for himself to get off a jumper when he's isolated. He's also proven time and time again that he has the, ahem, intestinal fortitude to take and make big shots in big moments.
Kevin Doyle: It's hard to argue against McBuckets at this point as he's the best offensive player in the country by far. He's as cool and as smooth as they come. McDermott seemingly never forces anything on offense, is able to get off a shot in a variety of ways — important if he has the ball in his hands for the final possession — and his ridiculous shooting percentages across the board speak for themselves. Let it be known that I would want McDermott taking the shot in the final possession, but I'll take the contrarian perspective to stir the pot.
Connecticut's Shabazz Napier has a knack for the heroics. He single-handedly beat Indiana earlier this season, scoring eight of the Huskies' final 11 points. Napier followed that up by hitting perhaps the shot of the season against Florida, to beat the Gators 65-64 at the buzzer. As Napier goes, the Huskies go. Unlike McDermott, Napier is more apt to find a way to the basket off the dribble if a jump-shot isn't there.
Terrence Payne: You can't go wrong with Doug McDermott with the game in the balance. Even though St. John's lost track of him, leaving him wide-open McDermott was the reason Creighton had such a big lead, scoring 62 percent of his teams points. But I wouldn't say he's the definitive best option with the game on the line.
This question isn't about who you would want to take the final shot, merely who do you want to have the ball.
I'll go with Syracuse's Tyler Ennis. He's always poised with the rock and he's been great in games against Duke, made key plays in a win against Pittsburgh and despite struggling at times in the second half against St. John's, made critical plays down the stretch. Surround him with weapons like Trevor Cooney (when he's making shots), C.J. Fair and Jerami Grant, I like my chances with Ennis running the show in a late-game situation.
Scott Phillips: Given Doug McDermott's size, ability to make shots and savvy, I would trust him with the ball in his hands more than any college player in the country down by one point on the final possession. McDermott is a matchup nightmare at the college level because he can hit shots from anywhere on the floor while also working the mid-post and getting to the free throw line. He'd also be intelligent and able enough pass out of it and his Creighton teammates would know how to respond. I'd put it in his hands every time.