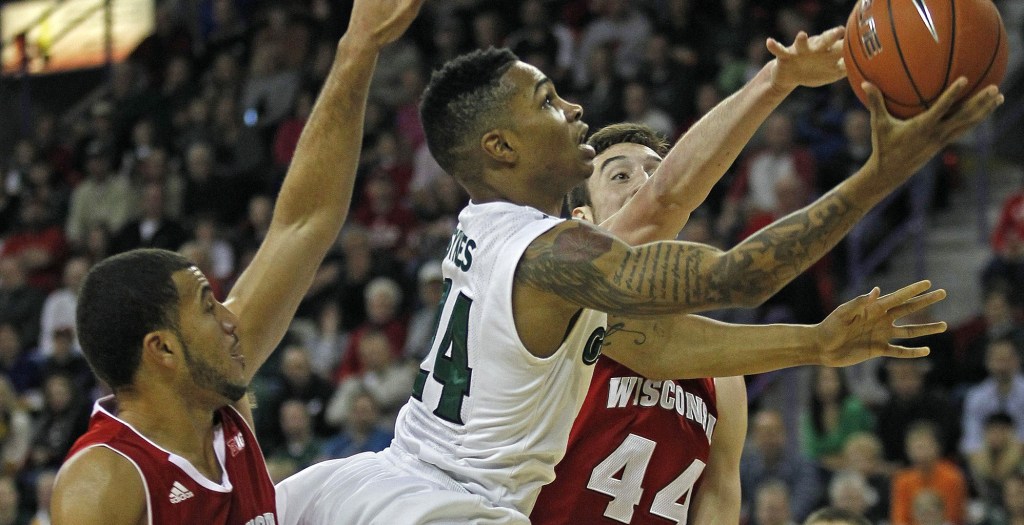 With senior center Alec Brown and junior guard Keifer Sykes leading the way, the Green Bay Phoenix entered the 2013-14 season with high hopes. After losing seven games by six points or less in 2012-13, another year of seasoning for the Phoenix had the potential to make a major difference in regards to their ability to close out tight games.
That's been the case for Brian Wardle's team to this point in the season, as the Phoenix boast an 18-4 overall record and are 8-1 in Horizon League play. And the run began, as has been the case for a number of mid-major programs over the years, during non-conference play.
While the Phoenix did lose games to Wisconsin and Harvard, they did manage to knock off a Virginia team that currently sits in second place in the ACC. Not only did those games provide Green Bay with lessons that could be applied to Horizon League play, but they also resulted in the confident feeling that they can compete with anyone.
"One thing our guys learned [during non-conference play] is that when we're healthy we can play with anyone," Wardle told NBC Sports this week. "There's an expectation in the locker room now that we can't beat ourselves. We have to go out there and play Green Bay basketball and play to our identity.
"I thought we had many opportunities to beat Wisconsin and couldn't finish it off," Wardle added. "We had the lead with five minutes remaining at Harvard and let the game slip away, and we got Virginia. So we've had some very competitive non-conference games that have prepared us for Horizon League play and have definitely helped us, especially on the road."
Green Bay has forged its identity on the defensive end of the floor, an area in which many of the nation's best teams perform well. Because on nights in which a team struggles offensively, sound defense can help make up for those woes and keep them in games. Green Bay currently leads the Horizon League in field goal percentage defense (39.0%) and ranks second in three-point percentage defense (31.5%), and they're also second in the league in defensive efficiency.
"That's our identity. That's what's in our locker room everywhere, and that's what I preach as a coach," noted Wardle. "That's what we spend three-quarters of our practices on, how we defend and how we rebound."
As a result of their execution defensively the Phoenix have been able to win games regardless of how many points are scored, including a 62-52 win over Detroit in which they shot just 28.3% from the field with that being the lowest field goal percentage in a win in school history. With Brown averaging more than three blocks per game and Jordan Fouse and Greg Mays also being capable defenders, Green Bay has the pieces needed to win low-scoring affairs.
But even with a solid defense at his disposal, the fact that Wardle can call on two of the Horizon League's best players in Brown and Sykes for points certainly doesn't hurt.
The 7-foot-1 Brown has the ability to score both inside and out, as he possesses range out beyond the three-point line. Currently averaging 16.0 points and 6.0 rebounds per game, the senior center is shooting 48.8% from the field and is also one of Green Bay's most proficient long-range shooters (39.7%). Given the scarcity of players possessing that range of skills (and footwork), Brown is a tough matchup for opponents on most nights.
On the other end of the spectrum is the 5-foot-11 Sykes, who may be one of the most exciting players in college basketball. With his ability to finish well above the rim the junior from Chicago has put together some impressive highlights, but to think his game is solely about flash would be a mistake. Outside of his three-point percentage Sykes has improved on all of his numbers from a season ago, and he's currently averaging 20.6 points, 5.0 assists and 4.0 rebounds per game.
And while he's only shooting 31% from three this season, the fact that he made more than 42% of those attempts a season ago has helped open up driving lanes for Sykes. And that ultimately benefits his teammates as well.
"The other guys play off of Alec and Keifer. We have a lot of guys, high-energy players, around them who just make plays off of them," Wardle said. "We're an unselfish group. When you have a senior (Brown) who doesn't care about how many points he scores or individual notoriety; all he wants is success and Keifer's the same way. That provides a good environment and culture in the locker room."
Brown and Sykes are the leaders, but by no means is this a two-man team. Players such as Fouse, Mays, Carrington Love and Vincent Garrett have all been valuable contributors, and in total Green Bay has eight players averaging double digits in minutes. Wardle's guys understand their roles, and just as importantly they've accepted those roles.
Yet even with their successful start there are still areas in which the Phoenix can continue to grow, with Wardle citing the need for them to improve their shot selection and spacing on offense. And their defense will also be important, with Green Bay needing to make strides on the boards. At present time the Phoenix rank eighth in the Horizon League in defensive rebounding percentage, and the act of getting teams to miss shots doesn't hold much value if you can't complete the possession by grabbing the resulting rebound.
"Defensive discipline and consistency from start to finish, and rebounding, will be our keys," noted Wardle when asked about what lies ahead for Green Bay. "Our best offense is our defense and I tell the guys that all the time, because when we get stops we can run and we can run fast. But it doesn't start unless you get stops and rebounds."
Just past the halfway point of league play Green Bay holds a two-game lead on Cleveland State and Valparaiso, with the Crusaders having handed Green Bay (who was without the injured Brown) their lone Horizon League defeat. Defending and rebounding grow in importance as the season approaches March, with those areas being the difference between "contender" and "champion" in many instances.
If Green Bay can continue to make strides in those areas, they're more than capable of making the program's first NCAA tournament appearance since 1996.