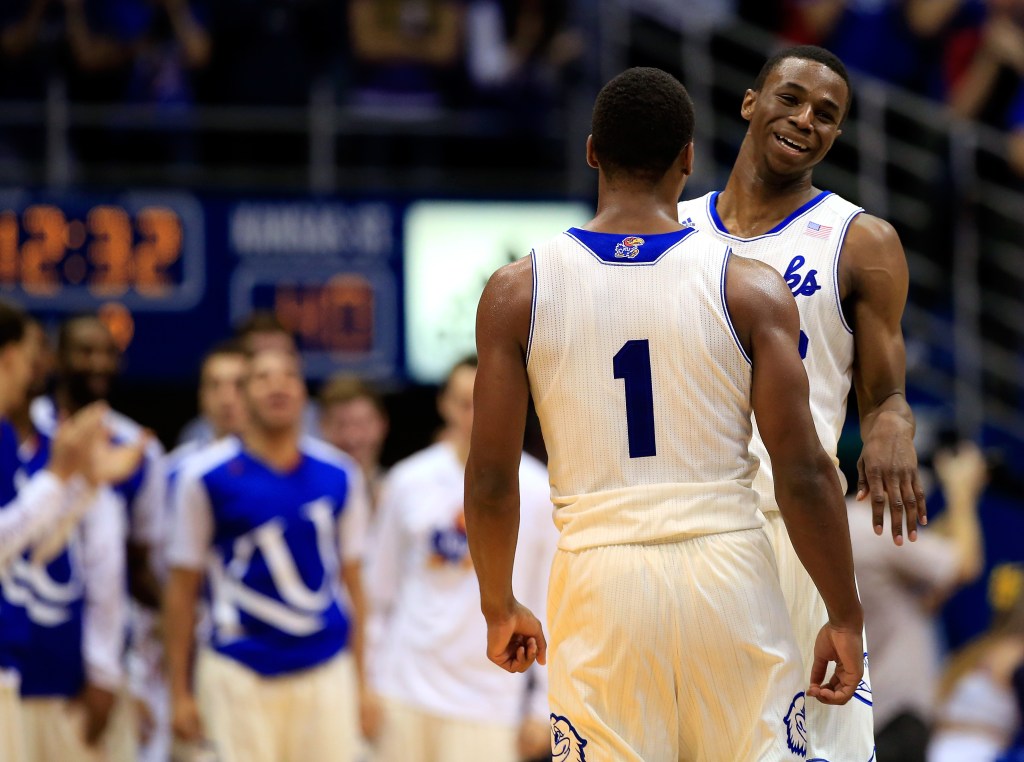 1. Which Andrew Wiggins will show up?: We've seen how good he can be when it call comes together. That 29-point performance in the win over Iowa State? The 19 points he scored in the first half against TCU? The 26 points and 11 boards he had against Florida? When Wiggins decides that he wants to dominate … he dominates.
The problem is that that Andrew Wiggins doesn't always show up. He's just as likely to finish 2-for-12 from the field with a handful of turnovers and blown defensive assignments as he is to dominate a game on both ends of the floor. And here's the conundrum for Bill Self, Kansas fans and anyone filling out a bracket: Kansas is the most dangerous team in the country when Wiggins shows up, because the combination of improved play from Naadir Tharpe and Wayne Selden and the overpowering front line of Perry Ellis and Joel Embiid is already really good.
But when Wiggins doesn't show up, he's a liability. And you just never know when he's going to decide he wants to play.
2. The Big 12 is going to be a lot of fun: To be honest, I actually kind of enjoy the inconsistency of Andrew Wiggins, as it lends some serious intrigue to a Big 12 race that is going to be as wild as anything we see this season.
There are ten teams in the Big 12 this season, and seven of them look like they have an inside track on making the NCAA tournament. Six of those teams — Iowa State, Oklahoma State, Oklahoma, Baylor, Kansas State and Texas — are all, for the most part, equivalent. What that means is that on just about a nightly basis, we are going to have a key Big 12 matchup between two tournament-caliber teams playing with a lot on the line. So last night's three-overtime thriller between the Cyclones and the Cowboys? If all goes to plan, that will be commonplace.
Back to Kansas, they are the overwhelming favorite in the league. But they're young enough that they can lose on any given night, especially when they're on the road. Can anyone put together the winning streak needed to catch them?
Ten things to get you caught up on the season
3. Set up for great Elite 8 and Final Four: The way that this season has shaken out, there are a handful of teams that have set themselves apart from the rest of the field. Arizona and Michigan State, before their injuries, looked like the two best teams in the country. Syracuse, the way they've played the last two games, may have taken over that title. Florida's defense is downright abusive, as is San Diego State's and Cincinnati's. Wichita State is making a run at perfection, Duke seems to be peaking at the right time and Villanova and Creighton have set themselves apart from the Big East crowd.
All told, there are five or six teams that look like national title contenders and another five or six that look like legitimate Final Four-caliber teams. With the amount of inconsistency throughout the rest of the country, we could be looking at a scenario where the first weekend of the tournament is wild, but where the top of the bracket is strong enough to advance.
That's what we want, right? A couple of 12 or 13 seeds winning early, a few buzzer-beaters, and the best of the best marching on through to the Elite 8? There's nothing better than a matchup of two powerhouse programs late in March.
4. Wichita State's undefeated regular season hinges on this week: The Shockers will pay a visit to Indiana State and Northern Iowa this week, who are probably the second and third best teams in the Missouri Valley. If they can get through this week, they'll have a great chance at entering Arch Madness without a loss.
I'm rooting for it to happen. I'd love to the Shockers enter the NCAA tournament without a blemish on their record.
5. Syracuse? Not so much: It would be fun to see the Orange enter the tournament without a loss as well, I just don't see it happening. Five of their last eight games are on the road, which may actually be their five toughest road games of the season: Pitt, Duke, Virginia, Florida State and Maryland. Then there's the ACC tournament. The Orange are the real deal, but even The Truth can stumble in that stretch.
6. How many bids from Big Ten?: The Big 12 is the most entertaining league.
The Big Ten may be the weirdest.
Think about it like this: two top former five teams played on Sunday, with Ohio State beating Wisconsin as both teams now sit at 4-5 in league play, a half-game behind … fourth-place Northwestern.
Seven teams are in a position to get a bid to the Big Dance. How many will make it?
7. Can anyone catch Dougie McBuckets?: He's far and away the best player in the country at this point in the season. His numbers are inarguable. His team is ranked in the top 15. He's a senior dominating in a land of freshmen. Can any of those freshmen put together the late season run needed to catch him?
8. A resurgence in the Bluegrass State: This was supposed to be a season dominated by Kentucky and Louisville. Instead, neither team even looks like the best in their respective conference. Kentucky certainly has the talent to make a run at a national title, but whether or not they actually have the toughness to pull it off is a different story.
And Louisville? Well, they're front court is depleted, their back court doesn't seem to be able to get along and they can't beat a top team in their conference in the Yum! Center. It's crazy to think that there may not be a real Final Four contender in the Bluegrass State this year.
9. Final Four sleepers: We went over some of the title favorites earlier, but outside of those teams, who has the makeup to put together a run to the Final Four?:
When Nik Stauskas is playing like he did for the last month, Michigan is as good as anyone. When he plays like he did against Indiana, they're very beatable.
Iowa State is a matchup nightmare, using their center (Georges Niang) to bring the ball up and posting their point guard (DeAndre Kane). They have the pieces, but they'll need beneficial matchups.
Iowa can make a run as well, they just need to learn how to close out games against elite competition.
10. Not a lot of mid-majors will get at-large bids: Don't be surprised to see quite a few middle-of-the-pack power conference teams get a bid to the dance as the mid-major ranks are somewhat depleted right now. Outside of Wichita State and Gonzaga, there aren't many teams from outside one of the top nine conferences that deserve an at-large. Maybe Southern Miss, but that's it.
In other words, there aren't many bid-stealers this season.