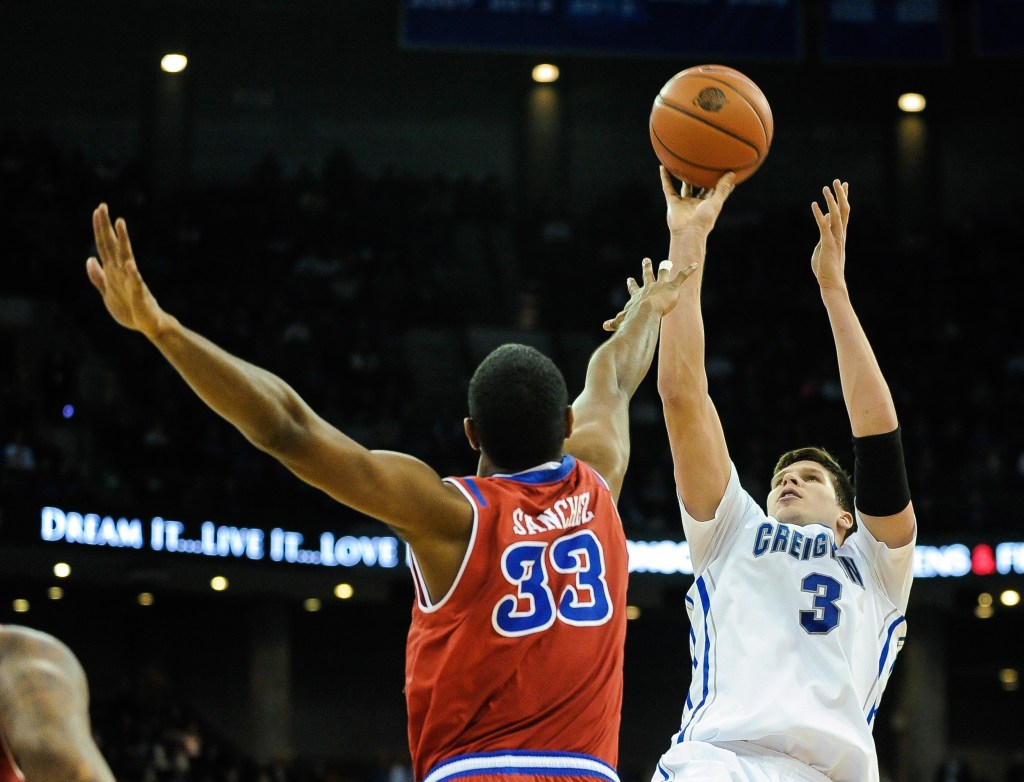 1. Doug McDermott, Creighton: Last week, I wrote that McDermott was the runaway favorite to for National Player of the Year. I think everyone pretty much agreed with me at the time. He's played one game since then, against St. John's, scoring 39 of Creighton's 63 points and burying the game-winning three at the buzzer. Yeah, I think McDermott is still the favorite.
2. Shabazz Napier, UConn: I'm not sure there is a player in the country that is more influential in regards to his team's success than Napier. He's averaging 17.9 points, 6.0 boards, 5.7 assists and 1.9 steals while shooting 43.5% from a team that doesn't have a single low-post scoring presence and has a talented-but-inconsistent supporting cast. UConn is 17-4 this season with a win over Florida and a win at Memphis. Outside of a disastrous New Years trip to Texas — the first the Huskies took to that part of the country as a member of the American — Kevin Ollie's team has been better than most anticipated.
3. Jabari Parker, Duke: Parker's offensive numbers have dipped since the start of the season, when he was playing like the consensus National Player of the Year. Part of that is regression to the mean (he wasn't always going to shoot 60% from three), part of it is a slump he went through in December and part of it is that defenses are being built around slowing him down. Duke's had a bit of a resurgence in the last month, and the biggest reason why is their defense has gotten better.
Parker's contribution? Cleaning the glass. He's averaging 11.2 rebounds over the last five games.
4. Tyler Ennis, Syracuse: The Orange have played three games since the last Player of the Year Power Rankings went up, and, obviously, they won all three. Against Wake Forest, Ennis scored 16 of his 18 points in the second half. Against Duke, he had 14 points and nine assists. Against Notre Dame, he chipped in with six points and eight assists. All told, in the three games, he had 38 points, 21 assists and just six turnovers.
Now, the hero against Duke was C.J. Fair, but Fair struggled against Notre Dame. The hero against the Irish was Trevor Cooney, but he didn't do much in the other two games. That kind of sums up what Ennis does for this Syracuse team. He gets the talent around him involved … until he can't afford to do it anymore. Then he takes over. His reputation for being one of the most clutch players in the country is well-earned.
5. Nick Johnson, Arizona: I don't think Johnson is going to want people talking about his 1-for-14 performance in Saturday's loss to Cal. To be fair, he was clearly favoring his right hand, and with Brandon Ashley out of the game, he didn't have an option but to fire away. And he did spur the team's come-from-behind win over Stanford earlier in the week.
Here's the key for Johnson going forward: with Ashley out, the Wildcats are going to have to rely on him even more on the offensive end of the floor. Can he carry this team?
6. Nik Stauskas, Michigan: It is going to be interesting to see where Stauskas goes from here. He was the best player in the Big Ten for the first month of league play, but he was completely shut down by Yogi Ferrell in Michigan's loss at Assembly Hall. Was that just the by-product of a bad matchup, or did Tom Crean just give every coach in the country a blueprint on how to get into Stauskas' head?
7. Xavier Thames, San Diego State: SDSU is good because their defense is stifling. They win games because a team that can really struggle offensively has a closer like Thames. He makes a lot of big shots and big plays.
8. Sean Kilpatrick, Cincinnati: It's past time to give Kilpatrick some love on this list. Like Thames, he's the best (only?) offensive weapon on a very, very good defensive team, but I could make a strong argument that teammate Justin Jackson is more deserving of this ranking. That's a good sign for the Bearcats.
9. Andrew Wiggins and Joel Embiid, Kansas: They're arguably the two most talented players in the country. But we're never quite sure which Wiggins and which Embiid will show up. They're on this list because both can put together the kind of stretch run that would allow them to catch McDermott.
10. Cameron Bairstow, New Mexico: The Lobos are winning with Alex Kirk hurt. They were winning before Alex Kirk got hurt. The biggest reason why? Bairstow transformed himself from just another plodding MWC big man to the Australian Hulk who just so happens to have a nasty post-game. He may not be an all-american, but between the struggles of Lamar Patterson, Marcus Smart and Julius Randle in the last week, we'll give him the bump to the 10th spot.
Others: Jordan Adams, Kyle Anderson, Keith Appling, Bryce Cotton, Sam Dekker, C.J. Fair, Aaron Gordon, Gary Harris, Rodney Hood, Deandre Kane, Kevin Pangos, Lamar Patterson, Adreian Payne, Elfrid Payton, Jayvaughn Pinkston, Casey Prather, Julius Randle, Marcus Smart, Russ Smith, Fred Van Vleet, T.J. Warren, Chaz Williams