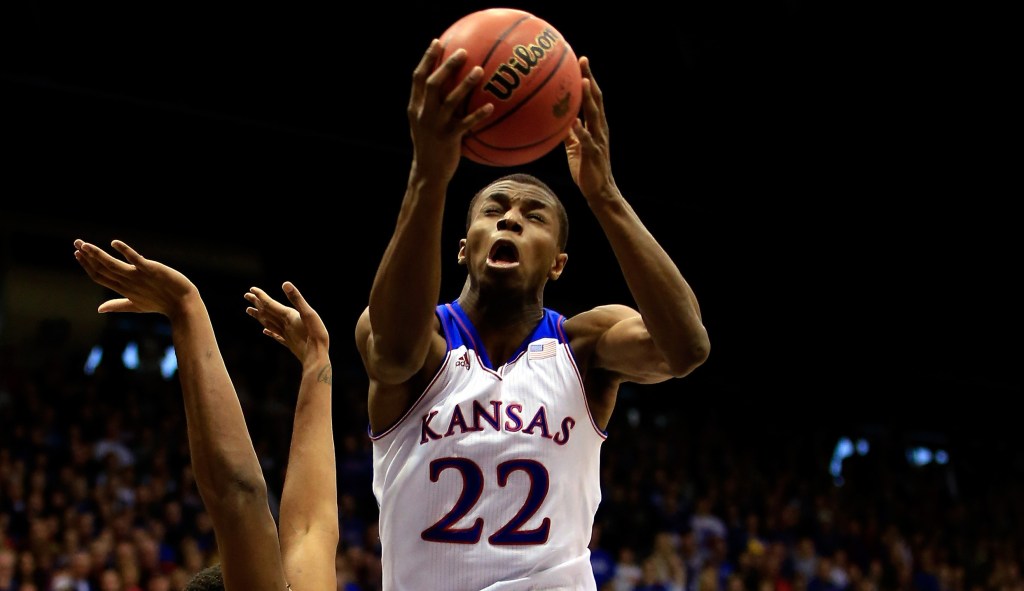 1. Injuries plaguing two of the nation's best: Syracuse is the new No. 1 team in the country. They are unanimously ranked at the top of the latest AP poll, and they are currently sitting in first in the NBCSports.com Top 25. There really isn't a coherent argument to make against the Orange currently being the No. 1 team in the country.
But that doesn't necessarily mean that they've been the most impressive team this season. To date, I'd argue that Arizona and Michigan State have been the two teams that have looked the most formidable as we head into the stretch run of college basketball season. But here's the thing: neither of those two teams are healthy. Michigan State could get there, as Adreian Payne could be back as early as this week and Brandon Dawson's broken hand should be healed at some point this month.
Arizona?
They'll be without Brandon Ashley the rest of the season thanks to a broken foot.
2. Andrew Wiggins is overrated and underrated: The story of the season back in October was the freshmen: Wiggins, Julius Randle, Jabari Parker, Aaron Gordon. To date, Randle, Parker and Gordon have mostly been what we expected them to be. Wiggins, on the other hand, has failed to live up to the hype of being the "best prospect since LeBron" this year, which has resulted in talk about Wiggins being overrated.
And to a point, that was a fair criticism. But remember: Wiggins is the leading scorer on a top ten team that is a favorite to not only win the Big 12, which may be the nation's best conference, but is also considered one of the strongest Final Four contenders in college hoops. He's so overrated that he's become … underrated? Sounds weird, but it's true.
3. Tyler Ennis is the nation's best freshman: Here's the irony of it all: Wiggins isn't even the best freshman on his team. Joel Embiid is, and he's not even the best freshman in the country.
That title belongs to Syracuse point guard Tyler Ennis, who has been the steadying presence and closer that Syracuse has needed so badly this season. C.J. Fair gets a lot of attention, because he's a senior that has been really good for a really long time, and Jerami Grant gets the hype, because all of those tip-dunks are nasty, but it's Ennis that is the reason the Orange are currently the No. 1 team in the country.
4. The Big 12, not the ACC, is the best conference: There was some chatter in the preseason that the ACC could end up being the best conference in the history of conferences, hype that turned out to be a long way from true. North Carolina has not been the same team without P.J. Hairston, Duke's defensive issues has made them quite inconsistent, Virginia's slow start hasn't yet been made up by feasting on ACC bottom-feeders, and Pitt has literally beaten no one this season.
The Big 12 is the best conference in the country this season, and it's because so many teams have outperformed expectations. Texas, Kansas State, Iowa State, Oklahoma and, arguably, Kansas are all better than we thought. The crazy part? Oklahoma State and Baylor have disappointed to date, and the Big 12 is still loaded. Think about that.
5. The Big Ten is nuts: If you can figure out the Big Ten, you may be the only one. Michigan lost Trey Burke and Tim Hardaway to the draft and Mitch McGary to surgery, yet they've been the best team in league play. That's until they went to Indiana, who was coming off of a disastrous second half in a loss to Nebraska and beat the Wolverines. Wisconsin and Ohio State were ranked in the top five at one point and both have lost five of six games at one point in league play. Illinois? They went from top 25 to seven straight losses. Northwestern? They went from the league's running joke to fourth place as February starts.
Yeah, I don't get it either.
6. Kentucky's talented, but can they win a title?: The talent on Kentucky's roster has mostly been as good as advertised. They had some struggles early in the season, but Julius Randle has been awesome, James Young is scoring a ton and the Harrison twins have, mostly, looked like what scouts expected them to look like. Throw in the recent emergence of Dakari Johnson and Alex Poythress, and Kentucky, on paper, can matchup with anyone.
The problem? The Wildcats haven't shown the kind of toughness or leadership you expect out of a real title contender. The game against LSU is the perfect example. They got staggered by a 22-6 run to open the game, and never fully responded. Can this team handle the adversity that will undoubtedly come during a six-game run through the NCAA tournament?
Are they even the most dangerous team in the SEC? Florida doesn't have a star on their roster, but they're stifling on the defense. The last three games? They've given up 128 points total. That's an average of 42.7 points.
7. Doug McDermott has been awesome: Creighton may not be the best team in the Big East — Villanova probably is, despite losing by 28 to Creighton at home — but they not only have the league's best player in Doug McDermott, they have a guy that is a shoe-in for National Player of the Year at this point in the season. It's barely even a discussion at this point.
Which actually disappoints us a bit. The Bluejays have been steamrolling a disappointing Big East, but …
8. Wichita State is better than they were last year: … we miss out on a chance to see them play the Shockers two (or three!) times this season.
The Shockers are still undefeated as we enter February, and I'd argue they are better this season than they were last season. Fred VanVleet is one of the nation's most underrated point guards, Ron Baker is as good of an off-guard as you'll find in the country and Cleanthony Early is a legitimate NBA prospect. They are extremely well-coached, they defend and they have size and depth up front.
9. Best team in the American is … Cincinnati?: Entering the season, it was Louisville. Memphis and UConn weren't all that far behind. SMU had some hype. So did Houston. Cincinnati? They were mostly an afterthought, but they've turned out to be one of the best teams in the country. Their defense is absolutely stifling, as Justin Jackson has become arguably the nation's best overall defender. When Sean Kilpatrick is shooting well, this is a dangerous team.
10. The Mountain West is down, but SDSU isn't: New Mexico's issues defensively, Boise State's mediocrity and UNLV's inconsistency means that the conference, as a whole, is no where near where it was last season. But that doesn't change the fact that San Diego State is legitimately a top ten team. Thing about it like this: they have one of just nine wins in Phog Allen Fieldhouse in the last nine seasons and their only loss came against Arizona. Like Cincinnati, this team is stifling defensively and quite dangerous on the days Xavier Thames is hitting shots.