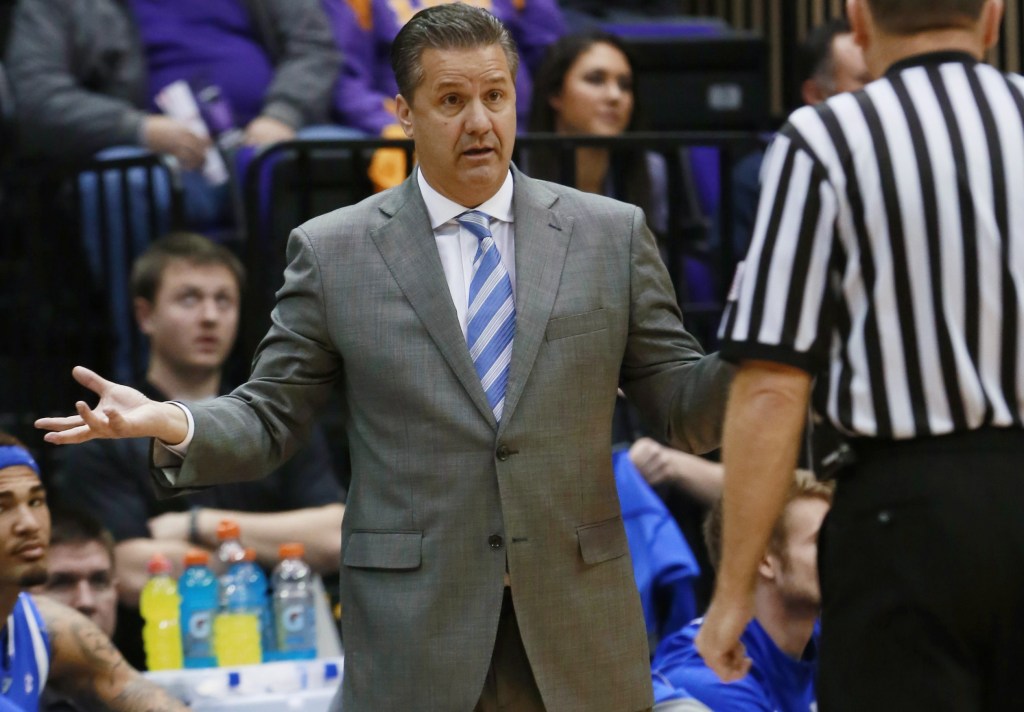 Back in December, when Kentucky got dropped by North Carolina on their visit to Chapel Hill, I wrote this column and this sidebar taking stock of Kentucky's status and potential this season.
I think it's worth revisiting now. If you don't feel like reading through 1,000 words of two month-old writing, here's a summary of what I wrote:
Kentucky's three best perimeter players — Aaron and Andrew Harrison and James Young — are all shoot-first scorers. There is no point guard and there is no distributor.
There is also no perimeter depth. Alex Poythress is not a small forward, and Jarrod Polson and Dominique Hawkins should not be getting playing time on this team.
Outside of Willie Cauley-Stein, there is no one on this team that is a good defender.
Kentucky doesn't have any leadership. There is no vocal leader on that roster. The players that lead by example do it with awful body language and effort.
I think it's safe to say that after last night's drubbing — the final score of 87-82 doesn't do justice to the beatdown that Kentucky took — at LSU, most of those points have been reinforced.
The bottom-line is this: last season, the Wildcats were a flawed basketball team even before they lost Nerlens Noel to the knee injury. The pieces just didn't fit together well, Ryan Harrow wasn't ready to run a team facing the scrutiny of a program like Kentucky and, quite frankly, that team just wasn't talented enough.
This team is.
I think it's inarguable at this point that we overrated the Harrison twins, particularly Andrew's ability to run the point. But Julius Randle has been as good as advertised, Willie Cauley-Stein had been playing his role very well until the last two weeks, James Young can get buckets and Alex Poythress and Dakari Johnson finally seem to be turning a corner.
In other words, this issue with this team isn't the talent on the roster. The issue is what that talent is missing.
Let's call a spade a spade: Kentucky got punked last night. LSU came out and punched them in the mouth to start the game and to start the second half, and the Wildcats didn't have what it took to complete a comeback.
Simply put, the Wildcats were atrocious defensively last night.
Ah. Tro. Shuss.
Johnny O'Bryant got position anywhere he wanted it in the paint, post-doubles and help-side rotations were slow, and LSU was able to get to the rim on straight-line drives whenever they decided to put the ball on the floor. That never would have happened with the 2012 National Title team. Michael Kidd-Gilchrist wouldn't have allowed it. Darius Miller wouldn't have allowed it. None of those guys would have allowed it.
Instead of coming together and fighting through what was clearly an off-night, Kentucky looked like they splintered. There were the confused looks after every defensive breakdown. There was Cauley-Stein yelling at Kenny Payne on the bench. There was John Calipari, clearly frustrated, shoving one of the Harrisons to try to get him to move into the right position. Their body language was simply awful, to the point where it looked like those guys don't even like each other.
And that's only what came through on TV.
I can't even imagine how bad it looked in person.
That is why I think we can write Kentucky off as a national title contender. It's not because they lack a point guard; running an offense through Randle and allowing their three perimeter players to create when teams are forced to double him could work. It's not because they're mediocre defensively, because they have the athletes to improve on that end if they really wanted to. It's not because they lack perimeter depth or because they don't have any role players.
They have the talent to make up for that.
What their talent can't make up for is the fact that this group does not appear to have the leadership or the mental toughness to come together and play through adversity.
You need to win six straight games against good teams to win a national title. At some point, Kentucky will get burned.