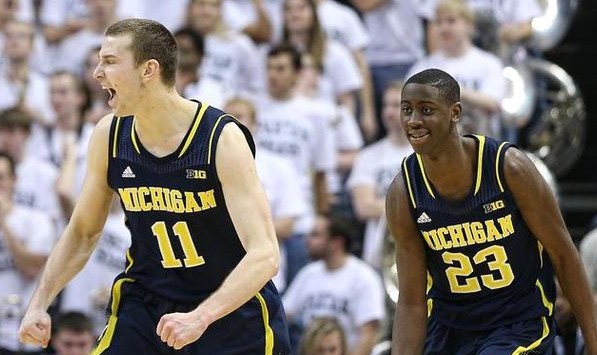 Fresh off a victory in East Lansing, the Michigan Wolverines continue to climb the seed list (s-curve). Entering action this week, the Wolverines own the top spot in the Big Ten and are building an impressive overall profile. Michigan has not lost since December 14 – a two-point setback to top-ranked Arizona in Ann Arbor. During their current surge, the Wolverines have won four conference road games – including trips through The Barn in Minnesota, the Kohl Center in Wisconsin, and the Breslin Center this past Saturday. The streak also included a victory over Iowa.
What about the Spartans? Michigan State remains a top-seed in today's bracket. While much credit is due Michigan for leaving the Breslin Center with a victory, MSU played without two of its starters. They were also without significant contributors during a loss to North Carolina – the only two setbacks on the Spartans' resume. Nothing else new on the top line. Arizona (West), Syracuse (East), and Kansas (South) remain entrenched in those spots. Florida and Wichita State are next in line.
Then there's the Southeastern Conference (SEC). Which teams – beyond Florida and Kentucky – will make the 2014 NCAA Tournament? It's been a somewhat recurrent question the past couple of years. Based on the s-curve used for today's bracket … Missouri, Arkansas, and Tennessee are all close to or on the bubble – with the Razorbacks and Volunteers being members of the First Four. Just outside the bracket, we find Ole Miss and LSU. Will we see a repeat of last year when only three SEC teams heard their names on Selection Sunday? The answer depends on how well the above mentioned bubble teams play over the next month.
Next week, college hoops moves center stage. The Super Bowl will be over and the brackets will begin grabbing headlines.
BRACKET UPDATE: January 28, 2014
Teams in CAPS represent the projected AUTOMATIC bid based on current standings with RPI as a tiebreaker for teams with the same number of losses. Exceptions are made for teams that use an abbreviation (UCLA, BYU, etc).
Several new bracketing principles were introduced after last year's tournament.  You can read them for yourself at http://www.ncaa.com.   For example: teams from the same conference may now meet before a Regional final, even if fewer than eight teams are selected.  The goal is to keep as many teams as possible on their actual seed line.
FIRST FOUR PAIRINGS – Dayton (First Round)
Stanford vs. Arkansas | West Region
SMU vs. Tennessee | East Region
SOUTHERN vs. UNC-ASHEVILLE | East Region
ROBERT MORRIS vs. CHATTANOOGA | South Region
BRACKET PROJECTION …
WEST – 

Anaheim                        

EAST – New York
San Diego
Buffalo
1) ARIZONA
1) SYRACUSE
16) UTAH VALLEY
16) SOUTHERN / NC-ASHEVILLE
8) Minnesota
8) GONZAGA
9) New Mexico
9) Providence
San Diego
Raleigh
5) Oklahoma
5) Massachusetts
12) SOUTHERN MISS
12) SMU / Tennessee
4) CINCINNATI
4) Iowa
13) S.F. AUSTIN
13) TOLEDO
Spokane
San Antonio
6) SAINT LOUIS
6) Connecticut
11) Stanford / Arkansas
11) Oregon
3) SAN DIEGO STATE
3) Oklahoma State
14) UC-IRVINE
14) CANISIUS
Milwaukee
Buffalo
7) Kansas State
7) Ohio State
10) North Carolina
10) Florida State
2) MICHIGAN
2) Villanova
15) IPFW
15) STONY BROOK
MIDWEST – Indianapolis
SOUTH – Memphis
Milwaukee
St. Louis
1) Michigan State
1) KANSAS
16) NC-CENTRAL
16) ROB MORRIS / CHATTANOOGA
8) Xavier
8) UCLA
9) California
9) Geo Washington
Spokane
Raleigh
5) CREIGHTON
5) Louisville
12) GREEN BAY
12) HARVARD
4) Kentucky
4) Duke
13) MERCER
13) BELMONT
San Antonio
Orlando
6) Memphis
6) Pittsburgh
11) Missouri
11) Baylor
3) Iowa State
3) Wisconsin
14) DELAWARE
14) GEORGIA STATE
St. Louis
Orlando
7) Virginia
7) Texas
10) Colorado
10) VCU
2) WICHITA STATE
2) FLORIDA
15) NO COLORADO
15) AMERICAN
NOTES on the BRACKET: Arizona is the overall No. 1 seed followed by Syracuse, Kansas, and Michigan State.
Last Five teams in (at large): Oregon, Stanford, Arkansas, SMU, Tennessee
First Five teams out (at large): Richmond, Louisiana Tech, Saint Mary's, Ole Miss, Wake Forest
Next five teams out (at large): Dayton, Indiana State, LSU, Arizona State, NC State
Breakdown by Conference …
Big 12 (7): Kansas, Oklahoma State, Baylor, Iowa State, Kansas State, Oklahoma, Texas
Big Ten (6): Michigan State, Michigan, Ohio State, Iowa, Wisconsin, Minnesota
Pac 12 (6): Arizona, Oregon, Colorado, UCLA, California, Stanford
ACC (6): Duke, Syracuse, North Carolina, Florida State, Pittsburgh, Virginia
SEC (5): Kentucky, Florida, Missouri, Arkansas, Tennessee
American (5): Louisville, Memphis, Connecticut, Cincinnati, SMU
Atlantic 10 (4): Massachusetts, VCU, Saint Louis, Geo Washington
Big East (4): Creighton, Villanova, Xavier, Providence
Mountain West (2): New Mexico, San Diego State
West Coast (1): Gonzaga
Missouri Valley (1): Wichita State
Conference Automatic Qualifiers … Southern Miss (C-USA), Belmont (Ohio Valley), Georgia State (Sun Belt), American (Patriot), IPFW (Summit), Green Bay (Horizon), Chattanooga (Southern), Utah Valley (WAC), Canisius (MAAC), Stephen F. Austin (Southland), Toledo (MAC), Mercer (A-Sun), Harvard (IVY), UC-Irvine (Big West), Delaware (Colonial), Stony Brook (American East), Northern Colorado (Big Sky), NC-Central (MEAC), UNC-Asheville (Big South), Robert Morris (NEC), Southern (SWAC)