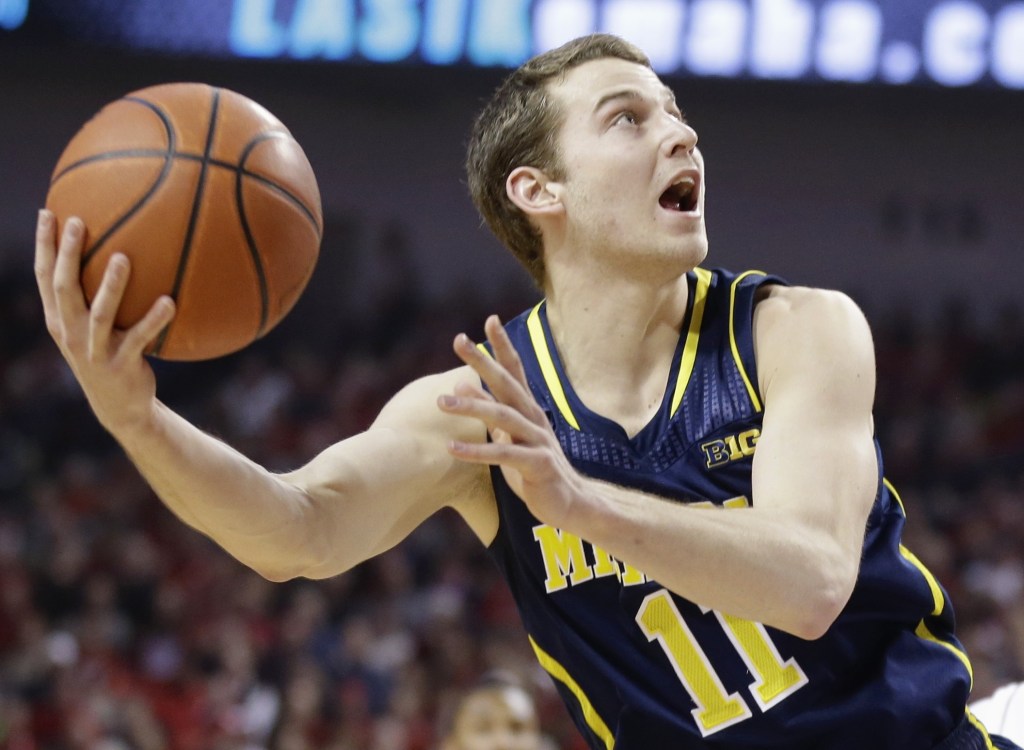 The toughest team to rank this week was Michigan, a team sitting at 15-4 on the season that, until last week, wasn't even in the conversation to be in the top 25.
I had them 18th last week. I slotted them No. 5 this week. Too high? Maybe, but there are a couple of things to remember with this Michigan team:
Their worst loss of the season, to Charlotte in Puerto Rico, came in a game that both Nik Stauskas and Glenn Robinson III got injured. Robinson didn't play after getting hurt in the first half. Stauskas did, but he spent much of the end of the game limping around the floor.
Derrick Walton is a different player than he was early in the season. His confidence and understanding of the offense is growing, and he's been more effective when Stauskas is allowed to initiate offense.
Losing Mitch McGary for the season was a blessing in disguise for this team. He's an effort guy. His impact on the floor is a result of his ability to play harder than his opponent. He was injured and out of shape, which really hampered his effectiveness. In other words, a healthy rotation of Jordan Morgan and Jon Horford is better than a banged up Mitch McGary.
As a result, the Michigan team we're watching now is a different team than the one that lost at Iowa State, at Duke and at home to Arizona. Michigan currently is sitting at 7-0 in the Big Ten, all alone in first place, after reeling off three straight wins over top ten teams. If we're ever going to overlook a slow start, it has to be with this team.
THE TOP 25
1. Arizona (20-0, LW: No. 1): Arizona is still undefeated after getting tested at home by Utah on Sunday night. That road win over Michigan is looking better and better by the day.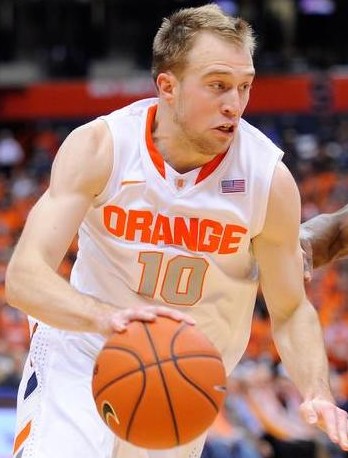 2. Syracuse (19-0, LW: No. 3): The Orange aren't blowing teams out, but they keep on winning. On Saturday, they got another fight out of Miami and managed to hang on to beat the Hurricanes. Trevor Cooney had been shooting 24% from three in ACC play, but snapped out of that funk with a 3-for-6 performance that included a huge three late in the Miami game to stretch the Orange lead to six.
3. Florida (17-2, LW: No. 4): Florida is in the same boat as Syracuse. They're defense can be, at times, absolutely stifling — Tennessee scored 41 points against them and Jordan McRae shot 1-for-15 — but they can go through lulls offensively. I'm ready for the Gators to be tested against Kentucky. The rest of the SEC is just thoroughly mediocre.
4. Kansas (15-4, LW: No. 5): Andrew Wiggins put together one of his most impressive halves in college basketball on Saturday, lighting TCU up for 19 of his 27 points in the first half. The Jayhawks are 6-0 in Big 12 play and already hold a two-game lead on everyone in the conference.
5. Michigan (15-4, LW: No. 18): Michigan became the first team since 1997 to knock off three straight top ten teams as they beat Iowa at home and won at Michigan State this week. Nik Stauskas is playing like an all-american, and having a healthy Jordan Morgan and Jon Horford inside has proven better than having a banged-up Mitch McGary.
6. Michigan State (18-2, LW: No. 2): For the first time since November, Michigan State had their injury issues catch up with them. They were without Adreian Payne, the fifth straight game he's missed, and Branden Dawson, who is out for a month, on Saturday.
7. Wichita State (21-0, LW: No. 7): The Shockers just keep winning. The problem? Nothing they can do in the Valley this season will be considered impressive. Does anyone else hate the Big East for snatching away what could have been three games between the Shockers and Creighton this season?
8. San Diego State (18-1, LW: No. 8): SDSU won at San Jose State this week and survived Utah State on the road in overtime. The Aztecs are a nightmare defensively, but they have some issues on the offensive end. If Xavier Thames isn't scoring, will anyone on this team?
9. Villanova (17-2, LW: No. 6): I still like Villanova, but when you lose by 28 on your home floor, you fall in the rankings. I'm pretty sure that's a federal law.
10. Kentucky (15-4, LW: No. 11): Willie Cauley-Stein snapped out of his funk on Saturday and Alex Poythress has scored in double-figures in three of his last four games. Beyond that, it's tough to take anything out of the Wildcats beating up on mediocre SEC competition. Seriously, Kentucky-Florida? Can we make this happen four times a year in the future?
11. Oklahoma State (16-3, LW: No. 12)
12. Cincinnati (19-2, LW: No. 13)
13. Iowa (16-4, LW: No. 9)
14. Wisconsin (17-3, LW: No. 10)
15. Iowa State (15-3, LW: No. 14)
16. Pitt (18-2, LW: No. 15)
17. Louisville (17-3, LW: No. 16)
18. Saint Louis (18-2, LW: No. 17)
19. Duke (16-4, LW: No. 19)
20. Creighton (17-3, LW: No. 24)
21. UConn (16-4, LW: No. 22)
22. Memphis (15-4, LW: No. 23)
23. UMass (17-2, LW: No. 21)
24. Oklahoma (16-4, LW: UR)
25. UCLA (16-4, LW: UR)