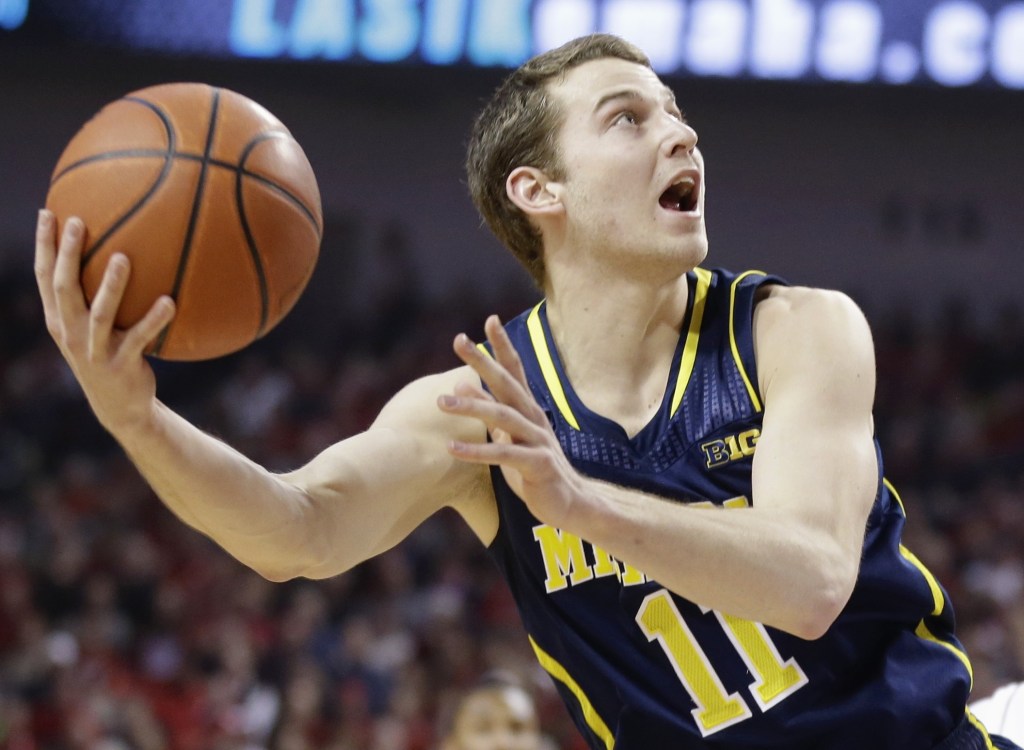 GAME OF THE WEEKEND: No. 21 Michigan at No. 3 Michigan State, Sat. 7:00 p.m.
Michigan State may be playing this game in the Breslin Center, but it's hard to see a way that the Spartans will be considered a favorite heading into this game. We already know they are going to be without Branden Dawson, who broken a bone in his hand slapping a table during a film session this week. But it appears likely that they will be without Adreian Payne as well, as the big fella is still dealing with a sprained foot that is no where near healthy yet. 
The good news? The Wolverines don't necessarily have the size inside to take advantage of the Spartans missing their two most athletic big men. Keith Appling and Gary Harris should be able to matchup with nik Stauskas and Caris LeVert. The key is going to be what happens with Glenn Robinson III. He's been more aggressive of late, and the Spartans don't have a win that can match his size and athleticism without Dawson.
The winner will take over sole possession of first place in the Big Ten.
THE OTHER GAME OF THE WEEKEND: No. 22 Kansas State at No. 16 Iowa State, Sat. 1:45 p.m.
Iowa State desperately needs this win. The Cyclones have lost three games in a row in league play. Their next three games? At Kansas, Oklahoma and at Oklahoma State. If this group doesn't get things figured out quickly, there's a real possibility that they could end up sitting at 2-7 in Big 12 play, a hole deep enough that it could cost them a trip to the NCAA tournament. Rebounding from seven straight losses is not an easy thing to do.
Kansas State is one of the best defensive teams in the country, and they'll have their work cut out for them against an Iowa State team that thrives on the mismatches they can create with opposing front court. Thomas Gipson should have his way down low on Saturday, but who does he guard on Iowa State's perimeter?
FIVE MORE TO KEEP AN EYE ON:
No. 4 Villanova at Marquette, Sat. 2:00 p.m.: Marquette has been one of the major disappointments in college basketball this season. This may be the most important game of their season, and they get Villanova days after the Wildcats got embarrassed by Creighton at home. 
Cal at UCLA, Sun. 8:00 p.m.: The Bears are still sitting all alone in second place in the Pac-12, but they are coming off of an embarrassing loss at USC. They really need to right the ship in Pauley Pavilion.
Florida State at No. 18 Duke, Sat. 12:00 p.m.: Duke has been rolling in the last two games, winning by a combined 56 points. The Seminoles have the athleticism to matchup with Duke's forwards, however.
Tennessee at No. 6 Florida, Sat. 4:00 p.m.: Florida has had some issues offensively this season, and while Tennessee has been too up and down this year, there is a reason they were picked third in the SEC. Jarnell Stokes and Jeronne Maymon vs. Patric Young could be a wrestling match.
BYU at Gonzaga, Sat. 10:00 p.m.: Both BYU and Gonzaga can put up points in a hurry, and neither of them are very adept at defending. A high-scoring WCC game is a nice way to cap off a college hoops Saturday.
WHO'S GETTING UPSET?:
No. 2 Syracuse at Miami, Sat. 1:00 p.m.: Miami had the lead on Syracuse for about 35 minutes in the Carrier Dome. They're a scrappy team that controls tempo and forces you to hit jumpers. Will Syracuse make enough jumpers in the MIA?
No. 10 Iowa at Northwestern, Sat. 12:00 p.m.: Northwestern is essentially the Big Ten's version of Miami. They've also beaten Illinois, Indiana (on the road) and Purdue. Is Iowa next?
Texas at No. 24 Baylor, Sat. 1:30 p.m.: I don't even know if this would technically be considered an upset at this point, but Texas is good and they have the size to matchup with Baylor in the paint. 
No. 9 Wisconsin at Purdue, Sat. 5:00 p.m.: The Badgers are skidding right now, playing the worst defense a Bo Ryan team has ever played. Will they right the ship in West Lafayette?
No. 8 Kansas at TCU, Sat. 9:00 p.m.: You haven't forgotten already, have you?
FIVE THINGS TO WATCH FOR:
1) There will be four games on the NBC Sports Network this weekend. On Saturday, George Washington heads to George Mason at 12:00 p.m. while the 4:00 p.m. tip features Atlantic 10 conteders St. Joe's at Richmond. On Sunday, Jon Severe and Fordham pay a visit to No. 13 UMass at noon while Harvard looks to bounce back from a loss to Florida Atlantic at Dartmouth at 4:00 p.m.
2) No. 5 Wichita State will put their undefeated record on the line at Drake on Sat. at 8:00 p.m. Whenever the Shockers go on the road in the MVC, they will be on upset watch.
3) The Big East will host two big games on Saturday. At 8:00 p.m., Georgetown will visit the sharpshooters at Creighton while 5-1 Xavier is at 4-2 Providence, which tips at 12:00 p.m. Are the Friars really a Big East contender?
4) Five more ranked teams play, three of which are on the road:
No. 7 San Diego State at Utah State, Sat. 11:00 p.m.
No. 20 Pitt at Maryland, Sat. 6:00 p.m.
No. 25 Oklahoma at Texas Tech, Sat. 4:00 p.m.
West Virginia at No. 11 Oklahoma State, Sat. 2:00 p.m.
Georgia at No. 14 Kentucky, Sat. 1:30 p.m.
5) New Mexico has a huge game at Colorado State. The cannot afford another loss in the league to anyone other than San Diego State if they want a chance to win the conference.